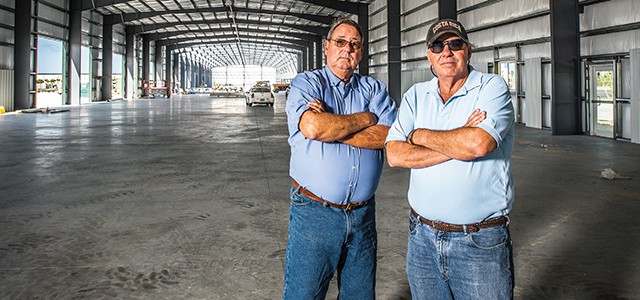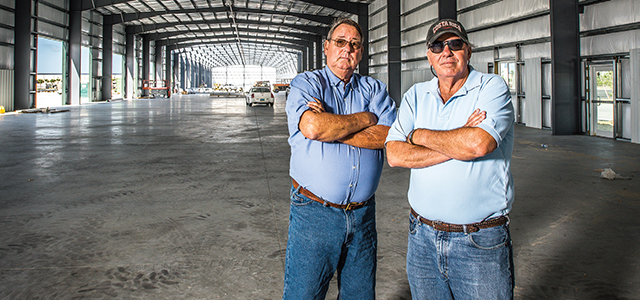 As life-long Southwest Florida residents, Harvey and Tim Youngquist have seen Lee County grow up around them. At the same time, the co-founders of...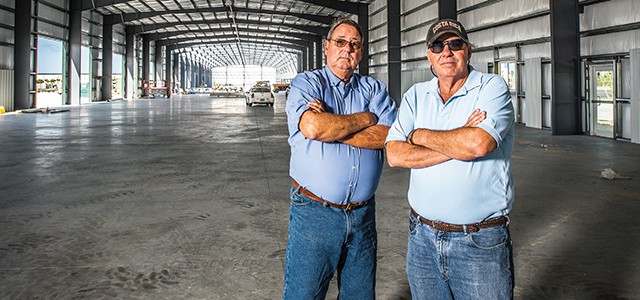 As life-long Southwest Florida residents, Harvey and Tim Youngquist have seen Lee County grow up around them. At the same time, the co-founders of Youngquist Brothers, Inc., have been an integral part of that growth, transforming a two-man well-drilling shop into a family-run empire of diversified commercial holdings/interests.
Since 1971, the pair's local knowledge, personal relationships and business acumen have allowed them to establish a number of profitable ventures serving the needs of markets near and far. In addition to well drilling and pump services, Youngquist Brothers is also engaged in:
• Injection Well Drilling
• Rock Mining
• Oil and Gas Field Services (North Dakota and Montana)
• Water Quality Testing & Data Analysis
• In-House Equipment Fabrication & Contract Manufacturing
• General Contracting
• Medical Device Manufacturing
• Hospitality (Bayfront Inn in Naples)
• Commercial and Residential Real Estate Development
The company also has a commercial real estate portfolio with industrial, retail and rental properties, as well as undeveloped land, in Florida and Texas.
Nearly everyone who is involved in the various Youngquist Brothers businesses is either a relative or a former classmate of the two siblings. For example, Tim's daughter, Trista Kragh, operates the family-owned Bayfront Inn, while her husband, Matthew, owns MHK Architecture & Planning in Naples, which provides the drawings and designs for many Youngquist Brothers projects. Three of Harvey's children are also in the business: Harvey Youngquist, Jr., is an engineer for the local well-drilling operation; Holly Youngquist Herbers is a licensed Realtor who works with her father; and Brett Youngquist manages and operates Texas Home Development near Houston.
According to Harvey, Sr., being in business with the family has worked out well "because they're all at the top of their fields." That also applies to his daughter, Brooke Sweat. Although she's not in business with the family, she is at the top of her game as a professional beach volleyball player and Olympic athlete.
Typically, Youngquist Brothers sells the commercial properties it acquires or develops. However, the company is taking a new approach with its latest project, Gulfcoast Industrial Campus in south Lee County. In addition to developing the 38-acre campus, Youngquist Brothers is also leasing and managing it. Located on Lee Road, just north of Alico Road, the industrial park is planned to include approximately 283,800sf of heavy industrial flex space in eight buildings, starting from 4,480sf.
Developer and leasing manager Gary Fluharty says the new industrial campus not only meets the everincreasing demand for distribution/ warehouse/office space, but also offers the features and amenities that tenants want and need, as well as options to accommodate business growth.
In-Demand Features
"Most flex space properties either don't have adequate ceiling height or adequate yard and storage space for vehicles and equipment. Here, we provide large, secure, concrete yards," says Fluharty. "You're actually leasing more space outside than inside."
Local business owners are taking notice. Sixty days prior to completion, Gulfcoast's first industrial building was more than 70% leased.
Rates start at approximately $9.50psf, triple net, which Fluharty says is competitive and offers a lot for the money, including:
• 16′ x 16′ Drive-In Doors
• 24' Clear Height
• Fire Protection System
• Three-Phase Electric Availability
• Truck Well Availability
• Abundant Employee/ Visitor Parking
Also, each concrete and steel structure is designed to withstand 160mph winds and support a 10-ton overhead crane. However, the development's strategic location may be its greatest selling point.
Situated on Lee Road, just off Alico Road and I-75, Gulfcoast Industrial Campus is easily accessible from both Fort Myers and Naples. It is also close to the Southwest Florida International Airport and Florida Gulf Coast University, both of which are driving the development boom in and around south Lee County.
According to Harvey Youngquist, the campus site is a small sliver of a much larger parcel that he and his brother purchased with partners a decade ago, shortly before the market crashed. Most of that acreage, along with other Youngquist parcels in vicinity, has been sold off in 10-, 20- and 30-acre tracts over the years. These days, much of it is being developed, positioning Gulfcoast Industrial Campus at the epicenter of the area's commercial boom.
"Everyone's been on hold for the last 10 years or so; nobody built anything until recently," he says. "Now everything's coming out of the ground," including two major projects directly across the road from the industrial campus.
One is a 126,000sf office and warehouse facility for Robb & Stucky International, which will serve as the company's new corporate headquarters, as well as a storage, assembly and distribution center. The other is a 26,000sf Southport Truck Group dealership containing 17 service bays, a warehouse, sales offices and ample parking for the commercial trucks, tractors, trailers and RVs the company sells. Both should be completed or nearing completion by early summer.
By then, Gulfcoast Industrial Campus's first building will be ready for occupancy and construction of its next three buildings is expected to be underway.
A Place To Grow
For tenants like Diane and Daniel Bauer, moving day can't come soon enough. Prior to discovering Gulfcoast Industrial Campus, the owners of 4 Leaf Construction had spent months looking for a place to relocate their 6.5-year-old business, which fabricates and installs structural aluminum screen enclosures. Currently, the company operates from two warehouse/office units on Beacon Manor Drive in Fort Myers, where Diane Bauer says the setup is less than ideal for a growing company.
"It's hard to have an office person or receptionist (because) there's not a lot of space and it's noisy. Also, we don't have room for samples," she says, noting that some people want to feel the different screen types or look at an actual picture window. Parking has been another problem.
"There's not enough space for all of our vehicles. We're a small company, but we have three work trucks with racks and materials, as well as gutter truck and various trailers. We've been looking for an industrial unit with a private, fenced-in yard for storage and sufficient space for off-site pre-assembly," she says.
Location, aesthetics and affordability were other considerations. "We may be small, but we're not a fly-by-night company. That needs to be reflected in the way we run the business inside the facility as well as on site, but it's been difficult for us to find suitable space."
The need for 4 Leaf to relocate took an urgent turn after it was inundated with work following Hurricane Irma. Bauer says she and her husband were as relieved as they were pleased to discover Gulfcoast Industrial Campus, where they plan to move into a 4,480sf warehouse/office space in June. Bauer says the fact that it's brand new and in a desirable part of town makes it well worth paying a little more than before.
"The location is ideal," says Bauer. "Our service area is Lee County to Marco Island and we do a lot of work in Estero, so access to I-75 is important to us." She adds that she also appreciates the convenience of being near gas stations and restaurants.
Another major benefit is the open and spacious floor plan, which is designed with two offices and an area for the receptionist the Bauers plan to hire. Best of all, there's more than enough workspace to accommodate 4 Leaf's machinery, equipment and employees, both inside and out. In addition to the sizeable interior square footage, the unit has a 6,000+/-sf paved, private yard.
"Sometimes we'll build and install three pool cages in a week, so now we'll have the space we need to (fabricate) and store them properly and securely. I think that will help our business become more organized and efficient, and allow us to grow."
Like the Bauers, many tenants are relocating to Gulfcoast Industrial Campus from other commercial parks, while others are establishing new businesses there. For business partners Bill Sexton and Jeff Stevens, the new campus was the logical location for launching Ranger Motorsports, a new concept in vehicle maintenance, performance, restoration and repair.
While the name of the business was inspired by Sexton's military service as an Army Ranger, he says the concept behind it reflects his life experience. Besides working to protect people during his 10 years in the military, he also worked with employees and customers as a regional manager for retail giant Wal-Mart. Both shaped his commitment to provide the highest standards of service to man and machine.
"This won't be just another car repair shop," says Sexton. "Our goal is to cultivate long-term customer relationships by providing the highest level of service at an affordable price." Services will range from oil changes to pin striping to custom engine work, all of it performed by skilled technicians and personally supervised and inspected with military precision by Sexton.
Because the space is new, the partners designed it exactly as they wanted it, with few offices and walls, and wideopen work areas. The finished space will include a break room, as well as a comfortable customer lounge with a large flat-screen TV, Wi-Fi and complimentary coffee and soft drinks. There's also ample room outside for a car wash and detail center.
Other features give new meaning to the concept of transparency, namely glass walls and digital cameras throughout the 5,000sf shop. This will enable customers to keep a close eye on their vehicles, either on site or remotely via smartphone, while work is being done. Sexton says "it's all about honesty and openness," as well as giving back to the community.
To help veterans transition from military to civilian life, Ranger Motorsports plans to start a mentor program to teach the mechanical and business aspects of the trade. The owners also plan to offer discounts to first responders and veterans.
Trusted & Reputable
Like many of their new commercial neighbors, Sexton and Stevens say they chose their new space because of the developer/landlord as much as the location. "When Bill and I started looking (for industrial space) in this area, we saw Harvey on site and stopped to talk to him," says Stevens, who has known Youngquist for 20 years. "I trust Harvey 100%."
Also, Stevens says he appreciated Youngquist's interest in Ranger Motorsports. "He never even talked about money. He talked about our goals and our business needs, and gave us some input about our future in that location. He's been very supportive."
Those who know Youngquist best will attest to his sincerity. "He has never not met a friend," says Fluharty, who met Youngquist when they played basketball for Cypress Lake High School. "He is kind, patient and sincere with everyone who crosses his path. He knows everyone."
Youngquist's circle of acquaintances will surely keep expanding as construction of the industrial campus continues. Buildout is expected within two or three years, during which time Youngquist Brothers' next major project should be under construction nearby, on 276± acres east of I-75, just off Ben Hill Griffin Parkway.
At buildout, the Youngquist Trade Center will contain 1.7 million square feet of mixed-use space for distribution, hotel and retail uses. Although the design has been completed, the proposed project is going through the zoning and permitting process now. Pending approvals, the project could break ground by the end of this year.
"Those two projects should keep us busy for quite awhile," says Youngquist. "We have a really nice airport that's driving the new commercial construction around here, and a county commission that supports development. Now that things are cranking back up, we're looking forward to some good years."