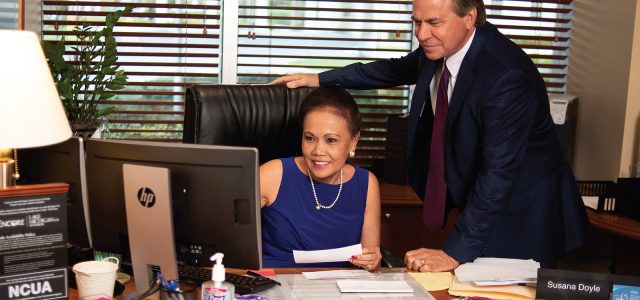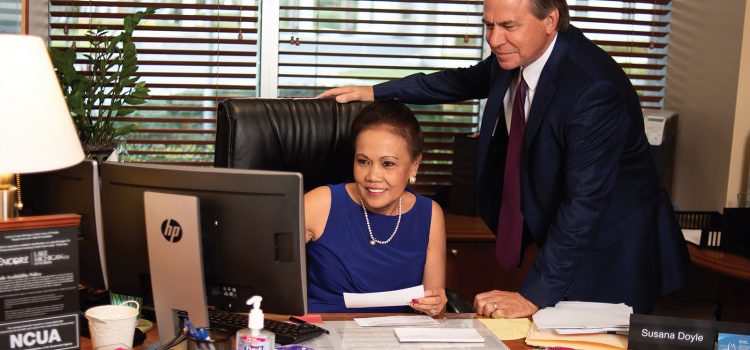 Most multi-billion dollar businesses don't merge with smaller companies, they acquire them. However, the recent merger between Lake Michigan Credit Union (LMCU) and Encore...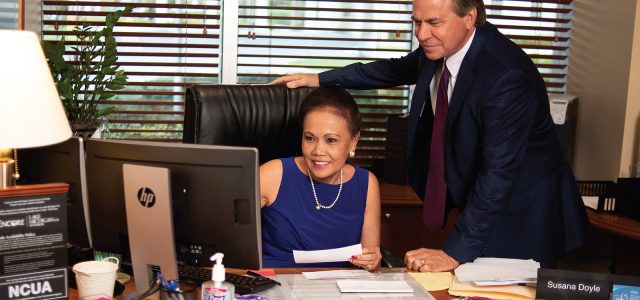 Most multi-billion dollar businesses don't merge with smaller companies, they acquire them. However, the recent merger between Lake Michigan Credit Union (LMCU) and Encore Bank represents more than numbers on a spreadsheet. It's the perfect platform for joining similar cultures and achieving common goals.
"Often, when the buyer is 10 times the size of the acquired, the partnership is lopsided," explains Tom Ray, president of LMCU's West Florida Region and former Encore CEO. Despite the fact that LMCU's $5.4 billion in assets eclipses Encore's approximately $400 million, Ray says the merger has been equitable and amicable. "LMCU has been very supportive and very fair in listening to our ideas about the needs of (Encore's) clients in this market."
At first glance, they seem an unlikely match. Based in Grand Rapids, Michigan, LMCU has been in business for 85 years, boasts more than 400,000 members, and prior to the merger employed more than 1,200 people at its 45 branches, including four in Southwest Florida. Encore, on the other hand, was formed in 2010 and at the time of the merger had 50 employees and six branch locations.
But despite their differences, LMCU and Encore are stronger together. For example, the merger enables LMCU to provide former Encore customers and local businesses access to enhanced commercial products and services, improved technology, and competitive deposit and loan rates. Also, in addition to consumer and business checking, savings and lending services, LMCU offers CDs, online and mobile banking, ATMs, credit and debit cards, and member perks that include discounts on travel, entertainment, and other goods and services.
What hasn't changed is the personal service and friendly atmosphere Encore was known for. Ninety percent of Encore's staff was retained in the merger, so customers can still bank at the same locations with the same people.
Contrasts & Commonalities
Day-to-day business at a credit union is similar to a traditional bank, although there are some differences.
Banks have a paid board of directors that must answer to the bank's investors, or shareholders. As a for-profit entity, a bank's primary goal is to maximize the return on investment (ROI) for its investors. Any profits from service fees, loan interest and other customer charges are distributed as dividends to shareholders. The more profitable the bank, the more money shareholders receive. Also, the FDIC (Federal Deposit Insurance Corporation) insures bank deposits up to $250,000 per account.
Credit unions are not-for-profit organizations owned by their members, directed by a board of elected volunteers and designed to pay their members higher deposit rates than conventional banks so that more money flows back to the members. The rate at which it's returned is known as the return to member (RTM). And according to a recent industry study, LMCU is #1 in the nation for RTM. Just as banks are insured by the FDIC, credit unions also are insured by the federal government, but through the NCUA (National Credit Union Administration), not the FDIC.
Although membership used to be limited to certain groups or industries (for example, teachers, airline employees, etc.), most credit unions, including LMCU, are now open to anyone who lives, works, attends school or worships in the communities they serve. LMCU requires a deposit of $5 to join as a voting member, giving each depositor an equal voice.
Community banks, like Encore, focus on community involvement and relationship banking, and provide loans at lower rates and better terms than most large institutional lenders. Accordingly, community banks and credit unions usually make good partners.
Mutual Benefits
Both LMCU and Encore wanted to grow internally and expand their market share, but each needed help. Encore could either raise capital or join up with another organization. For LMCU, it made sense to look at Florida for growth opportunities.
"Many of (LMCU's) members had either moved down here or were snowbirds who lived down here half the year anyway," says Ray. "So there was a big Midwest connection."
After considering other Gulf coast markets and ruling out major metropolises on Florida's east coast, LMCU turned its attention to Southwest Florida. With a high-growth market, few credit union competitors and a quality of life that attracted Michigan tourists and second homebuyers, it was the perfect place to branch out.
By 2015, LMCU had established four locations in Lee and Collier counties. However, it lacked commercial lending strength. "Residential lending is a real core competency for them," says Ray, noting that LMCU originated $1 billion in residential mortgages last year. With $10 billion under servicing, it is the second largest credit union in the U.S. for mortgage servicing. And in Collier County, it is the second largest residential loan originator (in dollars).
Encore's strength, on the other hand, was commercial lending. Although LMCU has a commercial lending unit in Michigan, "commercial lending tends to be geographically specific. You learn what works in your market and you understand the people in the market," Ray explains. As a community bank, Encore focused largely on commercial businesses such as suppliers, contractors and commercial real estate organizations that supported the community.
"They provided us (Encore) with a lot of capabilities that were difficult for us to deliver and we offered the market knowledge and commercial expertise LMCU sought."
LMCU also appreciated the cultural similarities of the two markets and was attracted to Southwest Florida's natural beauty, year-round recreational opportunities, thriving arts community, and tax-friendly environment. Technology also influenced LMCU's decision to expand in Southwest Florida. "These days, you can do business from anywhere, so why not live where you want to live? Put it all together and you have a real winner," says Ray. "That's why it was a good fit. It made sense for our shareholders and our clients, as well as our employees."
Business Friendly
Former chairman of Encore's board of directors, Theo Etzel, is well acquainted with community banks. Prior to the conversion, he maintained commercial accounts at Encore for his Naples- based HVAC contracting company and is now a member of LMCU. He says that Encore's local, friendly atmosphere was "a great fit for my business," just as LMCU is for Encore.
"It's not often that mergers end up with real synergy," says Etzel. "But in this case, everyone kept their jobs and positions, and from a customer standpoint, I think that's important."
Etzel says that Encore's years in the marketplace allowed it to develop "a nice portfolio of loans and relationships that will benefit from this merger. I think what it brings, particularly for Encore customers, is an excellent, one-stop source of residential lending" and enhanced commercial offerings. While commercial customers will have access to larger loans, all members can benefit from improved rates on loans, savings, CDs and other interest-bearing instruments.
Although its legal lending limit is more than $50 million, LMCU's average commercial loan is between $1 million and $5 million. And even though LMCU is based in Michigan, it has an equivalent operation in Southwest Florida, with the full authority to make loan decisions locally. As a result, most commercial and residential loans are approved quickly.
Despite the proliferation of online lending, LMCU prides itself on personally working with borrowers. Primarily, loan officers advise and educate members on what they can afford to borrow, as well as the associated costs and risks involved. "
All loans are good in good times and right now, it's hard not to be successful in Florida," says Ray. "At the same time, we don't want to expose (prospective borrowers) to undue risk. It's important that people understand the need for contingency positions."
A Community Partner
Credit unions are known for actively supporting the communities they serve and LMCU is no exception. In Southwest Florida, it has hosted numerous fundraisers and supported various organizations and causes including the Golisano Children's Hospital, the Makea- Wish Foundation and the Naples Players, among others. LMCU also supports local businesses by personally introducing and referring members.
Ray says he wants LMCU members to see their credit union as more than just a place to cash checks, make a deposit or get a loan. "We want them to see us as a valuable member of the community, as well as a source of information and support. The more attached our members feel to our organization, the more successful we'll be. Customers who have a positive experience will share it with others, and that's good for us."
LMCU's future growth is likely to be organic vs. acquired. For now, the company is focused on establishing its presence in the Naples/Fort Myers market, while keeping an eye on opportunities farther up the west coast.
"We're confident we've put two organizations together that will benefit from LMCU's scale and Encore's knowledge of the market. So far, we've had every reason to believe that's going to work."