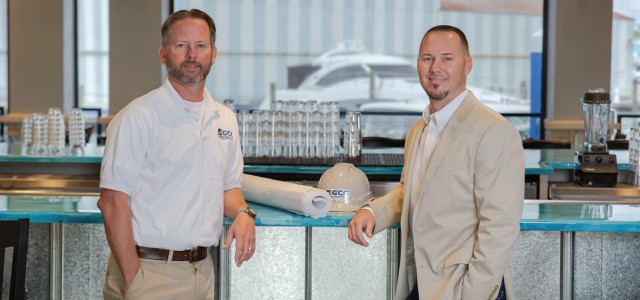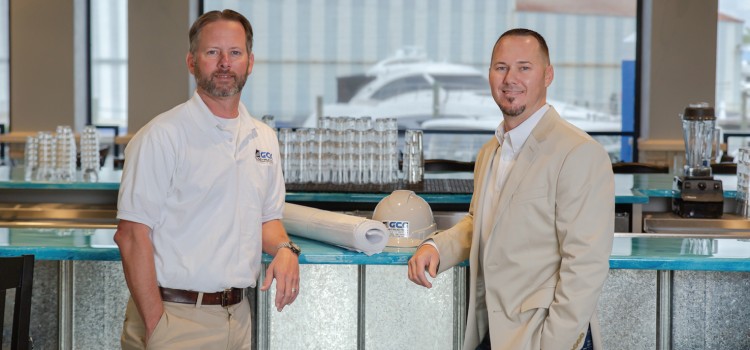 For the better part of 20 years, GCG Construction, Inc. (GCG) has done more than just hold its own against much larger commercial contractors...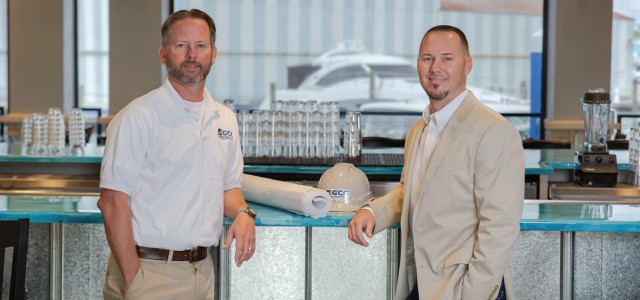 For the better part of 20 years, GCG Construction, Inc. (GCG) has done more than just hold its own against much larger commercial contractors in Southwest Florida, it has flourished. To date, the company has completed more than one million square feet of diverse commercial projects, ranging from small remodels to ground-up construction for 100,000+sf facilities.
Concurrently, GCG has amassed an enviable number of industry accolades, including dozens of Summit Awards from the Lee Building Industry Association. Typically, GCG wins top honors in the design-build and tenant build-out categories, although the company itself is a past recipient of Contractor of the Year for overall excellence. There's no question that GCG has lived up to its original marketing tag line, "Small but Mighty."
So what's next for a company that has nothing left to prove? A push to improve, say company owners Teely Byrd and his wife, Lerin.
During the past 18 months, the couple has been upping GCG's game with new technology, new in-house programs and new projects. "We've been fine tuning," says Teely.
In addition to investing the time and resources needed to refine and enhance its services, the company is actively embracing its "Building It Better" philosophy. The catch phrase is not only a prominent part of GCG's corporate logo, "it's something that we've been applying internally," says Lerin. "We really take that message to heart and have launched some key initiatives that will allow us to do that as a company."
Focus on Communication, Safety
Earlier this year, GCG began using Procore, a cloud-based, document management software that allows users easy access to drawings, specifications and other documents from any location. "It's been an extremely beneficial investment for us because it streamlines (the construction process)," says Teely.
Procore also is useful for sharing job photos, schedule updates and pertinent job-related data. "It really enhances our ability to disseminate information in a timely fashion to any team member we invite to log in," says Teely. "They can access it from anywhere in the world and communicate in real time. This saves time and money, which is hugely important to our clients and to us."
However, nothing is more important to GCG than workplace safety, which the company has actively promoted from day one. Thus far, the company hasn't experienced a single lost-time incident. To keep it that way, GCG updated and upgraded its safety-related processes last year.
"Nothing we do is more important than planning and performing our work safely," says Lerin. "That's one of the mottos we live by and why we have such stringent policies now." To ensure company-wide compliance, GCG has a director of safety who oversees the program and implements improvements as needed.
Besides providing each worker a safety manual, the Byrds make sure that all team members receive on-site accident prevention and safety instruction.
"Before they're allowed to step foot on a job site, all of our subcontractors must complete a mandatory, site-specific safety orientation program," presented by a GCG site superintendent.
Safety orientations continue throughout the course of a project as new subcontractors report to work on site. According to Teely, it's something that benefits everyone involved. "It helps hold us accountable for the safety of our team members and others who may be on site," such as employees and customers of businesses that continue to operate during construction. "It's just another way we're trying to improve and streamline our practices," he adds.
New Wa terfront Projects
When it's not fortifying its internal operations, GCG's team is meeting the construction demands of a booming market. "Our primary focus is on commercial, healthcare, retail, hospitality and marine. Right now, we're actively engaged in a project in each one of those industries," says Lerin.
Over the past few years, national boat dealer MarineMax has provided a steady flow of work to GCG in south Florida, including two highly anticipated projects in Southwest Florida.
After years of planning and permitting, GCG is poised to begin construction at the MarineMax-City Island marina on Ken Thompson Parkway in Sarasota. The project is expected to break ground in July and features numerous upgrades and enhancements to the world-class facility. Improvements include new three-tiered open boat racks, seawalls, a two-story member's lounge, shade pavilion and travel lift launch, as well as additional parking and a floating dock.
Also, GCG recently put the finishing touches on Deep Lagoon Seafood and Oyster House, which just opened at MarineMax-Fort Myers. The 300-seat waterfront restaurant is the latest of many projects GCG has completed at the McGregor Boulevard marina over the last four years and is a relatively new concept for owner/operator Phelan Family Brands.
The company is well known for its other local eateries that include 13 Pincher's locations in Lee and Collier counties and a Texas Tony's Barbecue in Naples. Although it opened its first Deep Lagoon concept restaurant in Naples in an existing restaurant space, the one at MarineMax-Fort Myers is the first it has built from the ground up. "They really wanted to get it right and make sure that the finished product matched their vision," says Teely.
While Phelan Family Brands owns and operates the business, MarineMax owns the building and leases it to Deep Lagoon Seafood. As construction manager and contractor, GCG was tasked with satisfying both parties.
In the past, the Byrds collaborated primarily with developers on build-tosuit projects for tenants (Goodwill Industries is one), but have since become accustomed to working with both the landlord and tenant. Simultaneously managing the requirements of both "puts us in a unique position," says Lerin. "We have to balance the tenant's wants and needs with the landlord's or developer's needs and budget. So it's a lot of problemsolving up front and a lot of collaboration with both teams to ensure that the project is successful for all parties."
During the nine months of construction, GCG worked with Deep Lagoon on the interior buildout and MarineMax on the exterior shell, as well as the seawall, floating docks, parking lot and other site improvements. "There were a lot of meetings," adds Teely. "But everyone worked well together. We just orchestrated all the pieces and parts so that everyone was happy in the end."
Apparently, they are. "It's the prettiest restaurant we've ever done," says Grant Phelan, CEO of Phelan Family Brands. "Any time that you combine an open-air kitchen and dining room, it can be challenging to make sure it all flows smoothly. GCG did an excellent job."
Phelan says he was especially impressed with GCG's organized approach and attention to detail. He also appreciated that GCG met frequently with him and his father, as well as the architect, and the restaurant supplier and design company.
"I'd give them an 11 out of 10," he says. "They followed through with every project we assigned to them and throughout the nine-month project they didn't skip a beat, even with the hurricane."
A Helping Hand
Other MarineMax locations suffered substantial damage when Hurricane Irma slammed into Florida last September. MarineMax Ocean Reef Club in Key Largo was one of the hardest hit, and like the rest of the island, was in a shambles. Not only were its docks destroyed, but the buildings used for office, sales and service operations were flooded beyond repair.
Fortunately, the company had a friend in the building business. Immediately, GCG raced to the rescue. "At that point, people were out of work," says Teely. "Our goal was to get their operation up and running again ASAP, so their employees could resume their jobs."
Just days after Irma had passed, GCG's four-man "mobile command unit" arrived at the marina with a large, well equipped trailer. Inside were generators, fuel, power tools, Shop-Vacs, bottled water, building materials and other hard-to-find supplies.
Throughout the recovery and reconstruction process at Ocean Reef, GCG faced a multitude of challenges: a remote location, severely limited resources, and a shortage of workers and places to house them. GCG worked around such obstacles, and less than three months after Irma struck, it had completed restoration and renovation work at the property. One of the most striking improvements is the new sales counter that was built to resemble a classic sport fishing boat.
A List of Loyal Clients
Often, the quality of GCG's work has garnered repeat business from clients such as Drs. Lael and Debra Fett Desmond. Three years ago, GCG designed and built an 11,300sf medical office building on Metropolis Avenue for their Fort Myers practice, Dermatology Solutions. Because Lerin is a licensed real estate broker, she and Teely handled every aspect of the project, from site selection and purchase to post-construction walk-through.
Initially, the Desmonds planned to occupy three-quarters of the building, with the balance either to be retained for future expansion or leased out. However, the new location was so successful that Dermatology Solutions quickly outgrew it and turned to GCG for help. Lerin found the perfect solution next door, where she facilitated the Desmonds' purchase of an existing 7,300sf medical building. Interestingly, Teely had built the building 14 years ago and will soon be renovating it for Dermatology Solutions.
Elsewhere on Metropolis Avenue, GCG recently completed two separate 6,170sf office buildings for JDM Development. "The first building worked out so well for the tenant (the podiatry practice of Anne McNamara, DPM), that the owner asked us to build an identical structure next to it," says Lerin. "It was a completely unexpected but welcome opportunity."
GCG is also working with Enterprise Leasing Company of Florida on the redevelopment of a two+-acre site at 1855 Boy Scout Drive in Fort Myers. When completed, the former Salvation Army site will be home to a new dealership for Enterprise Car Sales, which is expanding from a nearby location built by GCG eight years ago.
The project includes the demolition of two existing buildings, development of a new 6,000sf building, lot and accessory upgrades, landscaping and irrigation, and various other site improvements.
This is GCG's third collaboration with Enterprise. Construction is scheduled to begin in July with occupancy expected in February 2019.
In south Fort Myers, Avalon Dental has contracted with GCG to build a state-of-the-art 3,000sf office for Bradley P. Dilling, DMD. Located at 16400 Healthpark Commons Drive, the office is GCG's second project for Avalon Dental. The work involves a total renovation to update the space, and includes the installation of hightech dental equipment. Construction is slated to start in the third quarter.
Giving Back, Looking Ahead
Despite the all-consuming nature of their business, the Byrds remain engaged with the community. Over the years they have supported various local and national organizations including PACE Center for Girls, the Make-a-Wish Foundation and Goodwill. In addition, they're heavily involved with their children's youth sports programs.
Also, GCG has launched a summer internship program in conjunction with the University of Florida's career placement office. Because UF's ME Rinker School of Construction is considered one of the top construction management schools in the nation, the Byrds believe it could provide a wealth of worthy candidates.
"As mentors, we want to share with students some of what we've learned about our industry and help familiarize them with how we work here in Southwest Florida," says Teely. "You can learn a lot from books, but ultimately, you have to have real-life experience in order to be able to do it. We can provide that opportunity."
During their 10 weeks with GCG, interns are paid as they learn about all facets of the business, from construction management to field supervision to project coordination. They may also receive housing assistance as needed.
"We're really excited to offer this internship and we hope they get a lot out of it," says Lerin. "I think it's going to be very successful." Assuming it is, GCG may expand the program in summers to come.