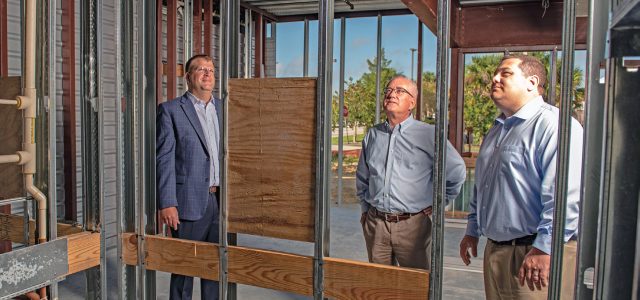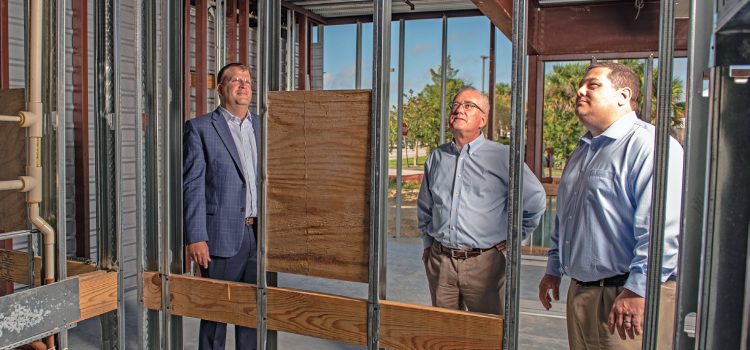 The robust recovery of Southwest Florida's residential market is now translating into commercial opportunity for many contractors and developers in the area, including Fort...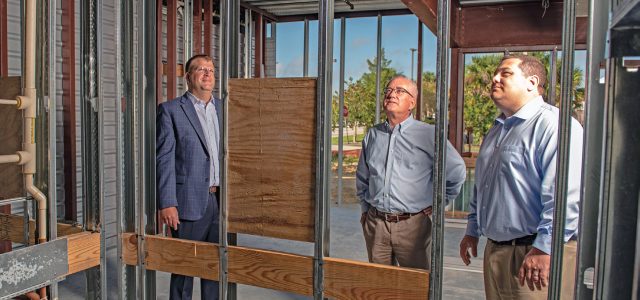 The robust recovery of Southwest Florida's residential market is now translating into commercial opportunity for many contractors and developers in the area, including Fort Myersbased Seagate Development Group. Propelled by experienced leadership and a diverse project portfolio, the company has rapidly emerged as one of the most successful builder-developers in this market.
Real estate veterans William Price, his son, Matt Price, and James Nulf established Seagate in 2015 as a fullservice residential and commercial development and construction company, specializing in new construction, custom renovations, and management and leasing services. The trio's long-time relationships and willingness to diversify have yielded spectacular results.
During its first three years in business, the company's revenues grew by 177%, surging from $17.6 million in 2015 to $48.8 million in 2017 — an annual growth rate of 40%. A similar increase is projected for 2018 due to the expansion of its commercial division and the addition of Theory Design, which provides interior design services on build-to-suit projects and tenant improvements.
To accommodate the growing business and its staff of 40, Seagate is building a new headquarters facility off Alico Road. With 13,500sf, it will be three times larger than Seagate's current leased space. The company expects to move in before the end of the year.
Diversity = Opportunity
Much of the company's early commercial success came from acquiring and managing high-profile industrial and flex properties in Lee County, such as Eastlinks and Westlinks business parks, Metro Distribution Center and Colonial Corporate Center. Typically, it holds acquisitions for the long term and sells only when the time is right. For example, Seagate recently sold Eastlinks Business Park for $25 million — an $11 million ROI in three years. The commercial market wasn't nearly as robust in 2015.
"When we first started, the demand and opportunities were in residential development, so that was our main focus," says Price. Besides facilitating the commercial side of the business, Seagate's residential work showcased its ability to design and build luxury custom homes in the area's most exclusive communities like Quail West and Miromar Lakes. Since then, the company has continued building individual custom homes while also earning accolades for developing high-end single-family residential communities that include Windward Isle (an elite enclave of 28 homes in North Naples) and Hill Tide Estates on Boca Grande, where the first of 19 homes is under construction.
Seagate's newest residential developments are at Talis Park in Naples and Esplanade Lake Club in Fort Myers. Construction began late last year on the Talis Park project, which features 17 singlefamily homes on a 4.5-acre island next to the community clubhouse. With homes priced from $2.5 — $5 million, it will be the last single-family development in Talis Park, which is nearing buildout.
Last fall, Taylor Morrison chose Seagate to be its exclusive custom homebuilder at the Esplanade Lake Club. Located on Alico Road, east of Treeline Avenue in Fort Myers, the community is planned to include a total of 650 homes, although Seagate will only be building in the custom home section. Initially, Seagate will have 10 exclusive homesites on Miromar Lake. Soon, it expects to start building model homes for purchase and marketing sites for custom homes.
Nulf says that Seagate's residential experience has enhanced its reputation as a commercial developer. "It proves that we're able to take a property — commercial or residential — through zoning, entitlement, horizontal construction and vertical construction. It also underscores our ability to manage the process of putting in the roads, water lines and other infrastructure."
Regardless of project type, Seagate focuses exclusively on Class-A opportunities. "We look for one-of-a-kind investment-class properties that are well located and whose value we can maximize; something that's unique," says Price. "We're interested in primary locations and opportunities that are most likely to succeed. And we also discuss what could happen under the worst conditions."
Now that demand for commercial space is heating up, Seagate is exploring a wide variety of commercial and residential options. "We're not in the position where we HAVE to take the next deal or develop the next project," Price adds. "We'd rather focus on unique opportunities that interest us and have the greatest potential to succeed. We've been very disciplined in that approach."
Partners and Projects
Since opening for business, Seagate has built an ever-expanding management portfolio in excess of 1.5 million square feet and developed more than $700 million of commercial real estate in Southwest Florida, often in conjunction with investment partners. However, Seagate takes extreme care in choosing partners and projects alike.
Price says that for every 100 proposals, 10 may get discussed and only five might make Seagate's final cut. "The vetting process of the partners and what deals we do or don't do is a crucial component of how we operate and the direction we choose. We thoroughly scrutinize every aspect of every opportunity under consideration. That way, when we do choose a deal, everyone involved (including Seagate's equity partners or bank) is very confident that the project will succeed."
As COO of Barron Collier Companies in Naples, Brian Goguen says he's equally selective about investment partners and has had only positive dealings with Seagate. "(Barron Collier) does a lot of joint ventures, but what I like about working with Bill and Matt is how creative and entrepreneurial they are. Besides being extremely trustworthy and a lot of fun to work with, they also have the in-house talent and skills to execute on the opportunities."
Goguen says it's unusual to find such a multi-faceted general contractor. "It's unique to be able to build and lease office and retail space, plus build homes. It's a very dynamic group of people who can do it all very well, and that's what distinguishes them."
Since 2013, Barron Collier has invested with Seagate in various commercial and residential projects in Lee and Collier counties, and has been impressed at every turn. "They've never dropped the ball and they've always been very proactive," he adds. Currently, the two companies are discussing commercial opportunities in the fast-growing town of Ave Maria, which Barron Collier is developing in Collier County.
Varied Commercial Projects
Seagate is in the process of developing three storage facilities from the ground up. Cube Smart will manage the buildings, which Seagate will own and maintain.
The first is in Fort Myers at the intersection of Colonial Boulevard and Treeline Avenue in the Arbor Towne shopping center. Seagate purchased the 30,000sf retail center two years ago and is building the 90,000sf Class-A storage facility on an outparcel to maximize the property's value. The project is scheduled for completion this spring.
Also, the company recently broke ground on a Cube Smart storage facility of approximately 90,000sf on Ben Hill Griffin Parkway in Estero, outside of the Tidewater community. A third storage project, totaling approximately 53,000sf in Ave Maria in Collier County, is in for permitting.
Other noteworthy commercial projects include the following in Fort Myers:
• TerraSmart's corporate headquarters. The company designs and manufactures large utility-scale solar installation systems that are sold worldwide. Its new facility is designed to accommodate its rapid growth, with 10,000sf;
• A Freightliner dealership for Southport Truck Group;
• A 20,000sf headquarters for a local roofing company;
• A 14,000sf expansion of Summit Church's main campus. The nearly $2 million project included the addition of a large foyer, worship area and stage.
Tenant improvements, including buildouts and renovations, are another significant segment of Seagate's commercial work. "Not everyone builds from the ground up. Often, we'll redesign and reconfigure an existing space so that it meets the needs of the end user." For instance, in 2017, Seagate renovated and built out a 19,900sf office space for Gartner in Eastlinks Business Park. The project, which included the selective demolition of the existing tenant spaces, resulted in an open, updated work environment. Seagate can also facilitate expansions, provided there's available adjacent space.
Exceeding Expectations
The company also provides specialized construction services, typically as a component of a larger project. For example, when Patrick Pennie sought to expand the headquarters of his specialty medical manufacturing company, Emcyte Corporation, he wanted to include lab space clean rooms in addition to conventional office and meeting space.
Price had known Pennie since 2010, when Emcyte was a tenant at one of Seagate's industrial properties "We had them build out our first manufacturing facility with clean rooms and storage (and) expanded three times," says Pennie. "They were very professional and really helped us as our demand increased."
Seagate came through again in 2017 when Emcyte was ready to expand for the fourth time. Price found the perfect property. "We knew about a building that was coming up for sale, so we bought it and retrofitted it for his needs."
Located on Veronica Shoemaker Boulevard, the 30,000sf facility was well suited for the bounce house tenant occupying the front half of the building, but Emcyte's 17,000sf needed a massive makeover. "Our electrical demands were a little higher, requiring 220 volts in some extraordinary places," says Pennie. Plus, 5,000sf of clean room space had to be built according to stringent government standards in order to provide particle-free, filtered air that would pass ongoing regulatory inspections. Seagate met the challenge.
Besides doing everything Pennie requested, Seagate improved and modernized the interior. "We appreciate the high ceilings, as well as the different layouts and color options their designers presented. We've been very pleased." So pleased, in fact, that Pennie has asked Seagate to build out the adjoining 13,000sf for Emcyte when the tenant leaves in January. The project will include a new training center with auditorium, as well as office, warehouse/ storage and manufacturing space.
Pennie also says he's been "thrilled" with the 4,900sf contemporary custom home Seagate recently completed for him in Renaissance in Fort Myers. "We've seen their homes in Quail West and Miromar, and we liked the structural soundness and functionality of their design." Further, Seagate met every special request on Pennie's list, which included 14-foot ceilings, oversized garage doors, a huge outdoor living area with a fireplace and custom kitchen, a lavish pool and spa, ample garden space and even a basketball court. "They've met all of our needs and exceeded them, and they've been great to work with," Pennie adds. "I'd recommend them to anyone."
Planning for Prosperity
Going forward, Seagate has "a lot in the pipeline," including two additional residential development projects in Naples and Bonita Springs that are in the entitlement process. Both are east of I-75 and would be developed as single-family communities. Neither property has closed yet.
Seagate is also in the process of expanding its commercial construction division, primarily by helping local companies do the same. "We're doing a lot of design-build projects for third parties, mostly local companies that are expanding in this market," says Nulf.
In an effort to streamline the company's day-to-day operations and facilitate ongoing growth, Seagate recently named Mike Meeks its chief operating officer. The move should also allow Seagate's principals to focus on new opportunities and service existing customers.
"We're trying to be strategic in where we go commercially," says Nulf. "Our niche is to find opportunities that others may have overlooked and capitalize on them. In that regard, the bar that our company has set is very high."