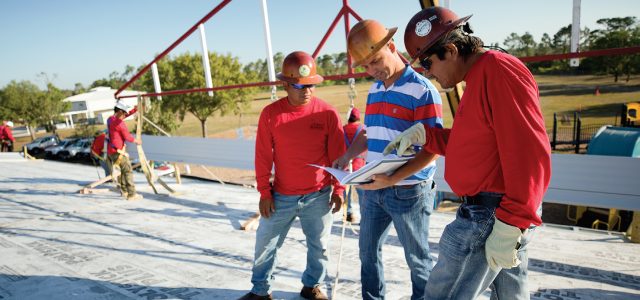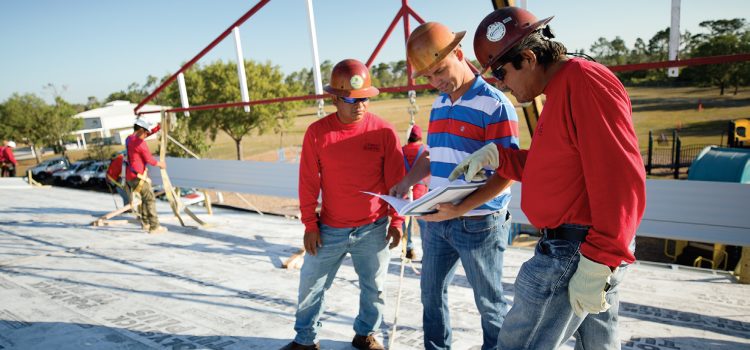 Judging from its achievements, it's understandable why a young company like Fort Myers-based Target Roofing & Sheet Metal might be perceived as an "overnight"...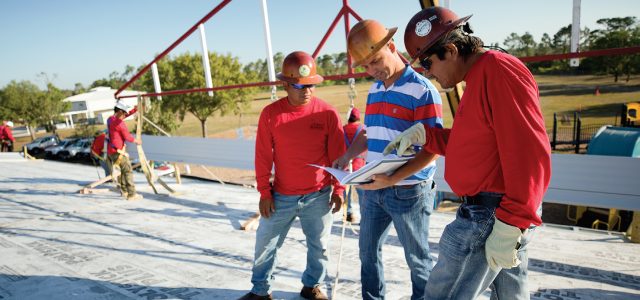 Judging from its achievements, it's understandable why a young company like Fort Myers-based Target Roofing & Sheet Metal might be perceived as an "overnight" success.
In less than four years, the company has become a leading provider of commercial roofing, maintenance and repair services, while its staff has grown from a handful of employees to a workforce of more than 200 sales, service and field personnel, metal workers and specialty tradesmen.
Concurrently, sales have skyrocketed. This year, the company anticipates revenues of approximately $30 million, tripling its 2017 sales figures.
Target Roofing president and founder Casey Crowther, a Fort Myers native, credits his employees for the company's success. "It's been a team effort," he says. "Without them, there's no way we could have grown the way we have."
Weather also played a part. Prior to last year's storm season, Target Roofing employed between 80 and 90 people. But after Hurricane Irma, demand for its services went through the roof. "Even a year later, our numbers are still going up," notes Crowther. "We've gained market share."
Crowther has a long history in Southwest Florida's roofing industry. Starting at age 14, he spent summers and weekends working at a local sheet metal shop before graduating to roofs. "I always loved the business," he says. "I liked putting in a long day of work and seeing what I created."
These days, Crowther needn't look far to see his company's handiwork. To date, Target Roofing has completed close to 400 commercial projects for an ever-expanding list of commercial contractors, property managers, owners, condo associations and HOAs. They range from luxury high-rise condominiums, schools and retail centers to healthcare facilities, churches and government buildings. Recent noteworthy projects include:
• Echelon on Palm, an 18-story residential condominium in Sarasota;
• Seaglass, a 35-story residential condominium at Bonita Bay in Bonita Springs;
• Mirage on the Gulf, a nine-story high-rise in progress on Marco Island;
• Naples Square III, the latest of several mid-rise condominiums in the heart of the city;
• Public and private schools throughout Lee and Collier counties, including Estero High School, Mirror Lakes Elementary, St. Francis Xavier School and St. Ann School, among others.
Estero High is among many local schools built by Gulfpoint Construction, a general contractor in Fort Myers. After Hurricane Irma severely damaged the school's roof, Gulfpoint principal and vice president Tommy Huether turned to Target Roofing for help. "There were leaks everywhere," says Huether. A Target Roofing team arrived on site within days after the storm, making temporary repairs to prevent additional interior damage.
"They got on it right away, so they made us look good and the school board happy," says Huether, who has known Crowther since pre-school. Once the school year ended in May, Crowther's company completely reroofed the facility. "They were on top of their game on that one. They stayed on task and on schedule," to install a new roof before classes resumed in August.
Huether says he prefers to work with local subcontractors like Target Roofing, rather than companies from out of town. "It's great to have locals doing the work because they're part of the community and it keeps the money here." Quality work and responsiveness also are important to Huether. "Casey will do anything for us, which is why we work with him. He's always done a great job."
Crowther also helped the school's assistant principal replace a metal roof at his home. "No one else would help," says Huether. "Casey worked with the insurance company and got it fixed. He really cares about this area."
Strategic Growth
While life-long contacts may have helped Crowther launch the business, he says it wouldn't be where it is today without the right team. "If you want to continue to take care of relationships, you have to have good people," he says. "I worked in the field for about 15 years, so I'm still a roofer at heart. I also know my strengths and weaknesses," and has hired accordingly.
"Most people think that roofers are a little rough around the edges, so I have hired people who are intelligent and well educated," Crowther adds. The majority are young, highly-motivated and from this area, often right out of college or the military. Brad North, vice president of estimating and sales, is all of the above.
An eight-year veteran of the U.S. Marine Corps, North has a master's degree in accounting, as well as experience as a roofer. He and Crowther are close friends and former roommates. The two spent 18 months in Memphis, Tennessee, as part of a roofing crew on a major project.
Others on the leadership team include long-time friends Rast Bryant, sales manager, and Scott Ewens, director of operations. He was also Crowther's boss at their previous place of employment. Crowther says they're the core of the company. "I'd go anywhere with those three guys and start a business with them."
Crowther says that having salespeople and managers with roofing backgrounds has helped bridge the gap between field laborers and office staff.
"They know I can empathize with them when they talk to me about roofing systems or money or working conditions," he says. "I understand where they're coming from and can speak their language," literally and figuratively. Fluent in Spanish, Crowther can easily converse with Hispanic laborers who aren't fluent in English. "But if I hadn't grown up in this area and worked with these guys, there's no way we'd have been so successful."
Continuous Improvement
To remain at the top of its trade, Target Roofing continually invests in several key areas.
Training. Typically, roofers and sheet metal workers learn by doing, either on the job or in the shop, always under expert supervision. Due to the variety of roofing products it installs, Target Roofing doesn't cross-train its crews. Instead, roofing crews are extensively trained to specialize in a specific roof type, such as flat, shingle or metal.
Manufacturers also provide requisite training before they'll certify commercial roofing contractors to sell their product warranties. The process involves a battery of tests and exams, as well as an on-site inspection of the roofer's work. Crowther says that certification indicates quality workmanship and helps ensure customer satisfaction.
Safety. The company spends upwards of $20,000 per month on safety, including vehicle maintenance and equipment, and workers are constantly in safety training, both on the job and in house. "We never sacrifice safety for production — ever. We weigh performance by safety, rather than the time it takes to complete a job."
Since each job has unique challenges, Target Roofing provides sitespecific safety plans for every project. It also has two full-time safety experts on staff to monitor all company job sites, checking to make sure workers are taking their required breaks and following the company's safety guidelines.
OSHA is a constant presence. "Because we're doing the roof work on 90% of the high-rises in Southwest Florida right now, we're very visible to OSHA inspectors, who visit our sites at least once a week," says Crowther. The company also meets proactively with OSHA, inviting inspectors to specific job sites to make safety recommendations. To date, the company has had no serious on-site incidents.
Technology. Boosting efficiency and staying a step ahead of its competitors is of paramount importance to Target Roofing, which invests regularly in the latest digital technology and software. For instance, the company utilizes state-of-the-art estimating software to quickly deliver comprehensive estimates that are more accurate than blueprint takeoffs done manually. "I've done it the old-fashioned way, but we want to evolve," says Crowther. "We also want to be as efficient as possible for our customers."
Target Roofing also relies on Customer Relationship Management (CRM) software to manage its operations and communicate company-wide from any location. Using the cloud-based program, salespeople and superintendents can remotely access contracts, blueprints, schematics, photos and other job-related information on their laptops. Convenient and expedient, the system allows employees to rapidly respond not just to each other, but also to the customer. What's more, it tracks all company correspondence and service requests, which enhances sales and service accountability.
The company also uses a digital platform for almost all of its advertising and marketing. "I think it's the only way to reach people now," says Crowther. Videos on the company's website and Facebook page allow people "to see what we do and how we do it." He says it also makes selling easier. To maintain fresh online content, Target Roofing's staff includes a full-time videographer and photographer, who also creates employee videos for in-house use.
Equipment. While most roofing contractors outsource their materials and rent their heavy equipment, Target Roofing owns everything it needs for roof installations and repairs. In addition to the multiple cranes, telescopic forklifts, snorkel lifts and dump trucks it owns, the company recently purchased its own state-of-the-art sheet metal fabricating equipment. Now it can buy raw material and manufacture the custom components it needs in house.
"That's important because we fabricate a lot of custom metal roofing components, as well as all-metal roofs," says Crowther. "With our new equipment, we're more efficient and cost-effective because we can buy our metal and fabricate it when we need it without relying on anyone else." To meet its demanding workload, Target Roofing operates the sheet metal shop 12 hours a day, seven days a week.
Besides owning its equipment, Target Roofing now owns the facility that contains it. Earlier this year, the company relocated from downtown Fort Myers to Ortiz Avenue, where it purchased a 19,600+sf headquarters building. The new space has been reconfigured and built out to include offices, scheduling rooms, a sheet metal fabrication shop and other components.
Another plus is the property's five acres of pavement, which can easily accommodate Target Roofing's fleet of work vehicles and heavy equipment. "With this many trucks and workers, mobilization is extremely important," says Crowther. "We're strategically building it out so that the guys get out on time (by 6 a.m.)." In case they need a reminder, he installed a large clock on top of the building.
Maintaining Roofs, Building Relationships
Crowther is focused on maintaining a strong service department, which he says is essential to long-term success. "Good service leads to repeat business, so it's important that we demonstrate everything we do well on that first appointment," he said. "That's why we spend a lot of time making sure our repair crews are technically sound and highly skilled, as well as professional and punctual at all times. We want to take care of our customers."
In order to cultivate future ones, Target Roofing provides free estimates and inspection reports upon request, with no expectation of an immediate monetary return. "We want to go out and assess a roof five or 10 years before it needs to be replaced," says Crowther. After the inspection, the customer receives a report that discusses the estimated remaining life on the roof and what they can expect to spend on maintenance and repairs in the meantime.
"Commercial clients will budget for 20 years, so if their roof is 15 years old and they tell me they need to get five more years out of it, we'll develop a strategy for getting them there. It's a matter of asset management."
Target Roofing also offers maintenance contracts that include inspections twice a year and pictures to document the condition of the roof. Repairs are made as needed to add to the life of the roof. Crowther says that making a minor repair now can prevent a major repair or reroof later. But if it's too far into the lifecycle and beyond repair, he'll recommend a reroof before structural failure occurs.
The company also offers client portals on its website to support commercial customers such as property managers and contractors. The feature lets them track their project(s), see when it is scheduled, monitor its progress, check the pricing and receive invoices. It's ideal for clients who manage multiple properties and want to see a roof's maintenance history for budgeting purposes.
As maintenance coordinator with SWFL CAM in Fort Myers, Amanda Jackson is in frequent contact with Target Roofing and often accesses her client portal. SWFL CAM has approximately 50 communities and HOAs as clients, more than half of them multiunit and multi-building condominiums.
"They are my go-to roofing company for roof leaks at any condos (in our associations)," says Jackson. "We always recommend them. Their estimates are accurate and prompt, and they're very responsive." She adds that the client portal is a convenient way to create work orders, receive estimates, schedule repairs and keep track of invoicing.
What's Next
Crowther is a problem-solver and as such, says he loves a challenge. "That's why I got into the business. I didn't do it for the money, I did it for the excitement and joy of doing the job. That's what keeps me going." But it's not the only thing.
He also spends as much time as possible with his family (he's married with two children), and giving back to the community. Besides donating time and resources to local charitable causes, he's a big booster of youth sports at his children's school, where he's a coach and mentor. He also contributed significantly to post-hurricane repairs at Rutenberg Park, where Target Roofing has become a near-constant presence.
Going forward, one of Crowther's greatest professional challenges may lie in managing the company's relentless growth while continuing to build the business. It's a question that keeps him awake at night.
"I want to perfect the processes and procedures we have so that (the business) runs like a well-oiled machine, and I want to capture it in a bottle. The bottom line is, I want to create a strategy that works."
Although it appears his strategy has worked beautifully thus far, Crowther isn't having it. "People always tell me I need to slow down a little, but I can't. I love working and I love being out with the crews. They've worked so hard to help us be successful. That's why we all look up to them."