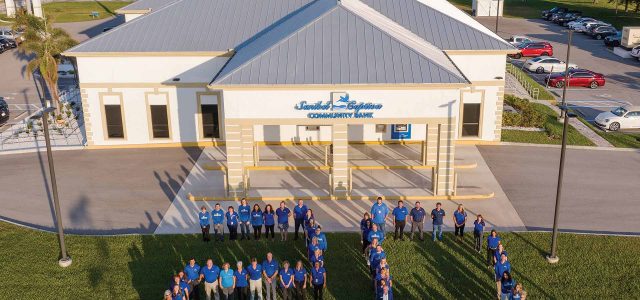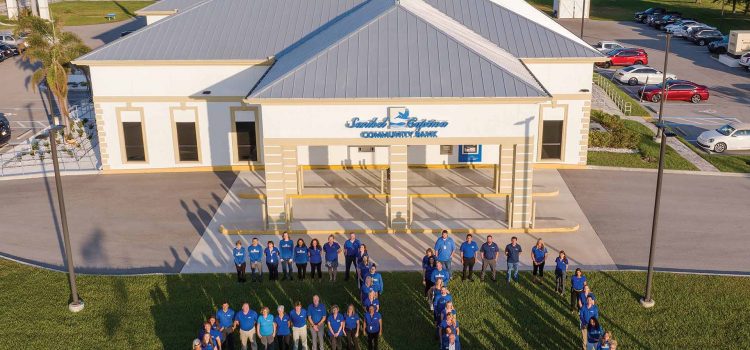 Sanibel Captiva Community Bank started out with a focus on its namesake islands. As the local region grew, though, the bank grew right...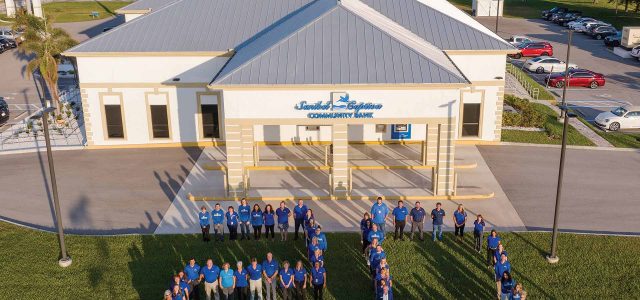 Sanibel Captiva Community Bank started out with a focus on its namesake islands. As the local region grew, though, the bank grew right along with it, open­ing locations in Fort Myers as well.
As Sanibel Captiva Community Bank celebrates its 20th anniversary in 2023, its reach has expanded, but its dedica­tion to serving the community hasn't changed at all.
"We never had the pressure from our board of directors to grow and to be big," says Kyle DeCicco, president and CEO of Sanibel Captiva Community Bank. "We've focused more on building tight-knit relationships. We focus on serving a customer base that we really know and keeping it local."
That philosophy has paid off for the bank over its two decades in business. When Sanibel Captiva Community Bank was chartered on Sanibel Island in 2003 by founder Craig Albert, it had just one location, three employees and $30 mil­lion in assets. Today, the bank has eight locations, 112 employees and 15,000 accounts, as well as total assets of more than $790 million, more than $658 mil­lion in loans and $727 million in deposits.
The bank is consistently ranked in the top 25 as a best-performing com­munity bank by S&P Global Market Intelligence. The most recent HOVDE Group Quarterly Florida Bank Peer Performance report ranks Sanibel Cap­tiva Community Bank fifth among 40 Florida community banks in return on average assets (2.2%). In the Southwest region of the state, the bank is No. 1 in loan-to-deposit ratio (91.8%) and second in both return-on-average asset (2.2%) and return-on-average equity (29.6%).
Despite the growth and accolades, Sanibel Captiva Community Bank still retains the feel of a smaller operation where customers can easily talk to an actual human about whatever their needs might be. "Walk into one of our branches and say hello, and you will be greeted like a friend or family member," says DeCicco. "You can call me directly – I tell that to everybody I meet. Walk into the lobby of the 9311 College Parkway branch, and my office is off the lobby. I do not sit behind closed doors; I'm a normal bank employee who is here to serve our customer base.
"That is kind of the biggest difference between us and a larger institution," he continues. "We're still small enough that you have access to me. That's the way Craig Albert built it, and we're going to continue to operate this bank that way. We're in the service industry. We provide financial services; it's as simple as that."
LEADING THE WAY
DeCicco is only the bank's second leader in the institution's history, becom­ing president in 2021 and CEO in 2023. He started with the bank in 2016 with a focus on building its commercial busi­ness and expanding its presence beyond Sanibel and Captiva. "If the bank was to grow, it needed to grow off-island," he says.
He recalls "wearing a lot of hats" while getting the bank's commercial lending business off the ground. "The bank hadn't really seen large off-island commercial transactions until I came here," he says. "It was fun watching it grow."
The bank strives to lend out as many dollars as possible to support the com­munity and its growth. Its loan-to-deposit ratio has consistently been high, often reaching 100%, and the bank makes com­mercial and personal loans to new local small businesses, companies expanding their footprint in the area and families interested in purchasing homes.
When bank founder Craig Albert began thinking about retirement, De­Cicco was the logical successor. "It was never the intention of the bank to grow and then sell," says DeCicco. "It was for Craig to be able to retire when he chose
and let me step in and continue to oper­ate the bank in the same manner that the board and management currently runs it. It wouldn't be a new guy from out of market coming in with his own agenda; it would be a local Southwest Florida individual who knows this market and who's grown up here."
Over the past few years, DeCicco and the rest of the team at Sanibel Captiva Community Bank have continuously stepped up to support that local market, helping area businesses weather a series of difficult challenges. During the early days of the COVID-19 pandemic, the bank quickly mobilized almost 30% of its staff to help customers navigate the Small Business Administration Paycheck Protection Program, with team members working 12- to 13-hour days and on weekends for months to process as many applications as possible for customers. The bank secured more than 1,100 PPP loans for Southwest Florida businesses, independent contractors, nonprofit or­ganizations and individuals that totaled almost $109 million.
The bank similarly sprang into ac­tion after 2022's devastating Hurricane Ian. Since the storm, it's closed nearly $75 million in loans directly related to the hurricane and continues to lend to HOAs, contractors, business owners and homeowners embarking on the long road of rebuilding. The bank has recently raised more than $6 million in new capital from its existing shareholders to support those rebuilding efforts.
Sean Niesel, owner of Shalimar Cottages on Sanibel, appreciates the hands-on approach the bank has taken following the storm. His grandparents purchased the hotel property in 2005 and became customers of Sanibel Captiva Community Bank around the same time. Shalimar Cottages was destroyed by Hurricane Ian and "we've been picking up the pieces ever since – or trying to at least," says Niesel.
That's been made a slightly less daunting prospect thanks to the hotel's relationship with Sanibel Captiva Com­munity Bank. "You're just not going to find the same level of communication at other banks," says Niesel. "Kyle and I can go to lunch and talk about ideas; I don't have a relationship like that with other banks. They truly care about the community and want to see it be built back stronger, and they're here to help in any way that they can."
"They've been so accommodating and generous after the hurricane," says Jacki Liszak, president of the Fort Myers Beach Chamber of Commerce. "They gave all the businesses they work with the opportunity to take a few breaths and try to regroup and figure out how to start to build their businesses back, which is huge. As a community partner, they've just kind of been there every step of the way, assisting with whatever the needs are and working with folks on emergency bridge loans, forbearance, so many dif­ferent things."
THE SPIRIT OF COMMUNITY
Sanibel Captiva Community Bank did all of that while dealing with its own fallout from the storm. Three of its eight locations were damaged by Ian, affecting 21 employees. The bank found roles for them at its other locations to avoid layoffs. The bank also helped find housing for eight bank employees who were displaced from their homes and made a financial commitment to help cover rental costs.
The bank's main office on Sanibel recently reopened, but its office on the east end of Sanibel sustained significant water damage and is going through a complete historical remodel, with the goal of reopening in Q4 of 2023. Its McGregor Boulevard branch near Kelly Road in Fort Myers is also going through a major redo. "It's going to be an abso­lutely stunning building with more of a modern and coastal contemporary feel," says DeCicco. "It will be beautiful."
He's been impressed with the strength of the community as it's dealt with the pandemic, hurricanes, and issues like red tide and blue-green algae over the past several years. "I will tell you, the resiliency of our market on Sanibel, Fort Myers Beach, and the coastal and outlying areas of Lee County amazes me every time," he says. "And nobody is running away and leaving Southwest Florida; they want to rebuild. I'm super excited to be a part of the rebuilding pro­cess over the next decade. I see Southwest Florida being a huge market for growth in the next 10 years."
But the bank supports the local area beyond just the process of physically rebuilding. Since 2003, it's donated more than $2.5 million and contributed staff volunteer hours to more than 300 local charitable causes such as Captains for Clean Water, Habitat for Humanity and the Guardian ad Litem Foundation. The bank offers paid time off so employees can volunteer for causes important to them, and the staff averages almost 1,000 volunteer hours a year at organizations like Valerie's House, PACE Center for Girls, Lee and Blessings in a Backpack.
"If we've needed support in any of our events, they've always been willing to step up and help," says Liszak of the Fort Myers Beach Chamber. "They've always reinvested in the community through us and other nonprofits and businesses on the island. They've always been a very strong community partner, and really anything we've ever asked, they've al­ways found a way to help us."
"We're very proud to give back the amount of funds that we've given to charity organizations and nonprofits," says DeCicco. "We're not this organiza­tion that is going to go out and be on every billboard. You're not going to see us much on the radio or TV. I'm going to put my money where my mouth is and continue to write checks for the commu­nity and support fundraisers and be seen at these fundraising events. It's a simple business plan, but it's worked, so I really don't see a reason to change it."