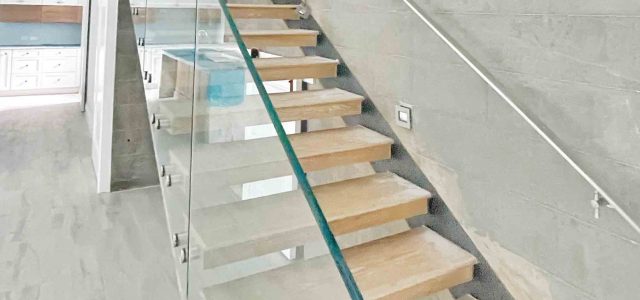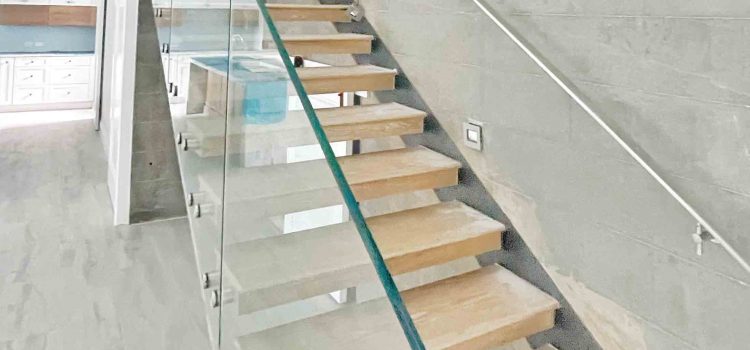 The JW Marriott Marco Island Beach Resort is among Southwest Florida's most luxurious hotels, a waterfront retreat full of amenities like exquisite cuisine, championship...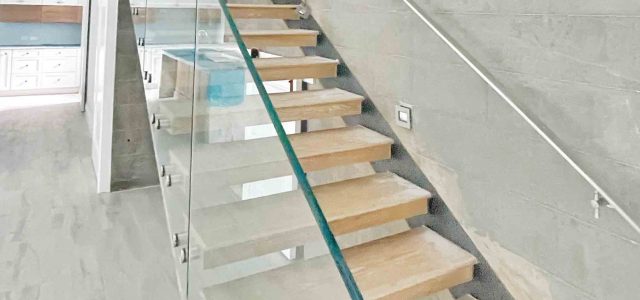 The JW Marriott Marco Island Beach Resort is among Southwest Florida's most luxurious hotels, a waterfront retreat full of amenities like exquisite cuisine, championship golf, a full-service spa and suites with breathtaking sunset views.
It has every modern-day feature of the world's top resort properties… except one. It lacks a contemporary grand staircase.
American Veteran Welding is going to change that. In collaboration with Glass of Marco, the Naples-based company will transform the existing staircase – currently featuring a dated ornamental-wood design – with a majestic grand staircase in 2023 that will become a visual icon for future family portraits, wedding photos and other special occasions.
Behind the creation of this metal-and glass masterpiece is Derrick Aguilar, an expert fabricator who quickly is making a name for himself among commercial and luxury residential builders in Southwest Florida for his superior craftsmanship.
Since he founded American Veteran Welding in 2018, commercial and luxury residential builders have commissioned Aguilar to work on a wide variety of demanding jobs, including shiny handrails in classy office buildings and hotels, ornamental gates in front of luxury homes and even the decks of a U.S. Navy ship. The company is a certified Florida Veteran Business Enterprise.
Now, Aguilar's skills are in such high demand that he's planning to expand the company by hiring passionate young artisans he can train while simultaneously building a fabrication shop.
"The demand for welding is skyrocketing compared to the supply of welders and fabricators," Aguilar says. "That goes with every trade in the construction industry. I'm grateful to be awarded with projects that demonstrate our quality of work to serve my community's development."
Indeed, Steve Prusha, president of Glass of Marco in Naples, says Aguilar's work is superior to anyone in the region.
"I've gone through a few of them and they haven't panned out," Prusha says. "Some don't call you back and others don't have the workmanship."
Rob Neurock, senior project manager with the commercial contractor Envirostruct, had similar experiences with less qualified welders.
"The reason I started looking for Derrick is the guy we had was not getting it done," Neurock says. "Derrick's an exception in South Florida as far as quality is concerned."
As a result, Aguilar's business has been brisk. The company reports 35% to 40% annual growth, and envisions that rate will continue even without adding employees.
Because he's in such high demand, Aguilar says he can't manage more projects without hiring and building a fabrication shop to tackle bigger jobs.
THE VETERAN EDGE
Aguilar grew up in Naples and attended Golden Gate High School, enlisting in the U.S. Marine Corps after graduation.
"I enlisted as a combat engineer and when I finished my combat training, they gave me (the job of) metalworker. I had no idea what that was. I had no idea what welding was," Aguilar chuckles.
After attending military trade school in Virginia for eight months, Aguilar was dispatched to Kuwait and Bahrain in the Middle East to apply his newly acquired welding skills. There, he fixed heavy equipment such as bulldozers and forklifts as well as any metalwork that was required on base.
In many cases, Aguilar was the only welder on military bases in the Middle East, which provided a good learning experience.
Aguilar's military training goes beyond the technical aspects of the trade to skills such as punctuality, reliability and honesty.
"It's been my experience that most of the guys who are veterans hold themselves to a standard that's different, and Derrick is a good example of that," says Envirostruct's Neurock. "It's an intangible. They're never late and they're always very respectful to the people around them."
Neurock says Aguilar worked closely with one of his superintendents who also is a veteran of the U.S. Marine Corps.
What's more, Aguilar is a fluent Spanish speaker, another skill that comes in handy on job sites.
"There's been countless times when I'm communicating with employees who mainly speak Spanish," Aguilar says. "I'm able to bridge that language barrier with a superintendent on site."
Being a veteran also will help Aguilar as he bids on more government contracts. The federal government offers certain advantages and resources to veteran-owned businesses.
"They're much bigger, higher-paying jobs," Aguilar says of government contracts. "It really would push us to grow as a company."
Already, Aguilar has completed work for the U.S. Navy on a research vessel in Key West, noting that it "feels good to work for the government on different terms."
The veteran community and organizations like Veterans Business Council, Procurement Technical Assistance Center and Small Business Development Center have been critical to the brand's success. Florida Gulf Coast University's Veterans Entrepreneurship Program awarded the company more than $30,000, helping the company purchase a new service truck during the pandemic.
EXPANSION PLANS
Southwest Florida has a well documented shortage of experienced workers in the trades, especially welding. Aguilar's expansion plan, however, is contingent upon hiring and training welders capable of producing highquality work. That's why he is turning to veterans like himself.
"That's the biggest challenge we foresee – finding experienced welders who love the trade and what they do," he explains. "Veterans are trainable, but they need real world experience that the schools don't teach."
In addition to hiring additional employees, Aguilar plans to build a fabrication shop that will help him handle bigger projects like the Naples Hampton Inn & Suites that he's working on now. That project involves building and installing 400 feet of railings in the hotel pool area with a unique mesh design certain to draw the attention of hotel guests.
Landing more of these projects, however, requires advance work in a fabrication shop offsite.
"Getting our fabrication shop up and running gives us the ability to take on more work. We're aiming for volume and production, and that will give us the ability to acquire innovative, automated machines and make our lives easier when it comes to bigger projects," Aguilar says.
Aguilar plans to build the fabrication shop on an acre of land he owns in Golden Gate Estates. Constructing the shop will cost around $40,000 to $50,000, a bargain compared to the estimated $1 million it would cost to build a similar shop in Naples. Renting a commercial property in Naples for a fabrication shop, estimated at $8,000 to $10,000 a month, would be equally cost-prohibitive.
Although word of mouth is Aguilar's top method to attract new business, his partner Monica Ramos has been actively promoting the company on social media. Spearheading sales, marketing and business development strategies for the company, Ramos designed a professional website, AmericanVeteranWelding. com, that includes blogs and promotes American Veteran Welding on Facebook, Instagram, LinkedIn and Google.
POSITIVE OUTLOOK
Despite talk of a recession and the impact of rising interest rates on real estate, Southwest Florida stands out as a destination for individual and business relocations, Aguilar says. That gives him confidence that he can grow his business by hiring new employees and building a fabrication shop.
"I don't see us slowing down at all," Aguilar says. "People are flooding the area; it's only getting more crowded."
In particular, luxury homebuilders are active with affluent individuals, couples and families moving to Florida, tearing down old homes and rebuilding new residences. Metal gates and handrails are amenities that are in high demand among wealthy homeowners.
Aguilar estimates 70% of his work is commercial and 30% is residential. Adding government work will help diversify the company.
"We definitely want to get to that point," he says. "It secures our company for the future."