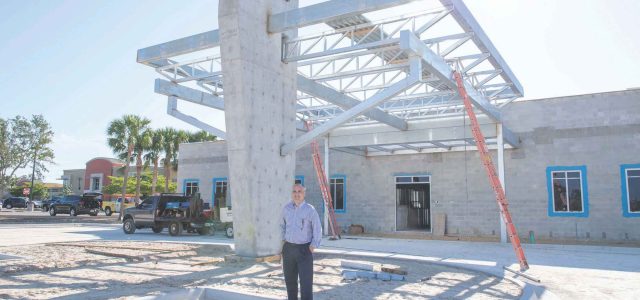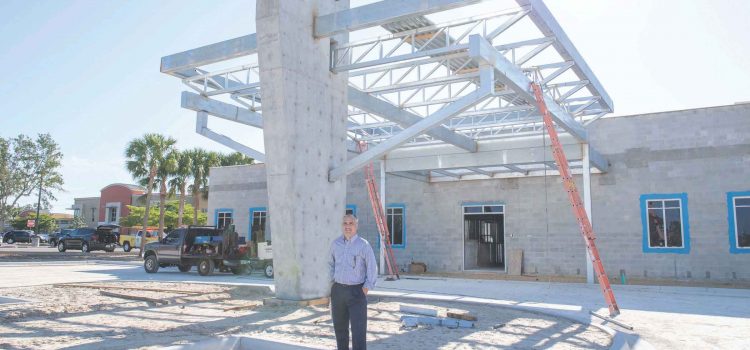 GMA Architects & Planners embodies longevity and success as a professional architecture firm in Southwest Florida. Over four decades, GMA has successfully passed the...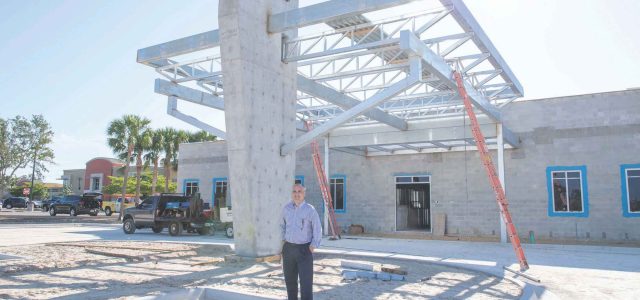 GMA Architects & Planners embodies longevity and success as a professional architecture firm in Southwest Florida. Over four decades, GMA has successfully passed the baton from one generation of architects to the next while adapting to the ever-changing market.
As the firm celebrates its 40th anniversary, Ramon Acevedo, GMA's newest president and principal architect, provides a clue to its longtime presence. "This is a team profession," he says. "You cannot say a project is successful without the entire team. That's how this works. The reality is that there are many components."
Formerly Gora McGahey Architects until it rebranded to GMA in 2016, the firm was founded in 1981 by Bruce Gora, a gregarious architect. He loved to play the jazz trumpet and was ever present at community events. Gora's business partner, Dan McGahey, joined him a few years after he started the firm.
"They complemented each other," says Acevedo, who affiliated with the firm 23 years ago. "Dan was behind the curtain and moving production and quality control. Bruce was more of the face of the firm and in charge of marketing and design. They balanced each other in a very good way."
Gora died in 2008 at age 58, leaving the firm in the hands of McGahey, who had to navigate the recession and take a more active role at community functions. "It was very difficult. We lost the face of the firm," recalls Acevedo.
The firm's client-centric focus and team approach helped weather the tragic event and economic downturn. "The first step is to always sit with the clients and listen to their needs, their goals, and what they want to accomplish," Acevedo explains. "Clients appreciate a more personal approach."
DEEP COMMUNITY ROOTS
Over the years, GMA has been the go-to architectural firm for a Who's Who in the local area. From Chico's to Goodwill Industries and many others, most Southwest Florida residents have entered a building the company designed at some point. The company's portfolio is vast. Whether they planned and designed auto dealerships, banks, government centers, marine facilities, medical practices, offices, restaurants, or shopping centers, "the trust has been established over the years," Acevedo says.
Unlike other firms that stamp their architectural style on projects, GMA carefully considers client needs before its own. The firm's architects aren't in business to boost their egos with costly designs, which their long-lasting clientele recognize and appreciate. "Working with GMA is great. It's a very collaborative environment," says Lerin Byrd, president of GCG Construction in Fort Myers and a GMA client since 2004. "At the end of the day, the numbers have to make sense for their projects."
Inside the firm, Acevedo is quick to deflect attention from himself and credits teamwork for much of the company's success. GMA's longevity means clients are assured of continuity from one project to another. "In any industry, there's turnover, but they have a good core group of people who are there," says Byrd, who has brought GMA to assist clients such as MarineMax and Enterprise Holdings.
GCG Construction is not the only company to acknowledge the collaborative business approach Acevedo has continued over the years. John Nadeau, president and CEO of Goodwill Industries of Southwest Florida, commends Acevedo for taking an interest in his company's mission, and says he genuinely believes in his vision for Goodwill.
"Ramon understands what we're trying to accomplish," says Nadeau, who operates 25 retail and donation centers across the region. When Nadeau moved to Southwest Florida from Tacoma, Washington, he recalled how GMA immediately understood the mission of delivering a fashion-forward Goodwill concept to Fort Myers.
"When a customer walks in, we want them to think they're in a department store, not a thrift store. It's polished and professional like a regular store. It smells good, looks good, and it's clean," Nadeau says. "GMA understands the way we like the flow of the store, and the fit and finish."
MANAGING THROUGH THE PANDEMIC
Fortunately, GMA is well-diversified. While business from restaurants and hospitality slowed somewhat, other clients continued building, thanks to Southwest Florida's strong economy driven by population growth. Northern ers fled to florida from locked-down cities during the pandemic, a demographic boom that hasn't gone unnoticed. "What I have seen is that developers from up north are targeting this market," says Acevedo.
While some projects held off during the early part of the pandemic, demand for the firm's services remained strong. "We didn't see a substantial impact," Acevedo says. "Everyone was kind of cautious when the pandemic started, but it came back in a matter of three or four months."
COVID-19 impacted designs, too. For example, restaurants now include more outdoor space for social distancing, and offices have more sophisticated technology for remote work.
Like many office-based professions, GMA has had to adjust to the pandemic by communicating more via the internet and Zoom. However, the adjustment was minor because the staff had held virtual meetings with out-of-town clients before the pandemic. Still, the team at GMA prefers face-to-face interactions with local clients.
NEW OPPORTUNITIES ON THE HORIZON
Under Acevedo's ownership, GMA hopes to expand geographically and professionally. The I-75 corridor from Tampa to Naples is a natural way to grow, but the firm also has done projects on Florida's east coast, including tenant improvements in downtown Miami. Although Southwest Florida is home to GMA, the company has worked on projects as far north as Brandon, near Tampa, and east to Palm Beach, receiving the opportunities from their local connections.
GMA also hopes to pursue more multi-family projects because of strong market demand. "We have a project under construction in Cape Coral that we developed last year," which has already proven to be a success, Acevedo says. Still, he is careful not to overextend the firm, aware of the volatile economic cycles he's witnessed in the past. "We want to grow at the proper rate, and maintain the quality of service and quality of design."
Besides, Acevedo says, the firm remains committed to Southwest Florida, where there are plenty of opportunities. "We want to continue to be part of the community here, and that's our primary goal. We want to participate in building the skyline and the shape of the community with good quality design— that's what's important."