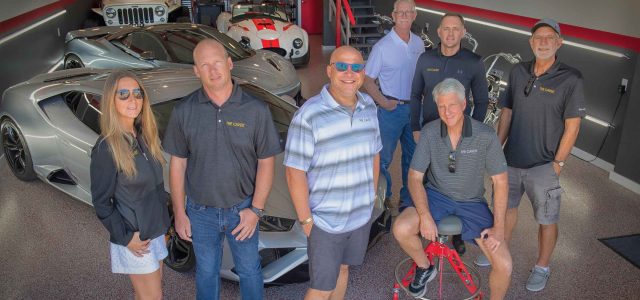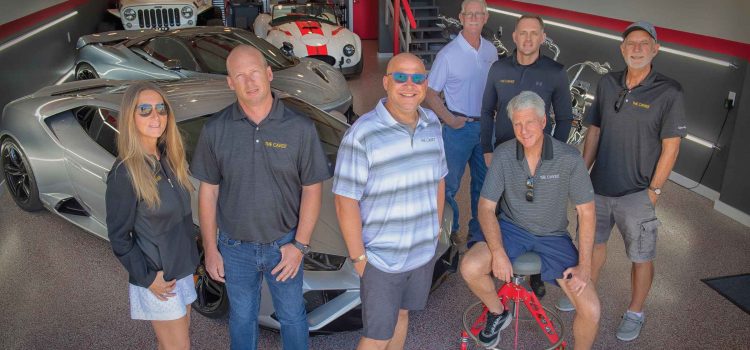 Long-term vision and persistence are two keys to success in real estate development, especially when it comes to unique projects. Just ask the Cape...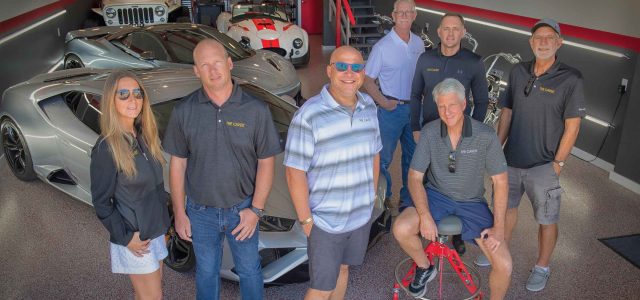 Long-term vision and persistence are two keys to success in real estate development, especially when it comes to unique projects.
Just ask the Cape Coral father-and son team of John and Charles Ringland, whose vision for a luxury storage development called The Caves took four years to realize.
While so-called "man caves" in homes are fast becoming popular today, John Ringland together with his sister Kitty Ringland, were ahead of their time in 2016 when they envisioned this project. The Caves is no ordinary storage unit. These luxury garages have amenities such as private bathrooms and showers, individual climate control and plentiful power outlets so their owners can entertain friends in caves large enough to house car collections, boats and hobby equipment. Owners frequently customize their units with an upper level mezzanine loft that can be built out to include bars, large-screen TVs and couches for social get-togethers.
The challenge for developers is these luxury garages don't fit neatly into municipal zoning codes because they're not traditional warehouses. In Cape Coral, for example, building officials didn't have a category for luxury garages located close to residential neighborhoods. "Was it industrial? Retail? They didn't understand the concept," John Ringland recalls when he first pitched the idea.
After extensive discussions with city officials, the Ringlands persuaded them to approve The Caves with the stipulation that no one can operate a business there nor live in a unit. With upscale finishes and an Owners' Lounge, they successfully demonstrated that The Caves attracts people willing to pay $150,000 to $450,000 per garage, depending on customization. "They're high-value properties with very low impact and they draw a very well-educated, successful clientele to the area," Charles Ringland explains.
It also helps that the Ringlands have more than three decades of experience developing quality buildings in Cape Coral. "What we found is that we have a unique ability to work with the city," says Charles Ringland. "We've sold caves to guys who wanted to build them and they decided it's easier and more cost effective to simply buy one from us."
The first phase of The Caves of Cape Coral opened in March 2020 and the 10 garages quickly sold out. Another 43 sold-out garages will be completed in the second phase this spring. Now, construction is about to begin on a 40-unit caves project a few miles away off Trafalgar Parkway in Cape Coral. Banking on their successful formula, the Ringlands are scouting additional sites locally and throughout the state.
GATHERING PLACE
One critical component to the success of The Caves is the social engagement that it promotes. Many of the owners are successful entrepreneurs who have retired to Southwest Florida and are eager to share their interests with each other.
The development includes an Owners' Lounge with couches, TVs and a kitchenette. Large windows can be opened to reveal bar top counters, a feature that allows caterers to serve food at large gatherings of owners and their friends and families in the courtyard.
"We as the developers prioritize that community environment," says John Ringland, who has retained ownership in the development to maintain the upscale atmosphere.
"When they put a party together, it's mind-blowing with top-shelf cigars and barbecue," says Eric Meiers, who recently sold his heating-and-cooling company in Colorado and was looking for secure space in Cape Coral to store his sports cars, including a Lamborghini and a McLaren.
When Meiers sold his business, the Ringlands organized a surprise dinner party in his honor at his favorite restaurant, Gather in Cape Coral, and invited fellow owners of The Caves to celebrate.
Some of the units are big enough to store multiple vehicles. For example, Brad Freeman, a retired entrepreneur from Canada, has 25 cars scattered in traditional storage facilities. He's consolidating his collection into five caves under construction. "I'm on a can't-wait basis for The Caves to open," he chuckles.
Beyond just having a place to store his vehicles, which span the years from 1908 to 1978, Freeman is eager to meet others who share his passion. "What I'm really looking for is a like-minded community," he says.
"The camaraderie is huge," agrees Roger Stamer, a retired airline pilot who enjoys restoring muscle cars and antique outboard boat motors. Stamer has a collection of about 60 outboard motors, many of which are stored at his home.
Stamer plans to work on motors and his cars at the ground floor of a unit he purchased in The Caves' second phase. He plans to entertain friends and family in the loft inside. "I've already got a bigscreen TV lined up for watching games with buddies," he says.
Stamer says he's also become a financial partner in a future caves project. "From the business standpoint, they have a great product," he says.
While The Caves is a logical place for people who love cars, recreational vehicles and boats, there's no limit to the special interests you can find there. "It's a great place to meet people of different backgrounds," says Kurt Baum, a retired construction executive who also has become a partner in caves projects.
To date, men have been the primary buyers at The Caves, but women are also purchasing caves and appreciated the camaraderie and the extra room to store things outside the home. "They enjoy the gatherings and extra space to pursue their hobbies," says John Ringland.
CLOSE TO HOME
Traditionally, warehouses have been zoned and developed far from residential areas. Industrial parks are usually located closer to interstates and airports – areas that are more appropriate for tractor-trailer traffic.
By contrast, The Caves is located closer to upscale neighborhoods in Cape Coral. "I can ride my bike there," says Baum. "That's what really sold me on the development."
Meiers says he, too, had looked for commercial properties in areas typically zoned for such uses when he discovered The Caves near his home. "The Caves is seven minutes from my house," he says. "I was blown away. I didn't realize something like this existed."
The courtyard, owners' lounge and car-wash bay give The Caves a neighborhood feel, an extension of where they live. "You get people together with the same mindsets and you put them in a space like this and see the chemistry is incredible, the fun that they have," says Charles Ringland.
An owners' association governs The Caves development like a residential gated community. That gives the owners a voice in the future of the development, including management and upkeep of the common areas. "That's the beauty of those communities. They have the freedom to decide what they want to do," says John Ringland.
BETTER DESIGN
Warehouses and storage units are usually simple metal buildings that don't have the aesthetic designs of offices or shops. What's more, industrial parks are designed to be utilitarian and are generally unfriendly to pedestrians and cyclists.
Because The Caves is located next to residential neighborhoods and caters to high-end clientele, the Ringlands have taken special care to design attractive buildings with windows for natural light, well-landscaped grounds and a meandering path around the development for walking or biking. The pedestrian-friendly "Safe Streets" design with winding sidewalks, space for a bike path and shade trees will be replicated at future caves developments, the Ringlands say.
"It's more expensive to do, but the benefits are well worth it," says Charles Ringland. "We design to enhance the neighborhood."
In addition to the appealing design, The Caves are being built using the "tilt-up" method in which large concrete slabs are tilted up to form the exterior of the buildings. The buildings are then topped with hollow-core concrete roof systems. "They're bomb shelters," chuckles Baum, the retired construction executive.
MORE CAVES TO COME
The success of The Caves business model can be replicated in other areas. The Ringlands are scouting areas from Naples to North Florida to fulfill the demand.
Current owners who are investors are bullish on the population growth in Florida, particularly entrepreneurs from northern states who sell their companies and retire to the Sunshine State.
Many buyers are on what John Ringland calls the three-to-five-year plan. These are northerners who buy a second home in Florida with the eventual plan to move here permanently in three to five years. The Caves makes it easier for them to make the move with their cars, RVs and boats, he says.
"When I look at Southwest Florida, it's got so much potential and growth right now," agrees Freeman, the entrepreneur from Canada who is investing in future caves projects and doesn't believe storms such as Hurricane Ian will keep people away. "That's just a speed bump. We have so much growth available to us down here; we're just starting the boom."