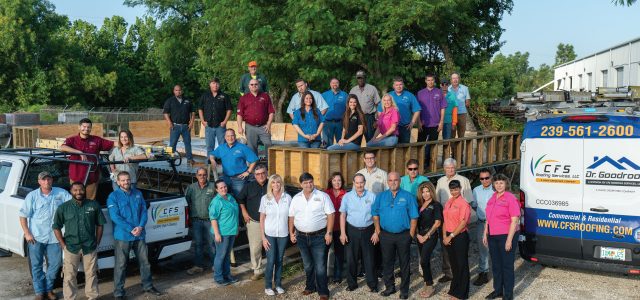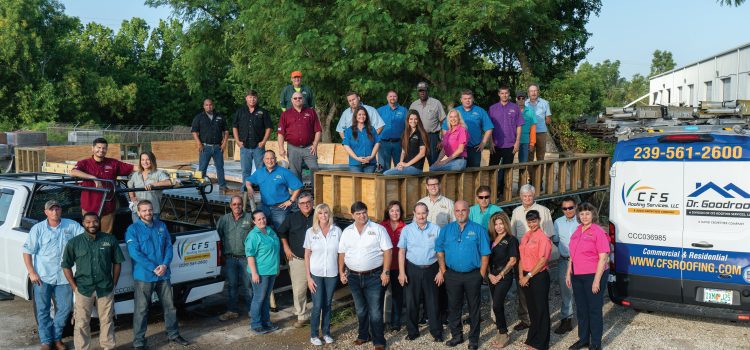 When David Crowther drew up plans for a new roofing company in 2009, his living room was his office, his timing less than ideal....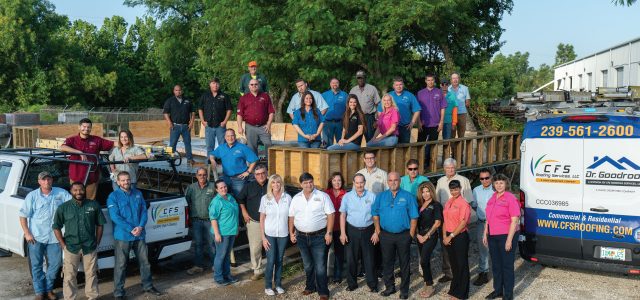 When David Crowther drew up plans for a new roofing company in 2009, his living room was his office, his timing less than ideal. It was the height of the recession and the longtime roofer had split from his family's roofing business. Regardless of the challenges, Crowther was determined to run his own company.
With his wife Karen's support and assistance, he launched CFS Roofing Services in 2010. "We never hesitated," she says.
Despite its humble beginnings, CFS has been a resounding success. In 2017, the company posted revenues of $13 million, which rose to $22 million in 2018. David Crowther says he expects this year's revenues to jump 59% to $35 million. The company now has 204 employees and a $200,000 weekly payroll.
CFS is well known for its work on high-profile projects ranging from commercial buildings to luxury homes across Southwest Florida and the Panhandle. Notable examples include the Bell Tower Shops and the woodshingle roof of the historic Burroughs Home, both in Fort Myers, and the hand-fabricated copper domes of the St. Sava Serbian Orthodox Church in North Port.
It helped that Crowther developed a sterling reputation over four decades in the Southwest Florida market. "I always admired his work and his honesty," says Randal Mercer, founding partner of CRE Consultants. "When he took on a job, he owned it."
Mercer's commercial real estate firm awarded CFS its first big job in 2012 rehabilitating the roofs of the Riverview Corporate Center in Bonita Springs. "It was a lot of work and it had to be done fast," Mercer recalls.
Karen Crowther is another reason for the company's success. Until she joined CFS full-time in mid 2017, she was an extremely successful commercial real estate broker in Southwest Florida. "She was a very strong competitor," Mercer notes. "I was glad when she got out of the office-leasing business," he chuckles.
Contractors who have worked with CFS will attest to David Crowther's capabilities. "If you have a problem, he's a hands-on guy," says Howard Wheeler, president of Chris-Tel Construction.
During the 1990s, Wheeler remembers being impressed with Crowther's coordination of nightly roof repairs on schools so it wouldn't interfere with daytime classes. "He's the guy who made it happen, so when he went out on his own, you knew all that institutional knowledge was going to (transfer) to his new company," Wheeler says.
Since then, Wheeler says he's hired CFS for work on projects ranging from the Landings at East Pointe apartments in Fort Myers, the new student-services building at Florida Gulf Coast University and the roof on Lehigh Senior High School. "On commercial projects today, schedules are tight so you need an organization that performs to the schedule," Wheeler says.
STARTUP CHALLENGES
Despite David Crowther's decades of experience, starting a roofing company from scratch was a struggle. "In hindsight, I should've acquired a company," he says. The family split was painful, too: "The biggest thing I lost was my identity," he says.
The basics of starting a business were daunting. Countless small tasks such as designing a logo, purchasing tools, and buying a computer and a truck proved time consuming and challenging. "Then the truck broke down," he laughs.
Initially, Crowther focused on air conditioning and solar installations, which were more recession-proof than roofing. But as the recession started to ebb, the Crowthers saw signs of a recovery on the horizon and the opportunity for roofing jobs.
"Investors started sniffing around," says Karen Crowther. She was in a position to know because of her leadership position at Colliers International commercial real estate brokerage in Fort Myers.
For example, CRE Consultants awarded CFS the roofing job at Riverview Corporate Center after investors acquired it out of foreclosure. "I had one roofing crew and one service crew," Crowther recalls.
For CRE and Mercer, it was crucial to select a roofing contractor they could trust for one of their most valued clients. As a result, "we use CFS for all our service-building needs," Mercer says. "They just do a great job."
In 2013, Crowther hired a senior estimator. "The revenues started slowly coming up," he says.
Still, the roofing business didn't start to generate significant revenues until 2015. Crowther refused to take a paycheck in the first four years. "It allowed me to continue to reinvest in the business," he says.
Working with Sanibel Captiva Community Bank and equipment-finance companies, Crowther acquired the tools he needed to grow the company. For example, he purchased $200,000 worth of sheet-metal equipment so he wouldn't have to rely on subcontractors. "We spent very little on advertising," says Karen Crowther.
To be sure, the Crowthers didn't have to spend on advertising because of their reputations in the Southwest Florida market. What's more, clients recognized David Crowther's quality workmanship and respected his longstanding devotion to the community through good times and bad.
A sign of longevity, CFS is reroofing Bell Tower shops. Forty years ago, Crowther installed the shopping center's original roof when he worked for his family's roofing company.
CREATING A DIFFERENT CULTURE
From the start, the Crowthers worked to create a company culture that placed people and the community first. That emphasis has given CFS a competitive edge over rivals that focus solely on financials. "Our job as leaders is to support the roofer who is banging on the shingles," says David Crowther, adding that he can identify with roofers because he started his career as a roofer's apprentice. As a young journeyman roofer in Chicago, Crowther followed in the footsteps of his grandfather, who started a roofing company in Joliet, Illinois. "I'm the only Crowther who has formal training," he says.
The Crowthers say their faith plays a significant role in how they run their business. They belong to Next Level Church, which encourages giving back to the community. Many Southwest Florida charities have been recipients of the company's generosity, including PACE Center for Girls, Dream Center in Dunbar- Kingdom Builders, Valerie's House and the Salvation Army, among others.
"We're faith-based business owners," Crowther explains. "We live to give."
Often, the CFS team gives for the personal satisfaction and without special recognition. For example, when the company replaces roofs for those who can't afford to pay, the Crowthers make a point to remain anonymous. "The whole team wants to do it," Crowther says. "We do things quietly because of the need."
The Crowthers also are known to take chances on hiring people who lack roofing experience as long as they have a positive attitude. That includes people who are just starting out as well as those with a blemished past. "We're a company of second chances," Karen Crowther says.
She notes that women are in leadership positions at CFS, a rarity in the male-dominated roofing industry. The company encourages women's professional development in the industry through local, state and national roofing trade groups.
The result is a close-knit staff that's devoted to the organization. For instance, for months after Hurricane Irma hit the region in September 2017, CFS employees worked extended hours without a break or complaint.
The labor shortages now common in the construction trades aren't as much of a problem for CFS because of the culture the Crowthers have created. "People who work for us can work anywhere, but they choose to stay with CFS," Crowther says.
TECHNOLOGY AND CREATIVITY
Like other industries, roofing has benefited from technology. For example, the firm's customer relationship management software helps CFS manage 30 crews that are out in the field.
Clients can track their projects electronically, too. "We're paperless," says Tammy Hall, CFS's director of marketing since 2013.
Further, CFS has developed creative business strategies that benefit its clients. For example, the company built a mobile showroom so that residential clients may select the tiles, shingles or metal samples for their homes without traveling to the showroom.
To be sure, experience trumps technology when a hurricane hits the region as it did with Hurricane Irma in 2017. With the power out and spotty mobile phone service, Crowther used an oldfashioned white board to schedule the deluge of calls from flooded businesses and homeowners. "This was my fifth hurricane," he says.
For the first weeks after the hurricane, the Crowthers operated a command post that coordinated jobs, food, water for workers, many of whom were working extended hours, voluntarily and without a day off. The company also prioritized the health and safety of customers and employees, as well as their children. Further, CFS topped off 200-gallon fuel tanks they had acquired to keep their repair trucks rolling in the likelihood of post-hurricane gasoline shortages.
OUTLOOK AND FUTURE
Northwest Florida was hit hard by Hurricane Michael last year, a Category 5 storm that caused extensive damage to commercial businesses and homes throughout the region. In particular, the reconstruction of Tyndall Air Force Base in Panama City has created significant business opportunities for contractors of all kinds. "They've got years of rebuilding," he says.
Because of his expertise in post-hurricane roof repairs, Crowther established a CFS office in the Panhandle in Panama City. From there, he intends to expand to Fort Walton Beach and Pensacola.
Meanwhile, closer to home, Crowther says Charlotte County will likely be a source of future reroofing opportunities. That's because Hurricane Charley scored a direct hit in Punta Gorda in 2004, damaging or destroying almost every structure in the area. "Every roof got blown off there 15 years ago," he says.
Crowther keeps his competition close. His son, Casey Crowther, started his own company, Target Roofing. Father and son remain on friendly terms, sometimes sharing a charter plane to northwest Florida to compete for business.
But with a twinkle in his eye, David Crowther says he likes to remind his son, "If you want to be the best, you have to beat the best."