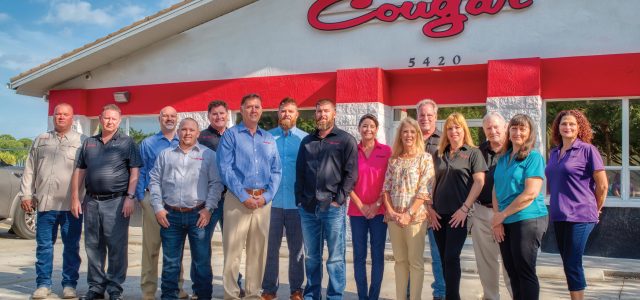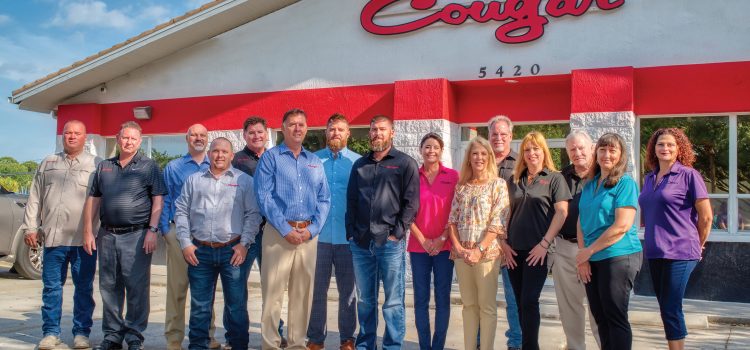 When Ron Schmitt pulled into Fort Myers in 1981, the assets of Cougar Cutting were the Buick he was driving and a concrete saw...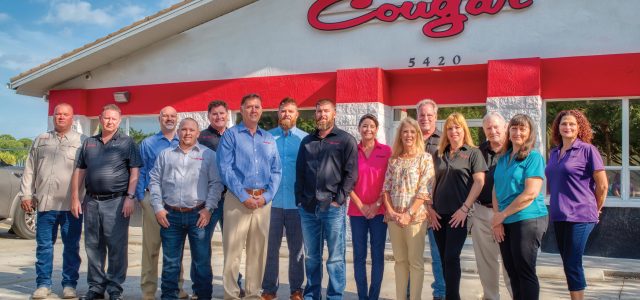 When Ron Schmitt pulled into Fort Myers in 1981, the assets of Cougar Cutting were the Buick he was driving and a concrete saw in the trailer he was pulling.
"I couldn't afford a truck," chuckles Schmitt, who expanded the business from Michigan with his wife Shari, and his father, R.J. Schmitt.
Today, Fort Myers-based Cougar is one of the major players in commercial contracting on Florida's Gulf coast with $50 million in annual revenues. Growth in the last three years can be measured in triple-digit percentages as the economic recovery gained traction.
Today, Cougar has more than 150 employees who operate super-modern equipment ranging from concrete saws to bulldozers — all GPS/Bluetooth enabled. The company owns one of Husqvarna's newest concrete-crushing robots, a remote-controlled machine that resembles a small tank.
The story of Cougar's success is pure American Dream: Hard work, innovation, teamwork and devotion to quality. Now in its third generation of leadership with sons Andrew and Brandon Schmitt, the family business is an integral part of the construction industry shaping the future of Southwest Florida from Tampa to Marco Island.
For nearly four decades, Cougar has had a hand in some of the most visible projects in Southwest Florida including Florida Gulf Coast University, Lee Health, Southwest Florida International Airport and Tampa General. Most recently, Cougar completed work on the new recreation and wellness building at Florida Gulf Coast University and also has been selected to work on the new Collier County Sports Complex.
Since its early days as a concretecutting company, Cougar has broadened its scope into related areas including vertical construction, complete site development and underground utilities.
EATING SLURRY
Schmitt launched Cougar in Fort Myers by showing up at job sites with his father, where they offered to saw and drill holes in concrete with diamond-tipped power tools so plumbers, electricians and other tradesmen could do their jobs. "We stopped at every site," he recalls.
Drilling holes in concrete is gritty work, due to the dust and bits of concrete spraying the face and upper body. Concrete laborers refer to it as "eating slurry."
But Schmitt quickly developed a reputation for his mastery, landing jobs on high-profile job sites such as Southwest Florida International Airport in Fort Myers and Tampa General Hospital. He even worked on a launch pad at Kennedy Space Center on Merritt Island. "That got us in the door," he says.
Like many startups, Cougar began as a home-based operation that grew commensurate with demand. Gradually, Schmitt expanded the business and began hiring. "We paid the first guy $7 an hour," he says, noting that today's crews make many times that amount in pay and benefits. Further, the business now operates from an 8,000sf headquarters building on two acres at Billy Creek Industrial Park in Fort Myers.
Today, 62-year-old Schmitt works alongside his two sons, Andrew, 34, and Brandon, 35. The two grew up in the business, eager to work hard and be treated just like any other Cougar employees. "We never got a raise from Dad," Andrew says.
GROWTH IN SOUTHWEST FLORIDA
When the Schmitts arrived in Fort Myers in 1981, Southwest Florida was about to grow significantly as I-75's extension to Naples and Alligator Alley was nearing completion. Meanwhile, Southwest Florida's new airport opened in south Lee County in 1983, replacing Page Field and providing another gateway for population growth. "The timing was right," says Ron Schmitt.
As more people discovered Southwest Florida and moved to the region, Cougar's business grew with the commercial businesses that followed the population boom. For example, when Publix supermarkets added liquor stores, Cougar was hired to drill holes for electricians and plumbers who were doing the additions.
One of the first people Schmitt met when he moved to Fort Myers was Geoffrey Roepstorff, a longtime Southwest Florida banker who is now CEO of Edison National Bank. "They had a plan and worked the plan very well," recalls Roepstorff, who made the first loans to the business.
In addition to a viable business plan, Roepstorff says he was impressed by Schmitt's work ethic, integrity and industry knowledge. Plus, his job sites were always immaculate. "You could eat off their garage floor," Roepstorff says. "You (rarely) see job sites like that."
Cougar added concrete work to its portfolio as it sought to provide additional services to its clients. For example, starting around 1999, Cougar began filling the holes it cut with concrete. That saved customers time because they didn't have to wait for a concrete contractor after Cougar cut holes and utilities were installed.
To help carry the firm through the economic bust at the turn of the decade when construction dried up, Cougar established All-In Hauling. The firm hauls dirt, horticulture, concrete, asphalt and construction debris. It also transports backhoes, loaders, excavators and other heavy equipment to and from job sites. Initially created to cut hauling expenses during the recession, All-In Hauling now has a fleet of nine trucks, three semis and 300 dumpsters. "It was a no-brainer at the time," says Andrew Schmitt.
GOING VERTICAL
As Southwest Florida emerged from the recession, Cougar hired in-house engineers and purchasing agents, and started offering flatwork such as sidewalks, curbs, gutters, driveways and loading docks. Ron Schmitt's outlook is positive. "There's going to be roadwork coming down for the next 10 years," he forecasts.
The Schmitts saw an opportunity to build concrete buildings, too, and hired construction industry veteran Hunter Leake in 2012. This enables Cougar to offer customers full site development, from clearing land to building concrete pads, roadways and vertical construction. Other beneficiaries of this service include owners of ultra-luxury homes in neighborhoods such as Port Royal in Naples.
Some of Cougar's recent high-profile concrete buildings include the $2 million Talis Park clubhouse, a three-story, solid concrete behemoth comprising 30,000sf. Other projects include the Northern Tool building near I-75 and Alico Road in Fort Myers, and the toll plaza at the Cape Coral Bridge.
"What sets them apart is their responsiveness and customer service," says Dan Adams, vice president of Stevens Construction in Fort Myers. Cougar has the expertise to get the job done quickly and efficiently, he says.
The company has been successful recruiting well-qualified team members because of its training, technology, safe working conditions, caring bosses and quality work. "Reputation is what gets you people," says Ron Schmitt. "The word's out this is a good place to work."
Partners like Stevens Construction appreciate Cougar's dependability. "They have the manpower, which is different from a lot of subcontractors. The others are subbing out the work and have less control," says Adams, who has hired Cougar to work on projects for its clients such as Florida Cancer Specialists, Midwest One Bank, Marlins Plaza, Estero United Methodist Church and Jason's Deli.
While its roots are in concrete cutting, it has shortened its name to Cougar to reflect the broad scope of its work. "We're fortunate to have a company of their caliber," says Roepstorff.
The Schmitts are circumspect about what lies ahead for the company. But one thing is certain: If there is a good opportunity to grow Cougar, they'll be there. "Come talk to us in 12 months," says Andrew Schmitt.