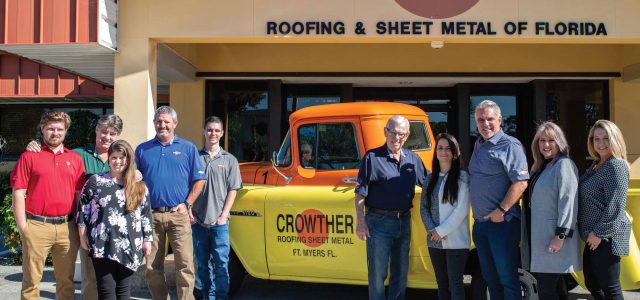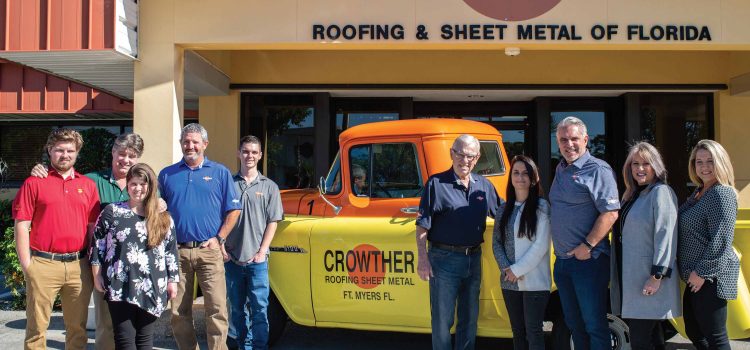 Founded in Joliet, Illinois in 1955 and relocated in 1974 by Lee Crowther, Sr., Fort Myers-based Crowther Roofing and Sheet Metal of Florida is...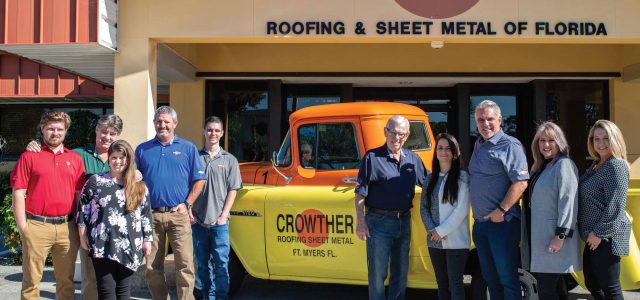 Founded in Joliet, Illinois in 1955 and relocated in 1974 by Lee Crowther, Sr., Fort Myers-based Crowther Roofing and Sheet Metal of Florida is one of the most prominent names in the roofing and construction business. With about $95 million in annual revenues, it is one of the top 10 roofing contractors in the nation. Currently, the multi-family member, fifth-generation business has 700 employees working from 25 buildings on a 30-acre campus, as well as branch offices in Sarasota and Jupiter.
With its longstanding history in the region and unlimited bonding capacity to earn big projects all over South Florida, Crowther reassures clients it stands behind its work. Some of the most well-known landmarks in South Florida stay dry thanks to Crowther. Some of the company's recent highprofile commercial roofing jobs include Hertz Arena in Estero, the Luminary Hotel in downtown Fort Myers, and the Arthrex wellness-hotel complex in Naples, as well as The Guitar Hotel at Seminole Hard Rock Hotel & Casino in Hollywood.
Crowther Sr., the spry 82-year-old founder, visits the office regularly, introducing himself to visitors in the lobby and keeping a watchful eye over the roofing empire that's now run by his son, Lee Crowther, Jr., CEO, and Kevin Callans, president. It's no coincidence that Crowther has been successful even during the economic downturn that flattened competitors. Moreover, Crowther has an exemplary safety record that keeps workers' compensation rates low and trains and promotes employees with well-defined career paths and performance bonuses.
Despite the company's impressive record of success, Crowther isn't one to rest on its laurels. The company plans to grow its residential roofing portfolio and expand into other services, such as heating and air conditioning and roof cleaning, with cutting-edge technology and materials that prolong a roof's life.
SURVIVAL AND RECOVERY
In Southwest Florida, it's rare to find multi-generational companies in the construction industry that have survived the ups and downs of business for 46 years. When Chicago native Crowther Sr. arrived in Fort Myers in 1974, U.S. 41 was just a two-lane road. However, the area held promise for growth without the Midwest's labor union constraints that held back ambitious young entrepreneurs.
Still, Crowther Sr. says he grew the company conservatively, never overextending the business by borrowing too much. In 2000, he eliminated the company debt, a crucial decision that guaranteed the company's survival during the Great Recession that began in December 2007. "I never liked borrowing money. It's the only way to sleep at night," says Crowther Sr.
During the construction boom of the early to mid-2000s, Crowther paid off company debts and was judicious with profits. When the recession hit, annual company sales fell from $100 million to $30 million. "The market conditions forced substantial financial losses during the recession, but our conservative approach to saving and reinvesting in our own business is the reason we made it through," Crowther Sr. recalls.
Although Crowther Roofing had to lay off some employees, its cash cushion helped the firm win big jobs around the Southeast. "We were fortunate that we were able to keep a core group of people," says President Kevin Callans.
The conservative financial and operational management of the company provides bond insurance for virtually any job. However, Crowther Jr. says most clients don't require it because they know the company is trustworthy. "The value in Crowther is that they can and will stand behind their work," says client Walter Crawford, the president and CEO of Heatherwood Construction in Bonita Springs. "They have never left an issue unresolved because they've created operational excellence."
Crawford, a 25-year veteran of the construction industry in Southwest Florida, says Crowther's reliability is key to winning projects. "We have paid more to use Crowther because we know we can rely on them," he says.
TEAMWORK IS KEY
When Southwest Florida's economic recovery began in 2012, Crowther's retention of the most skilled team members paid off with the core group of experienced roofers ready to tackle jobs. More importantly, the experienced team members trained new employees. Because no formal schools for roofers exist and learning on the job is critical, Crowther started a training program that pairs less experienced people with veterans in the field.
Crowther Roofing prides itself on being able to devote any number of requisite resources to projects, from two to 200 employees at a time, with a mix of veterans and novices. More experienced team members have an incentive to train others because that makes the team more efficient. "They want to work smarter, not harder," Callans explains. Additionally, they have financial incentives for the groups that perform in areas that include safety, quality, meeting the overall job budget, and the labor budget. Depending on performance, teams can make as much as 10% to 30% more in bonuses. Crowther assigns each team member a color nameplate pinned to a board displaying a clear path to promotion. Each color represents a pay grade. The least experienced employees get pink nameplates. They have to acquire new skills from a veteran roofer to advance. Because safety is critical, Crowther has six full-time safety officers who perform regular inspections. Besides reinforcing the financial incentives for safety, the investment saves Crowther on worker's compensation insurance.
DIVERSIFICATION AND OPPORTUNITIES
Rather than extending its geographic reach beyond South Florida, Crowther has focused on expanding its diversity of services to businesses in recent years. Following the recession, Crowther grew its heating and air-conditioning division for commercial roofing clients, which seemed a natural progression. When Crowther installs a roof on a commercial building, it frequently removes and reinstalls the rooftop air-conditioning units.
The company currently offers a bundle that includes roofing and airconditioning services, saving clients time and money. Crowther clients are delighted because it's easier and more efficient to work with one contractor for the whole roofing project. "It's an economic driver, and we're taking market share on the air-conditioning business," says Crowther Jr., noting sales in that part of the business have grown 300% in the last three years. The diversification beyond roofing has another benefit; employees in different company sectors, such as sheeting and roof metal, can cross-train to work in air-conditioning, depending on workflow. Control over quality and reliability is another reason for creating divisions in-house.
Another key to growing the business in the future is technology. For example, using specially designed cleaning agents for the roofing industry, Crowther launched a cleaning service that extends a roof's life. This complements its existing roof-inspection business that has more than 1,000 clients. Moreover, Crowther is investing in aerial drones that cost as much as $30,000 each, equipped with infrared sensors to identify water intrusion and cracked tiles.
In addition, Crowther has broadened into residential roofing for luxury homes, promising customers a new roof with no money down. Crowther Jr. notes that roofs on some high-end homes can be as complicated as commercial roofs. While residential roofing only makes up about 10% of the overall revenues, Crowther plans to transition into residential heating and air-conditioning later this year too. In particular, there are opportunities to offer air-conditioning systems designed to eliminate viruses and monitor indoor air quality.
Although the COVID-19 pandemic hasn't affected Crowther's operations or sales, it has provided opportunities to expand its services and deliver clean air to clients. Even as Crowther expands its services, it continues to uphold its conservative fiscal approach, avoiding debt and reinvesting cash into the business. "We don't owe anyone anything," Crowther Sr. says.