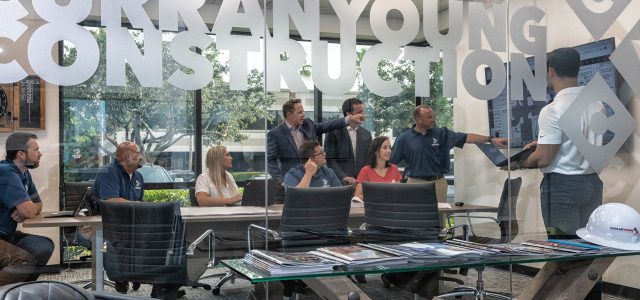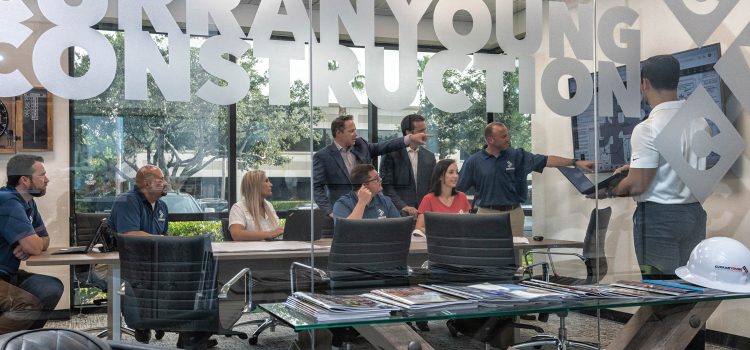 A pair of entrepreneurial builders have scored some impressive wins across Southwest Florida in just two years. In 2018 industry veterans Chris Curran and...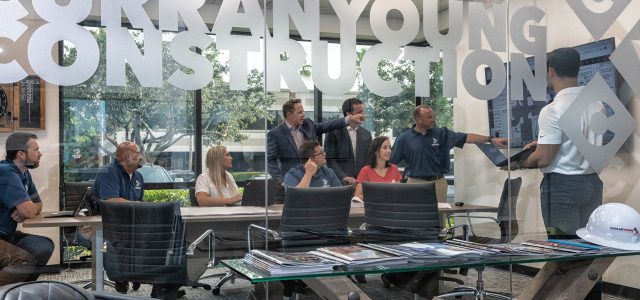 A pair of entrepreneurial builders have scored some impressive wins across Southwest Florida in just two years.
In 2018 industry veterans Chris Curran and Bruce Young launched Curran Young Construction with technology at the heart of the operation, giving them an edge over less nimble competitors.
The combination of technology driven speed, efficiency and experience has quickly won them business from notable clients such as Physicians Regional Hospital, Beasley Media Group and the YMCA, who needed to move quickly but wanted the reassurance that they were working with highly qualified pros.
Curran and Young together have been responsible for billions in construction when they led projects for large firms such as Turner Construction. When they started their own company in Bonita Springs two years ago, they surrounded themselves with a deep bench that combines local knowledge with national experience.
"We (gained experience) with the best companies and we find value in the mix of that culture," says Curran. "Everyone who works here has come from a large firm."
The backbone of the operation is technology, which allows Curran Young to move through the bidding and procurement phase faster than competitors while automating administrative tasks so its experienced team can focus on building quality projects on time and within budget.
Curran says he is fond of telling clients that they are hiring experienced veterans of a large construction company without paying the high cost of maintaining a large administrative staff. "By creating a super-lean back of house we're not charging customers for these non-essential services," Curran says.
THE TECHNOLOGY ADVANTAGE
The latest software developed specifically for the construction industry delivers speed and efficiency, especially if it is integrated throughout the firm's functions.
The fact is, the construction industry has only recently benefited from advances in technology. For years, construction firms in Southwest Florida and elsewhere muddled through without investing in the software and cloudbased applications that can revolutionize a general contractor's workflow.
"The major innovations and advances in construction have only happened in the last six years," says Curran. "While many other firms are chasing everything that glitters in the world of tech, we've decided to focus only on the technology that improves our client's ROI by accelerating design and construction timelines and reducing costs."
Launching a new construction firm gave the founders an opportunity to create a technology-based firm that lets them manage projects easily without hiring a large back-office staff to juggle cumbersome legacy systems.
"Some software has only become mainstream in the last year or two," says Curran. "We got to capitalize on the absolute latest available technology, such as cloud-based software for different parts of the business, like project management, bid solicitation and accounting."
For example, Curran Young can provide a detailed construction budget in a matter of days using the latest software, beating rivals who often take more than two or three times as long. This kind of speed won the firm business from the start, delivering detailed construction estimates in record time.
Commercial real estate brokers appreciated the prompt cost estimates Curran Young provided. Curran says it is critical to help brokers who want to know right away how much it would cost their clients to build on a site that is for sale.
Connecting all the software to manage a project from beginning to end is the secret to making it all work smoothly. "What it boils down to is integration," Curran says. "We never have to do one thing twice, from selling to closing a job." We can collect and review subcontractor bids electronically on a Monday and have an entire project subcontracted by Friday. This eliminates the risk of cost increases due to fluctuations in material pricing and labor availability."
EFFICIENCY CREATES SOLUTIONS
A lean and efficient administration provides Curran Young's staff more time for solving customer challenges instead of wrestling with bureaucracy.
"Because we're more efficient, our project managers aren't chained to the desk. It moves a whole lot faster," Curran explains.
For example, Lenkbar Medical Manufacturing had planned to build a $2.2 million facility but it came in several hundred thousand dollars over budget before Curran Young joined the team and partnered with MHK Architects to reimagine the structure. Together, they found ways to cut costs by $400,000 without sacrificing the building's appearance, which had already been approved by the Naples design review board.
Young adds, "Our efficient process drives the cost down, allowing clients to do more with the dollars they have."
While technology gives the construction firm an edge, Curran says the company's talented construction professionals remain a key to managing challenging projects successfully.
"We're not just a bunch of young, tech-savvy people over here," Curran says. "We combine old-school experience with technology. All the technology does is allow us to focus more in the field and on the plans, and less on administrative types of things. Our leadership and project management staff come from the largest construction firms in the country," including Kiewit, Kokosing Construction, Turner, Messer, BBL and Robins & Morton.
That experience was key for the residents of Royal Wood Golf & Country Club in Naples who voted to hire Curran Young to renovate a 25-year-old clubhouse.
Royal Wood General Manager Kyle Kinney says he knew he needed an experienced team because it was inevitable there would be challenges due to the building's age once they started extensive renovations.
"We tore off the front half of the clubhouse," says Kinney. "There were surprises, we knew that going in, and that's why we felt comfortable with a general contractor who would lay it on the line for us."
In addition, Curran Young won the trust of the club's board because of its transparency. "They were extremely upfront with their cost and what their profit was going to be," Kinney says. "They weren't nickel-and-diming us."
Kinney says he appreciated feeling welcomed in the company's construction trailer any time he needed an update. To keep residents informed, Kinney and the Curran Young team recorded 48 YouTube videos updating them about the project.
THE ONE-STOP SHOP
Managing projects efficiently means helping clients keep costs down by designing construction projects in-house. Such design-build projects can speed up a project by 30% and lower costs by as much as 20%, says Young.
For example, Watts Water Technologies hired Curran Young to design and build a 35,000-square-foot structure in Fort Myers, which would include office, warehouse and manufacturing space to make and calibrate instruments for the water-treatment industry.
Laying the groundwork for the design of the building before construction was critical to the success of the project. "They spent a significant amount of time in our factory to understand what we do," says Jackie Comiskey, manager of facilities and maintenance for Watts Water. "They were very involved and hands-on with understanding what we needed to be successful."
Comiskey and plant manager Tim Conrad credit Curran Young with selecting superior design firms and subcontractors. "The project went well overall because of a great sense of trust, respect, teamwork and communication," says Comiskey.
"Everything was so well executed," adds Conrad. "It really was a pleasure because of their professionalism."
A PROMISING FUTURE
In addition to clubhouses and, manufacturing and distribution facilities, Curran Young plans to leverage its technology and experience to push into construction projects to solve some of today's biggest challenges.
For example, Southwest Florida is facing a shortage of multi-family housing such as apartments and condos, which limits where young people and the workforce can live.
"We're working with multiple developers who are trying to figure out how to get the cost of multi-family construction down as much as possible to make housing and rents affordable," says Curran. One example is a 91-unit apartment building in Cape Coral that is now in design with PDS Architecture of Ft. Myers.
That challenge isn't limited to young, working families. Affordable multi-family housing for older people is limited too. Many of the newer senior living facilities target the wealthy.
"There are lots of highly-amenitized senior living communities that cost a fortune to get into, but there's not a whole lot of options for people who can't afford those," says Curran. "We're coming up with solutions to drive the cost of senior living construction down as well."
With the pandemic affecting health care providers, Curran Young is applying the same cost-efficient principles of design to help physicians, dentists and other medical specialists with the facilities that can help them manage patient flow.
"We call ourselves the game changers because it's in our DNA to think outside of the box and to succeed with projects that otherwise might have been shelved due to budget constraints," says Curran.