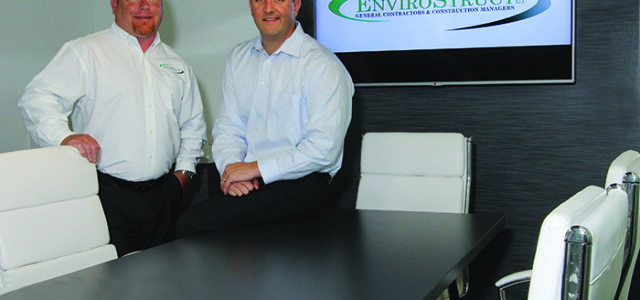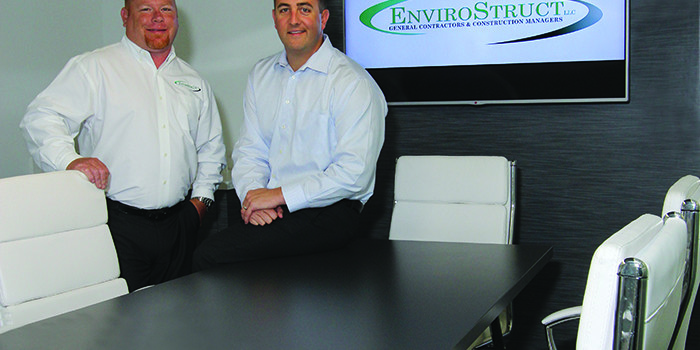 Even in the best of times, it's challenging for most small general contractors to land multi-million dollar commercial projects, since they usually lack the...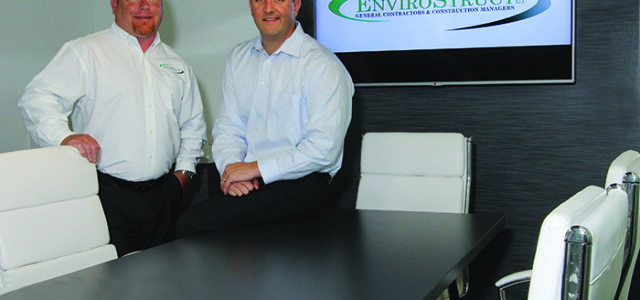 Even in the best of times, it's challenging for most small general contractors to land multi-million dollar commercial projects, since they usually lack the expertise and manpower to deliver them. But so far, that hasn't been a problem for EnviroStruct, LLC, based in Bonita Springs.
Since launching the business in 2011, EnviroStruct President Neil Simon and Vice President Stephen McKenna, Jr., have built an enviable portfolio of commercial projects that belie the company's youth and size. In addition to new construction, the company delivers renovations, additions and interior build-outs to commercial clients from Sarasota to Naples.
To date, EnviroStruct has completed upwards of 70 projects of all sizes that run the gamut of commercial types, including automotive, hotels and hospitality, medical, multi-family, retail and restaurants, office, tenant improvements and more. Concurrently, the company has built a dedicated clientele whose enthusiastic endorsements range from "outstanding" to "the best contractor I've ever worked with."
Todd York, senior project manager for the Hertz Corporation, calls EnviroStruct "a hidden gem. They've provided probably the best service that I've ever gotten from a (Southwest Florida) general contractor," he says. "It's refreshing to work with a good, attentive contractor that doesn't change-order you to death. They're awesome."
Referrals and repeat customers have resulted in consistent growth for EnviroStruct. This year, its revenues are expected to reach approximately $25 million, quadrupling 2013's total. While that's significant for any young contracting firm, it's especially noteworthy for one that opened its doors when Southwest Florida's commercial market was still in the doldrums.
Laying the Groundwork
The business began taking shape in 2009, when Simon became a licensed general contractor, and he and Mc-Kenna decided to form a partnership. Both had backgrounds in commercial construction and each had moved to Southwest Florida from a major metropolitan area.
McKenna hails from Philadelphia, where he managed a number of large commercial projects, including the Philadelphia International Airport. He discovered Southwest Florida on his honeymoon in 2002 and promptly fell in love with the area. "My wife and I envisioned having a boat behind our home and saw this as a great place to raise a family," he says. With the economy booming, he distributed his resume to several local commercial contractors and was hired almost immediately.
Simon, a Chicago native, had vacationed in the area with some college friends whose parents had a home in Naples. At the time, Simon was working for one of Chicago's largest general contractors, building high-rises that remain a prominent part of the downtown skyline.
"We were all working in the city, but we really liked it here. So we started talking about selling our places (in Chicago) and moving," he says. In 2005, he and his friends transferred their construction skills to Southwest Florida, where he and McKenna met on the job. The two had much in common.
"We're both field guys at heart and worked our way up" in the industry, says Simon. Ultimately, their extensive hands-on experience and market knowledge proved to be critical assets as the two established their business.
"We knew the subcontractors in this market, and which ones we worked well with, before we even started this company," says McKenna. "That was a big help, because we realized we'd only be as good as the people surrounding us. By the time we officially launched EnviroStruct, we were able to hit the ground running, landing contracts and growing as a company."
Keys to Competing
According to Simon, starting their business when times were tough turned out to be a blessing. Low overhead and personal service "allowed us to get our foot in the door with prospects, and helped us get ahead of the curve," he says.
Although sealing the deals was a bit more difficult initially, the partners' experience helped them overcome most objections. "We could show them who we worked for in the past and the projects we'd completed. It helped us close deals," adds McKenna.
Rebuttals and objections are far fewer these days, now that Simon and McKenna have some large-scale projects in their portfolio. "(Prospective clients) instantly recognize some of the work we've completed and respect it, which gives us immediate credibility," says McKenna. A bonding capacity of $30 million and an assemblage of top-quality specialty subcontractors further distinguish the company.
"Just because our work falls into a general category of commercial, it can be anything, thanks to the team we have," says McKenna. "What keeps our job exciting is that it's always different."
EnviroStruct's unusually diverse portfolio spans the commercial spectrum, with projects ranging from $200,000 build-outs to $10 million structures. Recently completed ground-up projects include the Dermatology Institute of Venice, the McGregor Vet Clinic in Fort Myers and Lamoraga restaurant in Naples.
Recent renovation projects include: improving and expanding the Pelican Sound River Club facility and property in Estero; upgrading and reimaging the entrance, landscaping and guardhouses at Audubon Country Club in south Fort Myers; and building out the Family Health Centers facility in Port Charlotte.
Taming Timetables
Being nimble and responsive has helped EnviroStruct tackle some of the market's most challenging assignments, namely those with compressed due dates. For example, when Hertz needed a temporary headquarters in Bonita Springs, EnviroStruct transformed the 60,000sf former Robb & Stucky showroom and warehouse in North Bay Plaza into fully-functioning office space — in just two months.
"This was such a fast-paced project because of the influx of people moving down from Park Ridge, New Jersey, so I had to get this done pretty quickly," says Todd York, Hertz's senior project manager. Although he'd worked with other area contractors before, he met with EnviroStruct on the recommendation of a local developer.
With no time to spare, Hertz negotiated the contract rather than put it out for bid. "We ran the numbers and told them what we could do," says Mc-Kenna. "Right away, we started building schedules and laying everything out on paper so that we could see what was achievable."
Doing the next-to-impossible required "lots of nights and weekends," but EnviroStruct met the deadline. The renovated space contains 40 executive offices, 18 conference rooms, 250 work stations, five training centers and a full-service cafeteria.
"They were very fast and did an excellent job," says York. "And that's where it comes from — the caring. Their project managers are top-notch guys. They take pride in what they do and it shows."
York has since worked with EnviroStruct on other projects. Currently, they're collaborating on a $1.3 million commercial renovation in West Palm Beach.
One-of-a-Kind Projects
EnviroStruct is fearless about accepting novel assignments and recently completed two very different prototypes.
Lamoraga. Located in Naples, Lamoraga restaurant is the first U.S. location for the Spanish franchise, known for its tapas menu and contemporary restaurant interiors. Many of the construction materials, including almost 90% of the tile, had to be imported from either Germany or Spain. Despite having just five-and-a-half months to complete the 6,000sf project, EnviroStruct not only delivered on time, but also won a 2014 Summit Award for Best Commercial Project — Restaurant. Lamoraga opened in June.
Audi Fort Myers. The 40,000sf facility isn't the first of its kind for the automaker. However, the European design of the Daniels Parkway dealership is exemplary of corporate Audi's new prototype. Its striking architectural elements include a decorative metallic exterior and a showroom with curved walls.
"It's very technical getting the radius and the curves (of the walls) correct," says Adam Chimner, owner's representative for Audi Fort Myers. Also, Audi requires its dealers to get certain materials through selected vendors. Consequently, lead times can be long, making it more difficult for contractors to coordinate deliveries and schedule subcontractors.
Nonetheless, the project will be completed in the approximately 10-month time frame. According to Chimner, EnviroStruct went to great lengths "to fix problems that weren't their fault. We had some issues with groundwater over the summer that slowed us down, but (Simon and Mc-Kenna) used the leverage with their subcontractors to resolve them," he says. "To date, they're the best contractor I've ever worked with."
On-Site Obstacles
EnviroStruct is often expected to work without disrupting a client's business. Such was the case during the 30,000sf renovation and expansion of Palm Chevrolet and the adjoining Buick/GMC dealership in Punta Gorda, a unique arrangement with two separate dealerships under one roof.
The project included totally renovating the lobby, customer lounge and service areas, and adding a shared service lounge, all while the dealerships remained open. Although modular units were brought in while the showroom sales offices were being rebuilt, disruptions were minimal because the work was done in phases. As a result, both sales and service departments remained fully operational throughout the construction process.
Work was also done in phases during a 13-acre site renovation in 2013 at Sutherlin Nissan in Fort Myers. To correct drainage issues affecting almost half of the low-lying property, the site was raised and engineered with retention basins and all new drainage. Additional work included a new layout, new lighting and new asphalt, all of which was completed while daily operations continued as usual.
Some businesses never close, necessitating special on-site precautions. During EnviroStruct's extensive renovation of the Sandcastle Beach Club on Fort Myers Beach, "safety was a huge concern. It's primarily a time-share property with a restricted timeframe for maintenance," says Mc-Kenna. "Some of that overlapped with tourist season, so people were staying there the entire time we were working."
The two-phase project involved structural and cosmetic exterior renovations to the property's twin two-story buildings, built in the 1950s. The facelift included installing two elevators, replacing four stairwells and replacing all the wood siding, shutters and railings with aluminum, stucco and other more durable materials. Other upgrades included all new landscaping and brick paver walkways, followed by structural work that included replacing the seawall and dock.
To keep guests from harm during the six months of construction, EnviroStruct implemented a comprehensive safety plan. It included posting proper safety signage throughout the property and installing safety barriers as needed, including temporary rails on the balconies while new aluminum ones were being fabricated. The company also communicated regularly with the hotel management and guests.
"Every day, the guests would be walking around the site, asking questions — sort of like assistant superintendents," says Simon. "They were really interested and involved, so we were cordial to them, but we had to be firm so that they wouldn't get hurt."
The project was so successful that it not only transformed the image of the property, phase one garnered a 2012 Summit Award for Best Commercial Renovation less than $2 million.
Logistics and safety were also major concerns at the McGregor Vet Clinic in Fort Myers, a two-story, contemporary structure fronting McGregor Boulevard. Like many infill projects, the 9,000sf clinic sits on a compact site, surrounded by existing commercial, residential and multi-family development.
McKenna says the custom-built steel structure "involved a lot of on-site fabrication," which was difficult in such a small area. Limited space also made it tough to park vehicles or deliver materials to the site; a situation further complicated by heavy traffic on the narrow roadway lined with large palms. Fortunately, construction was completed without incident and the building opened in October. "It's been really well-received," he says. "Everyone thinks it's a really cool-looking building."
Success Spurs Expansion
Simon and McKenna say they're encouraged by signs that the commercial market is strengthening and are poised to begin construction on eight new projects. Many more are in the pipeline.
"We're in a good spot right now," says Simon. "We're starting to cycle through jobs, where we're rotating employees from one project to the next. Our goal is to keep everyone happy and working. But I wouldn't mind (having revenues) in the $50-$75 million range in the next few years."
That's a reasonable expectation based on the growing demand for their company's services. But it's not just commercial construction their customers are requesting. Many clients are so pleased with what EnviroStruct has done for their business, they've started asking if the company can build an addition to their home. In some cases, they're asking for a high-end, custom home built from the ground up.
"It got to the point where we asked ourselves, 'Why are we turning these clients down?' We have the ability to really cater to them, plus it's the perfect time to jump in (to that market)," says McKenna. They did so earlier this year with the establishment of ES Homes.
Although it is a division of EnviroStruct, ES Homes is a completely separate entity, led by a vice president and field supervisor with extensive residential construction experience. "We wanted to avoid the perception that we're a residential builder going after commercial clients," says Mc-Kenna. He admits that while it's "totally different construction," having a commercial background has facilitated his company's expansion into residential.
Already, ES Homes has completed construction of a ground-up, custom home in Bonita Springs, as well as a condo renovation in Bonita Bay. Also, in Naples it has completed a condo renovation on Gulfshore Boulevard and is currently working on an addition/renovation project in Imperial Golf Estates. Other projects are in the works.
"There's a growing demand for custom homes from people building on lots or tearing down existing homes and rebuilding," says Simon. "We're positioning ourselves to capitalize on that market as it grows."