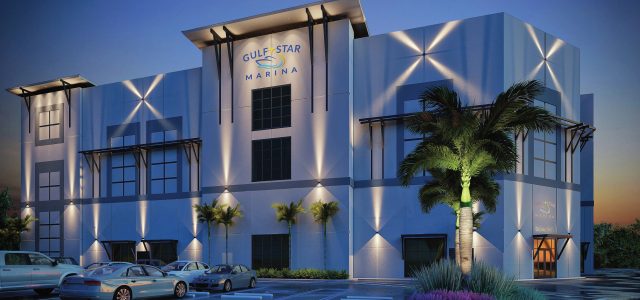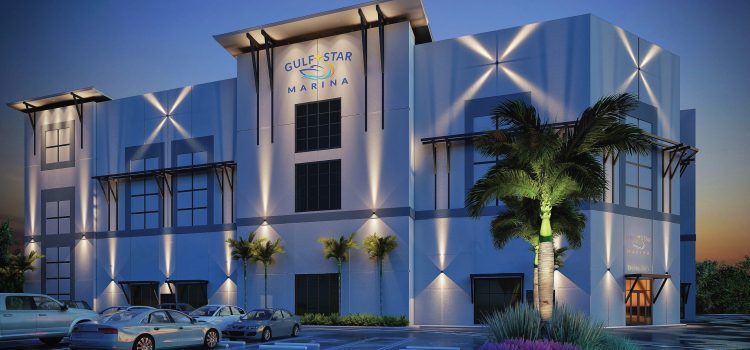 about to hit the marina industry and a pair of Southwest Florida entrepreneurs are the first to ride it. Robert Brown, founder and CEO...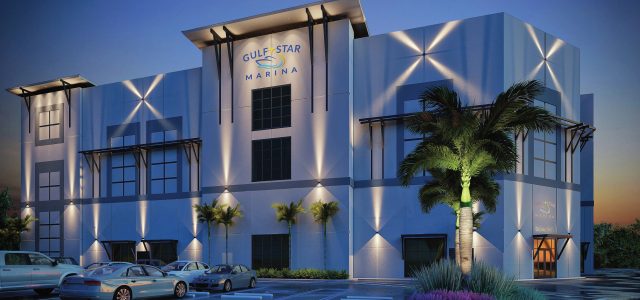 about to hit the marina industry and a pair of Southwest Florida entrepreneurs are the first to ride it.
Robert Brown, founder and CEO of GCM Contracting Solutions, and Todd Carroll, a longtime hotelier and commercial property owner, have teamed up to build Gulf Star Marina, which is poised to open at the foot of the Matanzas Pass Bridge on Fort Myers Beach.
Featuring a sophisticated boat-storage automation system inside a 29,000sf fire-safe building that can withstand 200 mph winds, the completed project will be a model for the future of marina design, engineering and construction.
AN INNOVATIVE CONCEPT
Historically, marina storage has consisted of simple metal racks where forklift operators hoisted boats into cramped spaces. Besides being unsightly, these marinas tend to be noisy during operating hours and are unstable in tropical storms. What's more, marinas require a significant amount of valuable waterfront property.
At Gulf Star Marina, GCM has blown such outdated concepts out of the water.
The newly redeveloped facility represents a revolution in boat storage because of an automation system that racks boats without human forklift operators, eliminating the need for noisy machinery. Designed by LTW Intralogistics of Austria, the robotic system uses space so efficiently that there's room to accommodate 40% to 50% more boats and bigger vessels at higher levels than the conventional metal rack systems. "It is a big deal," says Brown.
To protect the system and the expensive boats inside, GCM builds concrete structures to house them. Not only are they more attractive than conventional racks, they also muffle any sounds and provide foam firesuppression systems to ensure safety and reduce property insurance rates. The buildings are rated to withstand hurricane-force winds, as well.
Over the last 35 years, LTW has built more than 2,300 warehouse automation systems for global corporate clients. Because Gulf Star Marina is the first fully automated storage and retrieval system for marinas, it promises to wow the industry. "The world is watching," says Carroll.
For GCM Contracting Solutions, the pioneering work could pay off because it has an agreement to build more marinas with LTW's system throughout North America. Furthermore, the Fort Myers general contractor could design similar buildings for clients overseas. "We're going to sell the service around the world," says Brown.
A RISING TIDE
GCM Contracting has been building commercial structures and luxury residential buildings throughout Southwest Florida since 1988. For commercial structures such as warehouses, it specializes in tilt-wall construction, in which large concrete slabs are poured on site and lifted with cranes to form a building's walls. GCM uses the same technique to construct modern marina storage facilities.
Traditionally, marina storage has consisted of metal siding, frames and racks. That may be tolerable in isolated areas, but most residents in luxury waterfront communities aren't keen to have a noisy, unsightly conventional marina near the doorstep of their multimillion- dollar homes.
Such was the case at the upscale Hamilton Harbor Yacht Club in Naples, where residents sought an alternative to the usual sight and sounds of this type of facility. Attempts to permit a boat-storage facility persisted for 18 years — until GCM partnered with Collier Enterprises to create a design-build solution.
Their idea was to construct a tiltwall concrete building that was aesthetically pleasing with its fresh paint and clean design. The design was approved, and when it was completed in 2008, GCM won a Summit Award from its peers in the Lee Building Industry Association for Best Design-Build Project.
The success of the Hamilton Harbor Yacht Club marina and the rave reviews from residents prompted more work, including a tilt-wall boat storage facility at Rose Marina on Marco Island. There, GCM built a 38,872sf dry storage facility with room for 144 boats and rated to withstand 200 mph winds.
The Rose Marina project highlighted the skill with which GCM could choreograph construction in the tight quarters that are typical of prized waterfront parcels. The crews raised the building while keeping the marina open by moving boats around an adjacent field. They also kept the ship store open less than a foot away from the new building.
By then, word had gotten out to marina owners that GCM's skill at building luxury boat-storage facilities was superior. That's when Carroll and Brown started discussing redeveloping the small parcel of land at the foot of the Matanzas Pass Bridge to increase the marina's capacity.
Both men had known each other for years. "I coached his son's football team," says Carroll, who was impressed by the work GCM had done for marinas in Naples and Marco Island.
THE AUSTRIAN CONNECTION
Brown's interest in automation began more than a decade ago. That's when he first noticed that distribution companies were looking at automation to improve operations at their warehouse and industrial buildings, many of which were built by GCM. As GCM began building more marinas during the recession, Brown realized that automation systems could revolutionize the boat-storage industry, too.
Meanwhile, engineers at LTW Intralogistics in Austria were exploring ways to transfer their technology to the marina business. LTW is a part of privately-held Dopplemayr Group, which manufactures and installs ski lifts and other people-mover systems all over the world. "They have a proven record," says Brown, who first met LTW executives at an industry trade show.
Carroll reasoned, "If we're going to be the first automated marina storage facility in the world, let's partner with a company that has the scale and the expertise."
When they were considering an automation system, they visited a juice factory warehouse near Atlanta. Brown and Carroll say they were impressed with the LTW automation system that helps distribute 30,000 cases of juice a day to area schools.
For Gulf Star Marina, LTW engineers worked with Carroll and Brown to overcome the challenges of moving as many as 100 boats as long as 40 feet with 14 feet of beam and weighing 20,000 pounds from the water into a dry storage slip several stories up the 65-foot-tall building without forklifts. "Four or five people have to nod their heads to move ahead," says Carroll.
LTW's system is so speedy it promises to deliver a boat from storage to the water in approximately seven minutes. The system is electric, and the dual lift and dual travel capabilities are redundant, so its performance history is nearly flawless, Brown says.
MARINAS & MORE
Financial details of the Gulf Star project are confidential, but the entrepreneurs are acutely aware of the boldness of their move. "Nobody wanted to be first. It's cost us money, time and effort," Carroll acknowledges.
The success of the Gulf Star Marina project presents GCM an opportunity to develop similar projects nationwide and overseas. "A lot of marinas are in bad need of rehabilitation," Brown says.
The firm is capitalizing on many trends, including advances in automation technology, larger recreational boats, aesthetic appeal, lower costs of labor and insurance, and noise reduction sustainability. To do that, GCM has formed two subsidiaries: Safe Harbour Dry Stacks for the construction of marinas and ASAR for the automation systems.
Gulf Star Marina is expected to open in March. Brown says that once it is operational, it will be a showpiece for the company. "It's a lot easier to sell when you have one running," he adds, noting that Gulf Star will provide concierge services such as boat detailing, fueling, and a well-stocked ship store, with the possibility of offering indoor valet car parking using the stacker crane.
The marina is now accepting reservations for boats ranging from 25 to 40 feet in length. According to Brown, areas with high land costs will benefit the most from this system because the rents will justify the investment in technology.
Already, major marina industry magazines are scheduled to publish feature stories about Gulf Star, and Brown has been invited to speak about it at marina trade shows. "We're redefining the marina industry," he says. "Looking ahead, future marinas could include various mixeduse applications such as adjoining retail shops, condominiums, a showroom, rooftop restaurant, pool, tennis courts and more. The advantages and real estate you gain with a concrete structure with a four-hour fire rating are huge."
But Brown isn't stopping at marinas. Automation is coming to many industries that have land constraints, such as car parking. "Car parks and marinas are both antiquated and use a lot of space inefficiently," says Brown.
For example, you could park 70 cars on a residential lot with an automated system to move cars into slots several stories high. Municipalities prefer them because they don't take as much room as a large parking garage and can be designed to complement a neighborhood's aesthetics. What's more, prohibitive land costs in cities such as Naples could make these smaller garages appealing and easier to build. GCM recently opened an office in Naples and is exploring such projects there.
GCM also is working with an auto dealer in Miami on a potential project to build a glass building to accommodate 500 cars on one-third of an acre. The automation system inside will move the cars.
Not surprisingly, warehouses will continue to benefit from the automation trend. Brown says he's made a proposal to a firm that could use automation to fit 12,000 pallets in 40,000sf, significantly less than the 260,000sf required without automation. "All of this eliminates forklifts inside the warehouse, for a cleaner, more efficient operation," Brown says.