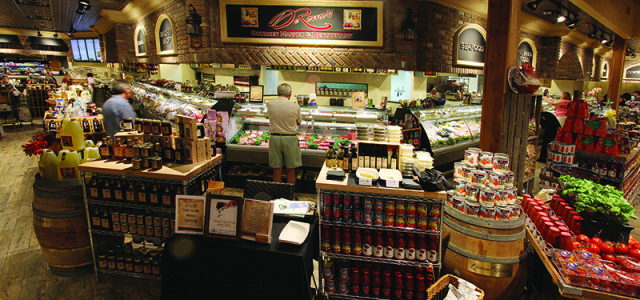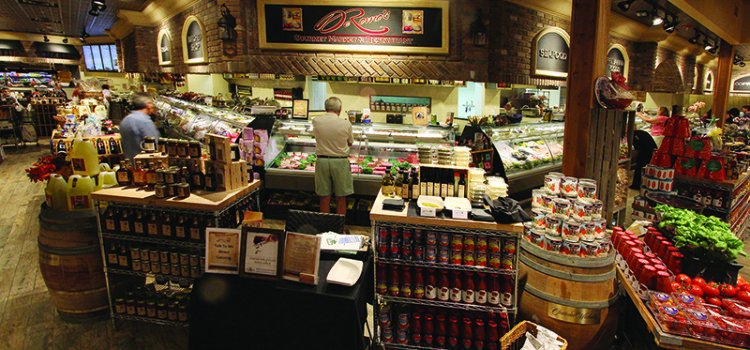 If you live in Southwest Florida, you've probably had a close encounter with a commercial project built by GCM Contracting Solutions (GCM), based in...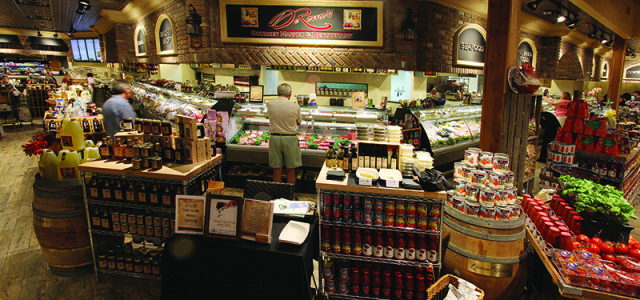 If you live in Southwest Florida, you've probably had a close encounter with a commercial project built by GCM Contracting Solutions (GCM), based in Fort Myers. In Lee County, Miromar Design Center, Gulf Coast Town Center and Chico's World Headquarters are just a few of its many prominent works. All prove what company owner and founder Robert Brown has known for years: Poured concrete construction is not only durable, it can also be beautiful.
Since opening in 1988, GCM's innovative concrete tilt-wall construction and design-build services have made it the go-to contractor for developers and builders of large-scale commercial structures in Southwest Florida and beyond. According to Brown, tilt-wall construction is ideal for warehouses, big-box retail stores, showrooms, distribution centers, office buildings, medical facilities, restaurants, churches, boat storage facilities and other open commercial spaces. Typically, the finished products belie the fact that they are concrete commercial/industrial structures.
In Naples for example, GCM built the Hamilton Harbor Boathouse to accommodate vessels up to 50 feet and withstand 150mph winds. Beyond being built to last, the 110,000sf dry-stack boat storage facility was designed to blend with its upscale residential neighbors in nearby Port Royal. It succeeded, garnering GCM a Lee Building Industry Association (LBIA) Summit Award for Best Design/Build Project.
GCM's expertise isn't confined to massive, new construction projects. The company also does build-outs, remodels and renovations, often with dramatic results. For instance, on U.S. 41 in south Fort Myers, GCM converted the former Picture Factory into a stunning headquarters for the law firm of Kevin F. Jursinski & Associates. Based on architect Bruce Lampitt's design, GCM extensively remodeled the cavernous 17,000sf structure to include private offices, conference rooms, a kitchen, restrooms and other amenities. The makeover has made the office building an area landmark.
Ringing Out The Old
Like any Southwest Florida contractor that's been in business for nearly three decades, GCM has had to roll with the punches to compete in a changing market. Despite the prolonged economic downturn, the company has continued to come out swinging, capitalizing on its strengths and identifying new opportunities. However, nothing could prepare it for the hit it took with VR Labs.
"It's been a painful, painful experience," says Brown, who has spent nearly three years trying to recover more than $1 million he says VR Lab's owners owe his company. According to Brown, company executives Robert and Kay Gow, and bottling subcontractor John Williams, received nearly $5 million in incentive funding from Lee County for a start-up health drink bottling business that never materialized.
What did materialize was an 18,000sf manufacturing facility that GCM built for the fledgling company in 2012, but for which Brown has only been partially paid. Today, the south Fort Myers property sits empty.
Besides failing to pay Brown the $1 million-plus balance he says he's due, VR officials have yet to account for the taxpayer funds they received or provide the requisite proof that their company created any jobs. The Gows and Williams are currently under investigation by federal and local authorities.
A Plethora of Projects
Notwithstanding the VR Labs debacle, things have been moving in a positive direction for GCM, which continues to pursue new projects and opportunities. "I've seen an improvement in the market over the last year," says Brown. "Things are looking up," and GCM has the projects to prove it.
• Algenol Biorefinery
The industrial biotechnology company is the largest tenant in the Alico Business Park, a 130,000sf flex/office development that Brown helped develop and GCM built in south Lee County. For the last several years, GCM has been an ongoing presence on Algenol's sprawling campus there, designing and building almost 100,000sf of offices and research facilities for the algae-to-ethanol pioneer.
A highlight of GCM's design/build work for Algenol is a 40,000sf biofuels research and development complex that includes a 9,500sf Process Development Unit. That facility contains an aquaculture lab, two large inoculation greenhouses and three acres of outdoor research area.
In addition to designing and building Algenol's high-tech, highly specialized facilities, GCM also works on tenant improvements for the company. Last fall, GCM completed the build-out of Algenol's new corporate office building in the business park and is now building out a warehouse/manufacturing facility for the company in Lehigh Acres.
• DeRomo's Gourmet
Market & Restaurant
Located at the rejuvenated Promenade in Bonita Springs, the former Silver Spoon restaurant space received a total overhaul from GCM last summer. After gutting the existing 15,000+sf, GCM added 1,500sf, for a total renovation of 16,500sf. Features of the newly-opened DeRomo's include a 300-seat casual dining restaurant, a Tuscan-style outdoor bar with patio seating, full catering services, a gourmet market, bakery and coffee shop.
• S.S. Hookers
Enviable views and interesting architecture distinguish this 5,400sf nautical-themed restaurant, which opened in September at Punta Rassa, east of the Sanibel Causeway. While local architect Michael Sheeley designed the structure to maximize space and capitalize on its waterfront location, GCM built it with flood and windstorm requirements in mind. Brown explained that because the restaurant is in a FEMA-designated coastal Velocity Zone, it had to meet federal height and wind-resistance guidelines to qualify for insurance and financing. GCM ensured that it did by elevating the restaurant on massive pilings and using masonry construction.
The finished product is "well fortified," says Brown, and can withstand a wind load of 160mph. It is also attractively designed with indoor and outdoor seating areas, a sizeable mahogany-topped bar and a central cupola to bring in natural light.
• Landmark Hospital
of Southwest Florida
GCM recently completed the tilt-wall construction of Landmark Hospital, a 50-bed, acute care medical facility being built by Stevens Construction in Naples. The 86,000+sf hospital contains three floors of 28,000sf each and features a curved, half-moon façade. To build the shell, GCM used 87 concrete panels, each standing three stories tall and weighing 35 tons.
When completed later this year, the building will contain administrative offices, conference rooms, medical and surgical beds, and other hospital facilities on the second and third floors, with lease space available on the ground floor.
• Victor Distributing
In December, GCM broke ground on a 60,000sf facility in Fort Myers for HVAC wholesale distributor Victor Distributing. Located on Treeline Avenue in the Jetport Commerce Park, the tilt-wall project primarily consists of warehouse space, with a mezzanine for storage and some showroom and office space.
"Victor has been servicing the area for years," says project manager Larissa Johnson. "They really have a local mindset. One of the reasons we were selected is the fact that we are a local contractor with local subcontractors. This is important to Victor's ownership team." Construction should be completed in June.
Up and Coming
In addition to pursuing concrete construction projects, Brown has been exploring other ways to utilize GCM's contracting expertise. One of the most promising and exciting possibilities involves the TrapBag® barrier containment system, designed to protect against flooding, erosion, environmental pollution and other natural and manmade hazards.
So named for its trapezoidal shape, each six-foot by eight-foot TrapBag is made of pliable but durable fabric, and filled on site with natural material. Not only are the bags more environmentally friendly and less rigid than a seawall, they're also more cost effective. When properly installed, TrapBags can limit storm-related beach erosion to three feet, eliminating the need for extensive beach renourishment in the wake of a tropical system.
Fort Myers native Buzz Waid, who has known Brown personally and professionally for more than 20 years, developed the TrapBag system. In 2013, Brown became the exclusive Florida dealer for the revolutionary product line, which GCM installs. "Robert is an extremely competent guy," says Waid. "He does a fine job and he's got good people." As a team, Brown and Waid have introduced the product to businesses, homeowners and government agencies, such as the U.S. Army Corps of Engineers. The two have also succeeded in getting the Florida Department of Environment Regulation to approve the use of TrapBags for beach erosion.
The product has been gaining traction on Florida's east coast, where GCM recently restored the oceanfront yards of two celebrity clients on Palm Beach. "They live up on an 18-foot dune and their yards were destroyed by Hurricane Sandy," says Brown. "These people are very passionate about their waterfront," so when the storm washed out 30 feet of beachfront, it cost one of the homeowners several hundred thousand dollars to replace it. GCM was hired to prevent that from recurring.
The project required digging up the entire dune on each property and installing a wall of TrapBags 20 feet wide and 18 feet tall. "Once the bags are in place, they're buried under three feet of sand and the landscaping is replanted. When we're done, you don't know that we were ever there," says Brown. "The next time there's a major storm that erodes that part of the island, they'll only lose three feet of their yard instead of 30 feet."
Brown and Waid expect to launch additional, user-friendly TrapBag products this year. They're also working to enhance the product's ability to repel floodwaters at a local testing facility they designed and built.
Meanwhile, GCM is seeing renewed interest in new construction on land and by sea. "We're getting a lot of interest in dock-high warehouses as the vacancy rates fall. I expect that market to reignite soon," says Brown.
The marina market is already there. At press time, GCM was in discussions to build three new marina projects in south Florida. "Marinas have been dead for the last five to seven years, but now people are buying boats again and they need a place to keep them," says Brown, adding that older marinas aren't equipped to accommodate today's larger boats.
"Typical, existing marinas are due to be torn down and rebuilt with bigger forklifts, and greater housing and bracketing capacity. There is cash flow for new construction."
Based on the number of inquiries from qualified clients during the last year, Brown says he expects to see ongoing market improvement. "It's tremendously better than it's been in the past. All indications are there for positive growth in the next three to five years, which we think is encouraging."