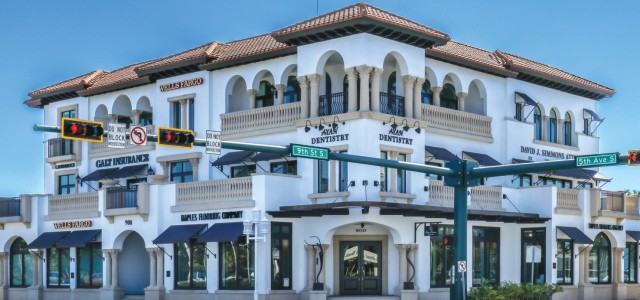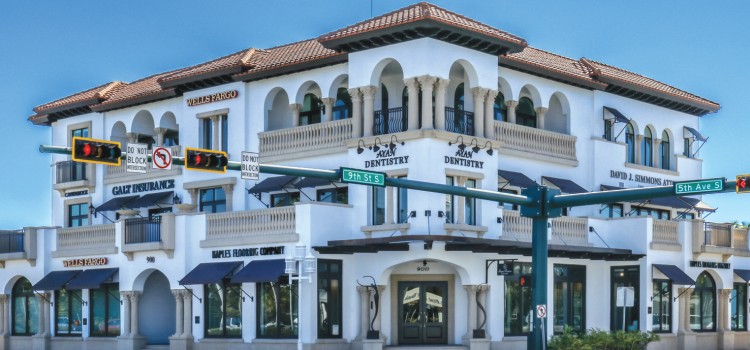 When it entered the market in 2015, Hoffmann Commercial Real Estate made a big splash with the $74+ million purchase of seven buildings and...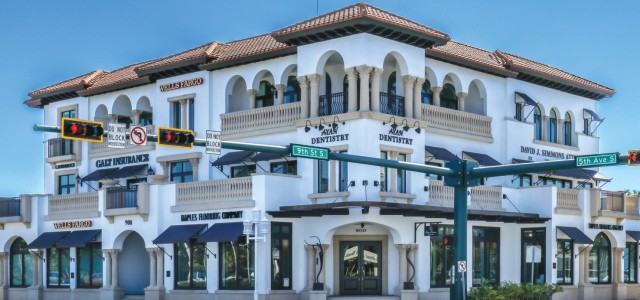 When it entered the market in 2015, Hoffmann Commercial Real Estate made a big splash with the $74+ million purchase of seven buildings and a parking lot on Fifth Avenue South in Naples. That splash has since become an acquisition tsunami, with the Chicago-based real estate holding company showing no signs of curbing its buying spree.
To date, Hoffmann Commercial Real Estate has invested more than $300 million in approximately 21 properties in and around Old Naples, making it the largest commercial property owner in the area. These aren't just any commercial assets. Concentrated along Fifth Avenue South, Third Street and adjacent avenues, they include some of the most desirable properties in all of south Florida. However, for the last couple of years, the company has been rejuvenating the urban corridor through cosmetic and capital improvements to its buildings, and enhancements to the overall environment.
Hoffmann Commercial may be relatively new to Southwest Florida, but it is well known in other markets. Under the direction of company founder David Hoffmann and his son, CEO Greg Hoffmann, the company has accumulated a portfolio of prime retail, commercial/ office, multi-family and industrial properties in nine states, as well as developable land. Primarily, it looks for properties that are undervalued and underperforming but well located, in markets such as the North Shore of Chicago, Clayton, Missouri and the resort town of Avon, Colorado.
Four years ago in Avon, it purchased a five-acre, 55,179sf retail center with depressed rents and a 30% vacancy rate. Six months later, after the company extensively renovated the property, the center was fully occupied and rental rates doubled. As with its other stabilized and value-add investment properties, Hoffmann Commercial retained ownership.
According to Greg Hoffmann, investing in Naples exemplifies the company's acquisition strategy. "We only invest in places that we like to visit," he said, noting that he and his family have vacationed there frequently over the last decade. Since then, his father and mother, Jerri, have relocated to Old Naples and become Florida residents. "We are big-time believers in Naples. Our objective is to make a positive impact and only do things that will support everyone involved."
Exactly how Hoffmann Commercial will accomplish that is a question on the minds of many who work, live, visit and invest in Old Naples. We asked about this during a recent conversation with Greg Hoffmann, who also answered Suite Life's questions concerning the company's ongoing interest in downtown Naples, its long-term plans for the area and when – if ever—it intends to end its local buying binge.
Q: Based on your business model of adding value to underperforming and distressed properties, how did downtown Naples fit your criteria?
A: I definitely would not classify it as distressed. Fifth Avenue South and Third Street have a reputation that far exceeds anything that we have ever done, so we're certainly not going to take credit for that. The tenant mix was great and the shoppers enjoyed it. From vacationing there, we kind of understood the shopper and the town itself and what made it tick. However, we didn't think it was living up to its fullest potential and we felt that we could add some value. That's how we made our decision to invest in Naples.
One thing we noticed was that the buildings were starting to look a little tired, which I attribute mainly to deferred maintenance during the recession. So we began fixing them up with new paint, fresh awnings and new roofs where needed, and strategically adding statues and fountains around them. Our goal was not necessarily to "turn around" downtown Naples per se, but to enhance the shopping experience any way that we could to support our existing tenants. All of their businesses asare performing better now than they were three years ago, which I'm hoping we can take a little bit of credit for. But I also believe that if we hadn't come into town, someone else would do what we've already done.
Q: Some owners might equate "improved" with "new" and start from scratch. Did your company ever consider that?
First of all, we're not developers by any stretch. When we go into areas, they're places that we know and like (and so) our goal is to enhance, not replace. We love the architectural interest of the buildings in downtown Naples and aren't out to change that.
Fifth Avenue and Third Street are really cool streets that we thought would benefit from additions such as live entertainment, interactive art and other enhancements that would attract people. You'd be amazed at how many people stop to take pictures in front of the bronze sculptures that we've planted along Fifth Avenue. One of the most popular is a bronze bench and sculpture in front of our Chase Bank building that people will sit on and pose for pictures with their arm around the sculpture. It's something that's fun and that's never happened on that street before.
Also, we always try to do things that are locally driven, so all of our sculptures are from The Englishman, which is one of our tenants in that area. That fits in with our philosophy of supporting our tenants the best that we can, any way that we can. We'd also like to start a monthly farmer's market along Fifth Avenue South. Besides drawing more people downtown, it would provide additional exposure for local businesses.
Q: Was it always your plan to buy so many properties in Old Naples?
Actually, yes! This is the fourth time we've done this kind of (large-scale assemblage), so we had some lofty goals from the outset. That way, we're able to do things that we probably couldn't do if we weren't the majority property owner. For instance, with the farmer's market, if we didn't own the majority of real estate on Fifth Avenue South, it might be difficult to get all the tenants on board and practically impossible to coordinate with all the building owners along that street, in terms of negotiating times, parking and other things. But when you're the (primary) owner, those conversations go a lot more smoothly.
Q: Speaking of parking, what is Hoffmann Commercial doing to accommodate drivers along Fifth and Third?
We want the public to know that parking is not an issue. We currently provide day valet service on Fifth Avenue South and are working with the city to expand the service to just about every corner on the street. There is also ample public parking in the area. You just have to know where to look. Often, people give up when they can't find parking directly along the avenue, but if you go a block north, there's a parking garage and other public parking sites behind buildings on Fifth. To help explain that, we plan to distribute parking maps to pedestrians in the area. We want to show that parking is not as much an issue as some people think.
Q: Has e-commerce affected the demand for retail space in Naples?
I think it has only helped – not hurt – markets like Naples. Consumers still want what we call "experience-driven" retail. They're going to remember going to an ice-cream shop or a movie theater, not logging onto a computer and buying ice cream or ordering a DVD online. I have nothing against the convenience of e-commerce, but people still want to get out and go somewhere to do something. That's where communities like Naples really shine.
Going down Fifth Avenue South or Third Street is an experience. With all the lights and the cars and the people walking around, it's just a fun place to be. I really think that people are flocking to these areas more because of e-commerce. They're longing to get out of the house!
Q: Downtown vacancy rates are low. Is there room for additional retail and if so, which retailers are you trying to sign?
We have quite a few big-name, highly recognizable brands that we're working with and that we expect will be part of Fifth Avenue's evolution — eventually. But one of the problems is finding them space without sacrificing the needs of our current tenants on Fifth. It really eats me up inside if we have to turn down a tenant. We're not in business to do that. We're also not going to kick out anyone! We want to support all of our businesses, so we have to find space as it becomes available.
Right now, we're in deep discussions with some of the premier brands that downtown Naples lacks, including some of the retailers at Waterside Shops. It's just a matter of fine-tuning the details. I'll be the first to admit that they are two totally different markets, but these are retailers with enough business to support both locations. In fact, several of Waterside's tenants already have second locations on Third Street and Fifth Avenue South.
Ultimately, we expect (downtown Naples) will evolve to compete with world-class shopping destinations such as Worth Avenue in Palm Beach and Michigan Avenue in Chicago. To some extent, it already does. We just want to improve it.
Q: How would you describe your relationship with city officials and downtown property owners?
We definitely consider ourselves to be partners with the city and the other owners. We're all in this together. We view the other owners on Fifth Avenue as neighbors, not the competition. Our competition is Palm Beach, not people in Naples. Along those lines, we've met with some of the major investors in the area and they are certainly on the same page with what we want to do on the street and in the area.
Further, I think we've built up trust with city officials by being very transparent about what we want to do. In turn, they've shared with us valuable insight and a lot of great ideas, as well as some critiques that have certainly helped us, too. We take their feedback very seriously and try to incorporate it into everything we do so that everyone is happy at the end of the day.
Q: What is Hoffmann Commercial's long-term strategy in Naples?
We have no intention of ever selling any of our Naples properties. Our goal is to be able to pass them on to my grandkids' grandkids! We buy legacy properties, generational assets. And that's the first thing we look at when we go into an area. This is where we vacation, so obviously, we like Naples. The idea that we could have some of our commercial real estate in an area that we already know that we love is the type of asset that we like to invest in (and hold for perpetuity).
Q: Hoffmann Commercial already dominates downtown Naples' commercial market. What's next?
If I had a perfect scenario, I'd own every commercial building in Naples! There's still a lot of opportunity out there, so as long as deals are still available at valuations we feel are reasonable, we'll continue to buy. We're focused on being a big advocate and supporter of the town of Naples.
By and large, I think everyone has enjoyed the subtle improvements that we've made thus far. We're not trying to reinvent the wheel, we're just trying to make it a little better and roll a bit more smoothly, if you will. And the bigger the voice we have, the better.
(At press time, Hoffmann Commercial Real Estate was under contract to acquire additional commercial properties in Old Naples.)