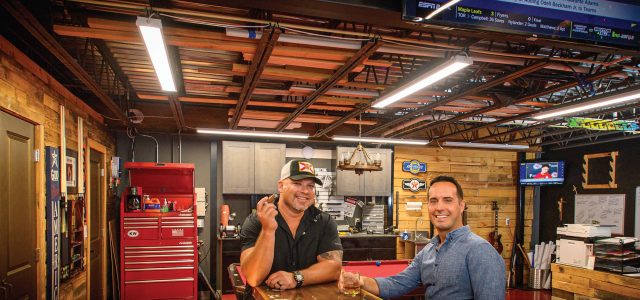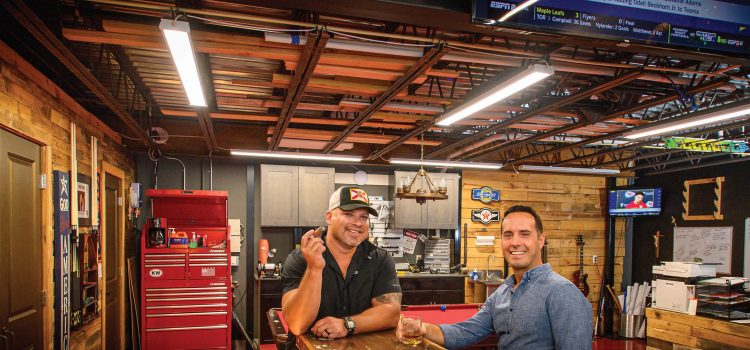 Most developers of luxury storage units shy away from the term "man cave." And the reason has nothing to do with political correctness. It's...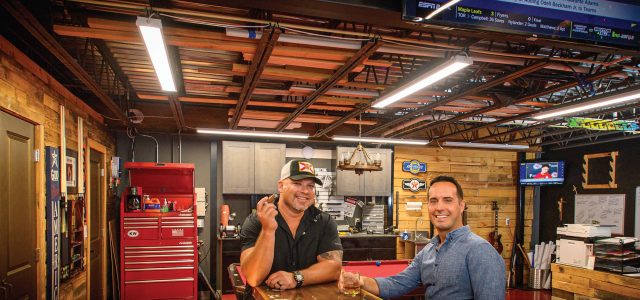 Most developers of luxury storage units shy away from the term "man cave."
And the reason has nothing to do with political correctness. It's because you can't invite your friends over for beer or have any kind of recreation in an industrial zone because the county doesn't permit it.
But Scott Allan, president of the Al­lan Development Group, embraced the man cave moniker when he became the first developer in Southwest Florida to obtain a hybrid zoning that combined industrial and recreational uses to build Island Storage Suites in south Fort My­ers in 2018.
That first project was so success­ful that he's now launched a second man cave project, Lakeside Storage Suites, at Alico ITEC Business Park in Fort Myers. Even before the scheduled start of construction in December 2021, nearly half of the planned 40 units had been sold.
The business park itself has been booming because of its location near I-75, Southwest Florida International Airport (RSW), Florida Gulf Coast University, and fast-growing residential communities such as WildBlue, Espla­nade and Miromar. (See related story)
Allan uses the same formula at Lakeside Storage Suites as he used at Island Storage Suites: air-conditioned units large enough to store recreational vehicles and car collections; plumbing for kitchens and bathrooms; and social activities to bring owners together.
"I consider this the neighborhood of fun," says Tom Torgerson, a hotel entrepreneur and owner at Island Stor­age Suites.
Twice a year, a private, invitation-only event named Mayhem at the Man Caves attracts nearly 500 people, and features cigar rolling stations, live music, food trucks and cocktail tents. Only friends and family invited by the owners may attend.
Allan organizes parties, charity events and off-site events such as fish­ing and skeet shooting, as well as barbecues and car shows every other weekend during season. As many as 200 people a day may show up.
Retired engineer Ron Wertz says he keeps his antique car collection at his Island Storage unit and loves meeting up with other car buffs there." Scott brings us together in a social way that helps further those friendships," he says.
HYBRID ZONING
Back in 2017, no one had ever at­tempted to seek hybrid zoning for stor­age and recreational use, and it wasn't easy to persuade government officials to make an exception for Island Stor­age Suites.
Until recently, luxury storage units for antique cars, boats, recreational vehicles, and other expensive toys, had been built in industrial parks that only al­lowed warehouses, distribution centers and manufacturing. Developers avoided any reference to "man caves" because the term implied you could entertain people in your storage unit, potentially running afoul of zoning rules.
So when county officials asked Al­lan why he wanted wet bars and kitch­enettes in his units, he went before the board of county commissioners and explained that his clientele were well-heeled retirees who wouldn't live in the units. He adds that he put his develop­ment dreams and savings on the line for the project.
Allan credits Tom Lehnert, presi­dent of Banks Engineering in Fort My­ers, for helping him create the hybrid zoning. He describes Lehnert as "the mastermind," even though Lehnert had doubts about the project initially. "He thought it was crazy! It was a shot in the dark," Allan chuckles.
Allan's persistence and Lehnert's expertise paid off. A hybrid zoning permit was granted to Island Storage Suites off Pine Ridge Road to allow for self-storage with recreation as an ancillary use.
Success was immediate. Allan started with 24 units in two buildings to test the market, wondering who would pay $225,000 for a climate-controlled garage. It turned out to be a lot of people. The project sold out before the building had a certificate of occupancy. Those luxury storage units now resell for $350,000.
A GATHERING PLACE
The winning formula for the luxury storage business is the social atmosphere created by the gatherings, Allan says.
A resident of Fort Myers since 2002, he discovered Southwest Florida as a professional baseball player during spring training, and moved to the area after an injury cut short his career as a pitcher. He became a residential and commercial real estate agent and, chat­ting with people in the Iona neighbor­hood where he worked, Allan repeat­edly heard new residents complain that they had no room to store their antique cars, recreational vehicles and other gear needed to pursue their hobbies.
Ron Wertz, a resident of Shell Point retirement community, was a classic example.
"I've been collecting cars as a hobby for 65 years," Wertz says. "In northeast Ohio, I had a large collection that I sold, except for four automobiles, a motor coach, and car-hauler trailer. I needed storage space."
Allan soon found that it was more than just storage that people needed– they also wanted to share their passions with each other. "They needed to store their cars and pursue their hobbies in an area close to home where they could hang out, watch a football game, and entertain," Allan explains.
Wertz says he particularly enjoys meeting other car enthusiasts. "No mat­ter what it is that we do in the world, it's the people who make the difference," he says. "Bringing people together is the wonderful thing, the great enjoyment in life, and Scott provides that."
Another advantage of hybrid zoning is the lack of restrictions. Owners can build bars, bathrooms and lounge areas with big-screen TVs inside their units and socialize with other owners, mak­ing as much noise as they like .Because industrial zoning prohibits residential use, ordinances do not apply.
"My unit's set up with 35 animal mounts, a kick-ass stereo system and a nice bar with colorful island-wharf décor," says Torgerson, a former big-game hunter, who says he loves to check out his neighbors' stock cars, fishing boats and wood-working shops. There is even a World War II museum in one of the units.
"Our condo association's mission statement is to promote fun, creativ­ity and loud events," Torgerson says. "We're very socially interactive. Some groups go for coffee every morning during season."
Allan himself maintains a unit at Island Storage so that he can participate in the development of the condo associa­tion governing meetings. He was voted president of the association and contin­ues to host parties and plan events.
PREMIUM LOCATION AND PRICE
Prices at Lakeside Storage start at $299,000 for the smaller units and run into the upper $300,000s for the larger ones. The price doesn't include bars, bathrooms and other amenities. Allan says prices for the upgrades are around $80,000 to $90,000, depending on the finishing detail.
Allan acknowledges that facilities such as his work best in higher income neighborhoods.
"A $600,000 home is now selling to cash buyers for over $1 million," he says, noting the new demographics of the area.
Allan says he's not concerned about My ITEC Place, the storage units that ITEC itself is building in the park off Alico Road. Developers Chris Pisano and Paul Hardy say the My ITEC units are half the size, too small for a rec­reational vehicle, and don't offer the upscale ambiance of the Lakeside units.
Allan says Lakeside Storage is likely to draw well-heeled clients from as far away as Naples, where similar space might cost twice as much.
"It feels like the entire world is moving to Southwest Florida and Alico Road is right in the middle of it all," he adds.