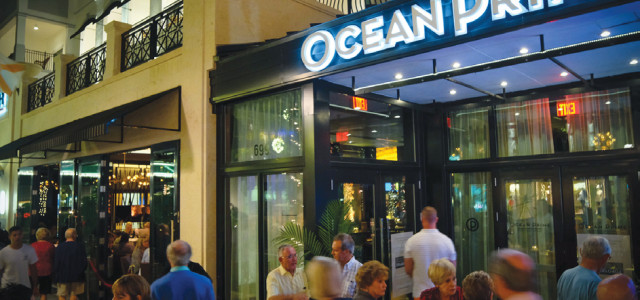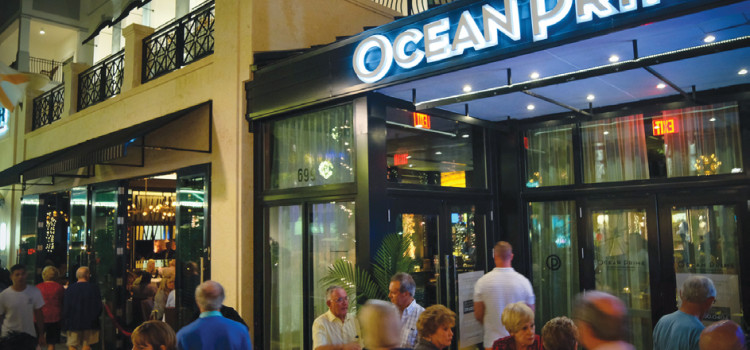 Excellence is not an option for dining establishments along downtown Naples' world-class restaurant row; it's expected. That's why it takes an extraordinary establishment to...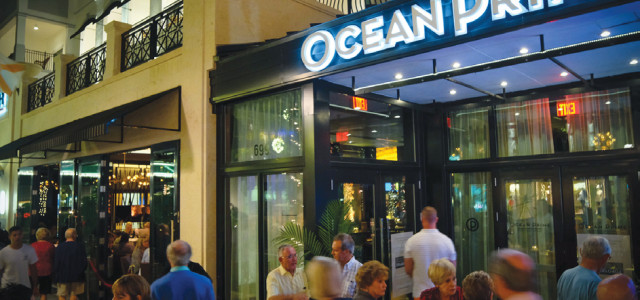 Excellence is not an option for dining establishments along downtown Naples' world-class restaurant row; it's expected. That's why it takes an extraordinary establishment to generate the buzz that Ocean Prime has enjoyed since opening in December.
Located at 699 5th Avenue South, the restaurant is the latest among Ohio-based Cameron Mitchell Restaurants' collection of Ocean Prime locations in 14 major markets nationwide, from Manhattan to Beverly Hills. While each is tailored to its specific locale, all offer the awardwinning brand's prime steaks, seafood, Wine Spectator-honored wine list and inspired libations.
In Naples, Ocean Prime occupies 8,000 square feet adjacent to the Inn on Fifth, recognized as a Forbes Four-Star Hotel and an AAA Four-Diamond Inn. With its exceptional menu and luxurious atmosphere, Ocean Prime blends beautifully with its neighbors and yet stands out as Southwest Florida's premier destination for socializing or talking business over lunch or dinner.
Visually, Ocean Prime is stunning. The interior design of the 280-seat restaurant and lounge embodies Neapolitan sophistication and style, and features an abundance of glass, warm wood tones and contemporary light fixtures. Focal points include a sculptural glass water wall at the entrance, a wraparound center bar and a floor-to-ceiling wine display. Wall-to-wall glass sliding doors facilitate a seamless transition from the main dining room to the patio, for al fresco dining. There is also a large, private dining room to accommodate more intimate gatherings and celebrations.
However, Ocean Prime is much more than just another pretty face along Fifth. Under the direction of executive chef Jason Mallon and general manager Rick Giannasi, the menu and VIP service deliver a dining experience sure to impress the most discriminating globetrotting gourmand.
Mallon and his staff use the finest, freshest ingredients to prepare every item they serve, including USDA Prime aged steaks, naturally harvested fish and local seafood, and regionally sourced produce. Gluten-free items are also available.
Entrees range from Dutch Harbor King Crab Legs, Double-Cut Lamb Chops and a 16-ounce Ribeye, to chicken and fresh fish creations. Ocean Prime's side dishes are especially noteworthy and delightfully indulgent. Some, such as Lobster Mashed Potatoes and Black Truffle Mac & Cheese, could be meals in themselves.
Smaller appetites will appreciate the selection of soups, salads and other light fare. Although the Shellfish Cobb Salad (with shrimp and lobster) is quite substantial, menu options include sushi (various rolls, Ahi Tuna Tartare and Hamachi Crudo) and appetizers (Sonoma Goat Cheese Ravioli and White Truffle Caviar Deviled Eggs, among them).
There's also an impressive raw bar, with oysters on the half shell, chilled shellfish cocktails and a custom-built Smoking Shellfish Tower. Decadent desserts include Baked Alaska, Crème Brulee and Ocean Prime's signature Ten Layer Carrot Cake (with cream cheese icing and pineapple syrup).
Although all of the above-mentioned items are featured on the dinner menu, many of them appear on other Ocean Prime menus. The lunch menu, for instance, contains many of the dinner items, but in abbreviated form with prices to match. It also offers a selection of sandwiches (cheeseburger, crab melt and shrimp wrap), served with a choice of fries, house salad or cup of French onion soup.
Another option is Prime Lunch, a two-course, prix fixe mid-day menu for $25 per person, which Ocean Prime recently launched to supplement its regular menu. For their first course, guests may select from Point Judith Calamari, Lobster Bisque or the House Salad. Entrée choices include Parmesan Crusted Chicken Caesar (with chopped romaine, parmesan garlic dressing and extra virgin olive oil), Teriyaki Salmon (served with shiitake sticky rice and soy butter sauce) or Petite Filet (with whipped potatoes, green beans and cabernet jus).
The Young Adult menu is for guests 12 and under. Besides the expected chicken fingers, hamburger and macaroni and cheese, it also contains several somewhat sophisticated selections, such as broiled salmon and a six-ounce petite filet mignon. All are served with applesauce and a choice of pediatric palate pleasers — potatoes, buttered corn and tossed salad, among others.
The Lounge menu provides a carefully curated selection of raw bar offerings, small plates (Fish Tacos, Lamb Lollipops and Crab Cake Sliders, among others) and sushi rolls, along with a short list of Ocean Prime's handcrafted cocktails. Highlights include: Berries & Bubbles (Belvedere Citrus Vodka, marinated blackberries, housemade sour and Domaine Chandon Brut) and a simply refreshing Cucumber Gimlet (Bombay Sapphire Gin, muddled fresh cucumber and handsqueezed lime). It is available Monday through Friday during Happy Hour, from 4–7 p.m. and from 11:30 a.m. — 3 p.m. on Saturday.
Additional creations can be found on the restaurant's menu of Prime Cocktails, a showcase of expert mixology. All contain imaginative combinations of top-shelf liquor, fresh purees and mixes, cut-to-order citrus and fresh, hand-squeezed juices.
Ocean Prime's wine list is even more impressive, with a vast selection of vintage and non-vintage domestic and imported reds, whites and sparkling wines, at least 50 of which are available by the glass.
Ocean Prime ices the culinary cake with Saturday and Sunday brunch, served from 11:30 a.m. — 3 p.m. While every effort is made to accommodate walk-in guests, reservations are strongly encouraged.
(Ocean Prime is open for lunch and dinner seven days at 699 5th Avenue South in downtown Naples. Lunch begins at 11:30 a.m. and dinner is served from 5 p.m. until 11 p.m. weekdays, midnight on Friday and Saturday, and 10 p.m. on Sunday. Happy Hour Monday — Friday from 4-7 p.m. Saturday and Sunday Brunch from 11:30 a.m. — 3 p.m. Reservations recommended. For more information or to make a reservation: 239-430-0404 or www. ocean-prime.com.)