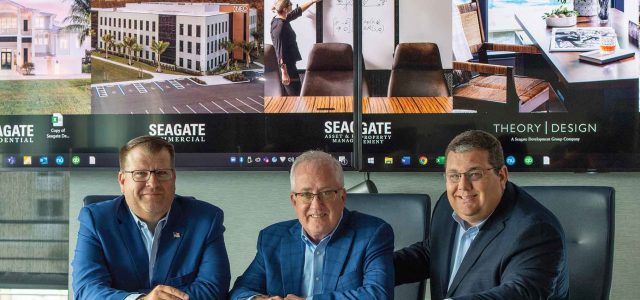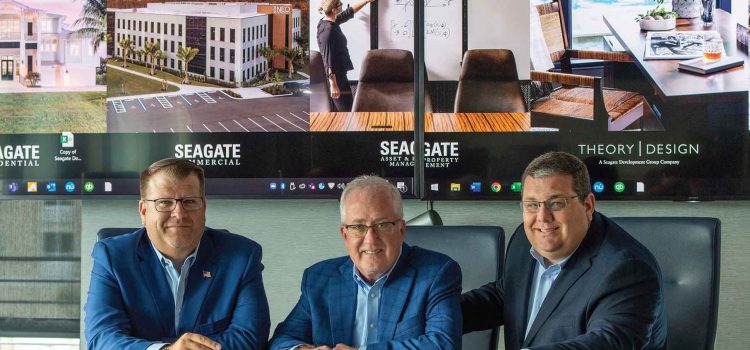 When Seagate Development Group acquired a rock mine in east Lee County earlier this year, it was another example of why the firm is...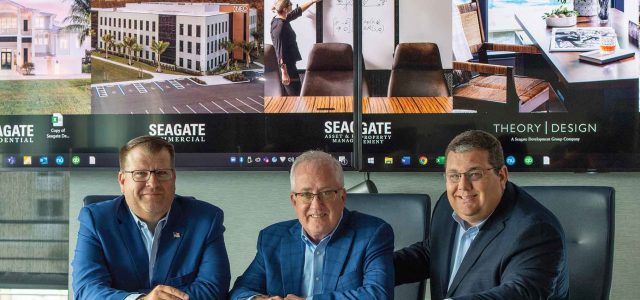 When Seagate Development Group acquired a rock mine in east Lee County earlier this year, it was another example of why the firm is considered one of the most forward-thinking construction and development companies in Southwest Florida.
The $15 million deal for the 502-acre Bell Boulevard Mine on State Road 82 was a strategic coup for Seagate, which has quickly become a go-to development firm for corporate buildings and luxury homes since its founding seven years ago in Fort Myers.
The mining operation will provide Seagate with raw materials it needs to build roads, develop communities and create corporate centers across the fast-growing region. The site can provide 21 million tons of rock for building roads and 6 million tons of fill used for leveling construction sites.
To operate the mine, Seagate also acquired the mining operation Earth Tech Enterprises. With 100 Earth Tech employees, Seagate now can dig for valuable construction materials that are often vulnerable to supply disruptions and price swings.
"That was a big acquisition for us," says Matthew Price, CEO of Seagate. "A huge part of development is infrastructure and groundwork, so to have that expertise in-house gives us an advantage over other developers in Florida. With all the development work we do, it makes perfect sense to integrate that part of the business."
Led by Price, his father and Chairman William Price Jr., and Chief Operating Officer James Nulf Jr., Seagate has established itself as a dominant force in the commercial and luxury residential development and construction business. In recent years, it has built the corporate headquarters for NeoGenomics, Emcyte Corporation and Scotlynn USA Division as well as luxury custom homes in affluent communities such as Talis Park and Quail West.
"We're not building in the shadows," Price says, "We're trying to do something great for Southwest Florida."
EYE ON THE FUTURE
The Bell Boulevard Mine acquisition also illustrates Seagate's longterm vision because of its prime location on State Road 82, one of the major east-west corridors in Southwest Florida.
"With purchases like this, it's clear that Seagate has their eye on the future and primary growth corridors in Lee County," says land broker Justin Thibaut, president and CEO of LSI Companies, in a Seagate statement announcing the deal early this year.
Fact is, some of Florida's top luxury residential communities have been developed on sites that previously were rock mines. That's because the aboveground pits were filled with water, creating lakes that make for desirable waterfront living.
Price, however, doesn't want to pigeonhole Seagate into making long-term plans for the property located 15 miles east of I-75. "We're not sure yet," he tells people when pressed. "That's what's exciting about the project. Someday people are going to be working and living there, but in this market, it's important to never make a long-term decision in the short term. There may be other highest-andbest uses in that area in time."
For now, residential or commercial development isn't in the Seagate plan for the mine. "It will be years down the road; we have some time," Price cautions.
DEVELOPMENT PIPELINE IS STRONG
Southwest Florida's economic growth continues to attract companies and people, and Price expects Seagate to post gross revenues of $200 million this year. "We've been doubling every year in business," he says.
On the commercial side, Seagate is currently designing or building 750,000 square feet of commercial space in Southwest Florida. That's enough to fill more than 13 football fields.
For example, Seagate is developing Alico Trade Center, a 40-acre business park on Oriole Road, north of Alico Road next to the I-75 interchange. It recently completed a 35,000-square-foot building for the park's first tenant, Rice Insulation & Glass.
Clients say that controlling the development and construction, and then managing the buildings, gives Seagate an advantage.
"They're the builder and the leaseholder," says Todd Bloker, division manager at Rice Insulation. "That makes it a one-stop-shop for us, which made the process relatively seamless."
Bloker says dealing with Seagate as a single point of contact made selecting the firm an easy choice. "Everything was fantastic. I can't stress enough the ease of the communication and the setup of the contract. Every step of the way there were updates."
Another client, Trend Moving and Storage, says having a single point of contact to design and build a 25,000-squarefoot warehouse at Alico Trade Center was key to selecting Seagate. "I didn't want to spend a lot of time coordinating the design services. I said, 'here's the result we need and the product we want,' and I felt that Seagate could deliver that," says Peter Markarian, a longtime commercial contractor who is advising Trend Moving's owner, Zach Mathieu.
"We're well into the design process and soon up for the permit," says Markarian, who notes that the migration of people moving to Florida from northern states is a positive sign for the moving company's expansion in Southwest Florida.
Seagate is also eyeing redevelopment and infill properties, such as its acquisition of an existing retail center in Naples called Liberty Plaza. "We're circling down in Naples and looking at properties we think may be undervalued. We have our antennas up and we'll get creative," Price says.
The firm is scouting opportunities in Charlotte County, too, where lessexpensive land can be attractive for industrial uses.
On the residential side, Seagate is developing Palisades, a 12-acre luxury residential community on Yarberry Lane in the desirable North Naples area where it will build 25 single-family custom homes.
"There's also a community on Bonita Beach Road that we're doing entitlement work on where we plan on having 380 units," Price hints. "We're really excited about that. It'll be higher-end multi-family in there and also single-family homes."
As it builds more luxury homes throughout Southwest Florida, Seagate also is adding services. In March, Seagate launched its Estate Management Division, a residential concierge service designed to help owners manage their homes, from routine inspections to hurricane preparations. The new division builds on the success of its Home Design Division, Theory Design. "Now it's grown into a huge company all of its own," says Price.
CONSERVATIVE GROWTH
Seagate's founders have decades of experience in the development and construction businesses, so they've experienced the ups and downs in the economy.
"We try not to take risks that we don't need to take," says Price. "We've been very careful about the deals and will continue to be that way."
Seagate has a deep pool of private investors who provide the funds for many projects. "There are investors who have been with us for a long time," says Price.
When a project is planned, Seagate will invite investors depending on their tolerance for risks and returns. "We're very cognizant of investor appetite for risk," says Price. "We're pretty good at fitting the right investors for the right project."
Like all builders, Price acknowledges significant challenges of supply disruptions and labor shortages. "Hopefully over the next year, the supply chain loosens up a little, but I don't see a quick fix coming," says Price, who is on the board of the Horizon Foundation, a charitable 501(c)(3) organization that raises money that supports the Lee County Economic Development Office and Horizon Council in efforts to improve the area's business climate. "Our market has priced out a lot of workers."
Despite the challenges, Price says Southwest Florida remains one of the nations most desirable places to live and work. "We're still very bullish on Southwest Florida, and long term, it's the only place we want to be," he says.