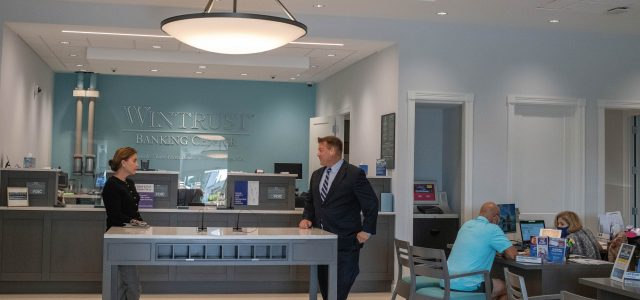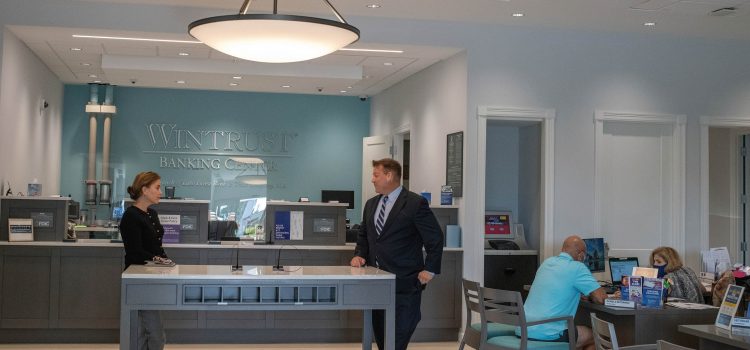 Wintrust, a Chicago-based financial services company and family of com­munity banks, opened its first bank branch in Naples less than two years ago, and...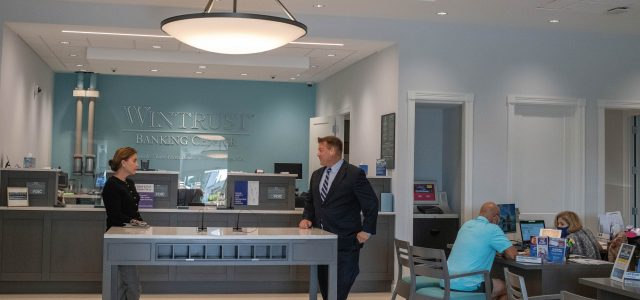 Wintrust, a Chicago-based financial services company and family of com­munity banks, opened its first bank branch in Naples less than two years ago, and has already built a significant presence in the region to cater to its seasonal clients.
Widely recognized in the Midwest. Wintrust operates more than 180 com­munity banking locations and offers insurance premium financing, mortgage services, wealth management, and other consumer and business financial services throughout the region.
It quickly garnered a following with residents and businesses as word spread about its superior customer service since opening on U.S.41.
"We had a lot of clients telling us they were in Naples — some were moving here permanently — and they really wanted their community bank in Naples," says Tara Fedorko, market president of the company.
Although Wintrust has $31 billion in total loans, it operates more like a com­munity bank. Its size gives it financial flexibility and resources to offer a wide  range of financial services. Still, it keeps decisions local because it adheres to the community bank business model.
Wintrust's expansion of its home base in the Midwest to Florida is part of a broader demographic shift that has accelerated since the COVID-19 pandemic. Many residents from high-tax states in the Midwest have flocked to Florida for its quality of life and tax advantages. With economic uncertainty exacerbated by the pandemic, grow­ing numbers of seasonal residents have decided that they prefer Florida's  corporate-friendly environment, and are relocating their businesses.
"A lot of people are starting to bring their businesses down here, and given the current situation, this is one of the best markets in the whole country," says Chris Wentworth, a long­time Naples banker who is now vice president and relationship manager at Wintrust. "We have our customers to thank for our Naples location," says Wintrust CEO and Founder Edward J.Wehmer. "We had been their hometown bank, but as their home had changed, so had their needs."
OPPORTUNITIES FOR GROWTH IN SOUTHWEST FLORIDA
Wintrust is a well-known entrepre­neurial success story in Chicago. It began in 1991 with one storefront loca­tion and has grown into a more than $43 billion financial holding company and traded on the Nasdaq stock exchange (symbol: WTFC).
The company operates 15 commu­nity bank charters with 180 branch loca­tions in and around Chicago, northern Illinois, southern Wisconsin, northwest Indiana, and its Florida beachhead in  Naples.It also operates various non-bank subsidiaries, including mortgage origination and wealth management services which it provides in Naples.
According to the Federal Deposit In­surance Corporation, Lake Forest Bank & Trust, the charter bank that Wintrust used to create the Wintrust Banking Center branch in Naples has rapidly grown. Those deposits aren't just from Midwesterners who have moved their money to Naples, but also from Naples residents who have switched banks. Clients extend from Naples north to Lee and Charlotte counties.
In addition to deposits, loan growth has been significant, especially for owner-occupied commercial real estate in Southwest Florida. For example, Wintrust recently provided such financ­ing for medical groups and real estate investors. "We're a full-service com­mercial bank," Wentworth says.
More notably, Wintrust is a preferred lender for the U.S.Small Business Ad­ministration (SBA), with a lengthy his­tory of the agency's various offerings, including the popular 504 loan program. This program provides approved small businesses with long-term, fixed-rate  financing used to acquire assets for expansion or modernization. "We do a lot of 504 real estate loans," says Wentworth.
In light of the COVID-19 pandemic, customers have turned to Wintrust for its expertise with SBA loans designed to help them through the shutdowns. "We've helped out a lot of people with the PPP lending program," Wentworth says, referring to the SBA's Paycheck Protection Program designed to keep employees on the payrolls through the pandemic.
Traditionally, local banks are more focused on serving their communi­ties by lending in areas that often are overlooked by larger national banks. Because of their roots in community banking, Wintrust executives seek op­portunities to lend in traditionally underserved areas. "We also work with low- to moderate-income areas, and mi­nority, and women-owned businesses," Wentworth says.
The same focus on lending in un­derserved areas also has translated into significant contributions to charitable causes that Naples' residents care  about, generating goodwill in the re­gion. Wintrust has contributed money and time to nonprofit organizations such as Conservancy of Southwest Florida, Literacy Collier, Naples Botani­cal Garden, Naples Historical Society, and the Naples Zoo. "We're going to be a presenting sponsor at the Naples Winter Wine Festival," says Fedorko, who grew up in Tampa and subsequently moved to Chicago before being appointed to lead the Naples office. The wine festival raises millions of dollars each year for children's charities in Collier County.
POPULATION GROWTH FUELS OPTIMISM
Wintrust executives are confident that Southwest Florida's economy will continue to prosper despite the pan­demic's challenges.
As a resident of Southwest Florida for 18 years and a banker for the past eight years, Wentworth compares 2020 to the years after the terrorist attack of Sept.11, 2001, when Florida saw an in­flux of people from northeastern states.
"People are evaluating their lives after COVID," Wentworth says. As in the days after 9/11, people question whether to remain in northern states with cramped cities, cold weather, and high taxes. Many seasonal resi­dents never left Naples this summer. "I feel like a lot of my customers from the Midwest stayed down here," says Wentworth. "They don't want to go back to Chicago, New York, or Cleveland," and seasonal residents who did leave are returning earlier than usual.
Midwesterners are considering moving their businesses to Southwest Florida and investing in commercial real estate for their operations. Despite COVID, business owners are surprised to learn that business is so good in the region. Wentworth admits his current clients are thriving and have adapted during this time of crisis. "Everyone I've spoken with is excited to move down here," he concedes. "The economy, the political climate, the weather — all those things are encouraging."