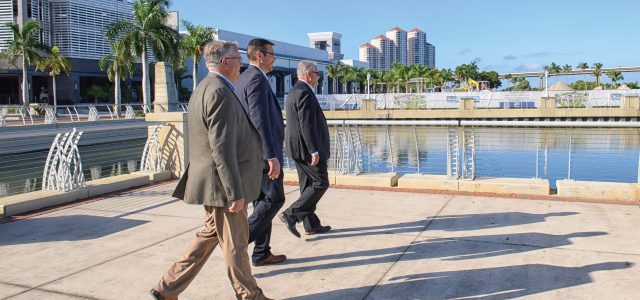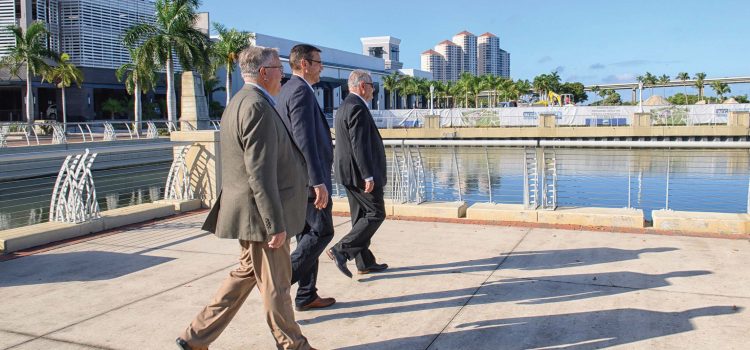 Few commercial builders in Florida can claim to have transformed an entire central business district with a single project. But it's fair to say...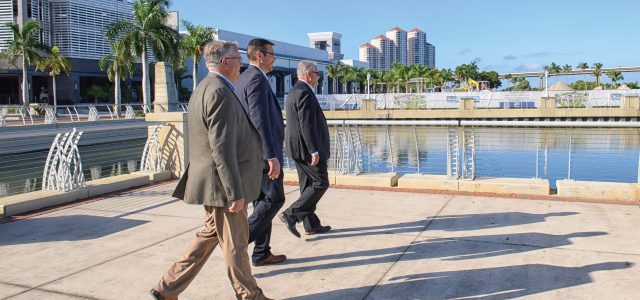 Few commercial builders in Florida can claim to have transformed an entire central business district with a single project.
But it's fair to say Wright Construc­tion Group did just that with the down­town Fort Myers landmark waterfront project that turned the city's underused riverfront into a sparkling new destina­tion.
It was Wright Construction that oversaw the permitting and construc­tion of the $5.3 million scenic basin with its four majestic fountains and the pedestrian paths lined with sculptures that took place in 2012 and became the centerpiece of the Fort Myers River District.
Wright Construction also undertook the complete renovation of the Harbor­side Event Center in 2020.That $11.9 million project transformed the dated building into the ultra-modern Caloosa Sound Convention Center linked to the new upscale Luminary Hotel.
The riverfront redevelopment proj­ect with its fountains and walkways, sculptures and water features, triggered the development of the Luminary Ho­tel, now considered by some to be the crown jewel of the revival of downtown Fort Myers.
But as high-profile as the Fort Myers downtown project was for the Fort Myers-based firm, President and Owner Fred Edman gets just as excited talking about building fire stations. His company has built 10 of these high-tech fortresses, designed to withstand hur­ricanes, in the the last two years and has just started work on another in Immokalee.
Fact is, if you live and work in Southwest Florida, there's a high prob­ability you've entered a public building or driven a stretch of road built by Wright Construction. Major projects include additions and renovations to Al­ico Arena on the campus of Florida Gulf Coast University, the terminal access road to Southwest Florida International Airport, restoration of the century-old Fort Myers Country Club, and the rest area at mile 63 of Alligator Alley.
With a culture of excellence and a core group of longtime team members, the 75-year-old company has been an integral part of the growth of Southwest Florida since company founder Fred Wright moved from Indiana in 1981.
It's no surprise then, that Wright's success shows up in the numbers. The construction firm posted revenues of $86 million in 2020, a 50% increase over 2019.
FOUR ELEMENTS OF VALUE
Edman says the firm sought to define its value proposition over the years by asking this simple but critical question: "What do we do here?"
It's an exercise that Wright Con­struction boiled down to four elements: safety, quality, timelessness and value.
"They don't always come across as sexy when we talk about them," Edman acknowledges." But that's by design. They're belt and suspenders .Dependable. All our employees can get behind them."
What's more, these elements are measurable and everyone is held ac­countable to them. In addition to in­ternal staff reviews, the four elements serve as the outline for bid presenta­tions to prospective clients.
"Our whole presentation is crafted around our value proposition," Edman explains. "Safety, quality, timeless­ness, and value are basic elements of construction but we've identified very specific ways to deliver them to our clients. We're experiencing success because of this.
"Most contractors are on time and on budget, but we're ahead of time and delivering money back," Edman con­tinues. "We have a zero-change-order philosophy. It drives certain systems and processes that have to occur early on to ensure we can avoid changes dur­ing construction."
Change order modifications made by the builder can be costly. When a contractor initiates a change order, it usually means the work was incorrectly estimated or the construction team en­countered unexpected obstacles.
Clients appreciate Wright's no-change-order approach.
"They take accountability (serious­ly), and a lot of times that's very difficult to find," says Adam Hinds, vice president of operations for Shell Point Retirement Community, where Wright Construction has been a builder for years.
In fact, Hinds says, any change or­ders have been requested by Shell Point, not Wright Construction, something that he says is unusual in the industry.
"Contractors are notorious for change orders," Hinds says, attributing the lack of change orders from Wright to the skill of Wright's team. "The important people for me are the superintendent and the project manager, and I found Wright's people to be great to deal with. They're great at communications."
A CORPORATE COMPASS
Wright Construction uses the four elements internally to assess the per­formance of its teams and leadership.
"My senior-level staff members have to bring in reports on each project and how those elements relate with results and numbers," says Edman.
Besides accountability, reviews of projects based on the four elements help identify obstacles, serving as a corporate compass to guide everyone in the same direction.
"We can be very proactive and make sure they're thinking about their jobs from that point of view," says Edman.
For timeliness, success means fin­ishing a job ahead of schedule.
"A problem project is one that's fin­ished on time," Edman said noting that his company always finishes a project before the deadline so if it's just on time, they actually consider it late.
Collaboration is key to timeliness, Edman asserts, providing the example of a recent project where he gathered designers, subcontractors and clients  in a Holiday Inn ballroom and, using management software projected on to a large screen, hammered out a schedule that held everyone accountable.
"It builds this team atmosphere where everybody's working and giv­ing input on how it will work out.We drive the schedule for the benefit of the owner and the whole project team," Edman says.
Creating value for clients also means delivering the project under budget, even if that requires driving a hard bargain with subcontractors. Wright Construction recently rebid certain parts of a fire station project, demanding fairer pricing after delays due to government permitting.
Clients say they appreciate the fact that they're working with the same longtime Wright team members. "All the people who work for Fred have been there for years," says Jim Hehl, as­sistant vice president of physical plant who has been with Florida Gulf Coast University since its founding.
"You know you'll always be dealing with the same people," says Hehl. "It makes our job much easier if we don't have to retrain somebody."
Long-term relationships matter in business, as Edman found out when a team of masons were sidelined due to COVID. Edman managed to recruit another team to replace them within  two days, a nearly impossible feat in a tight labor market.
"We've been around for over 40 years in Southwest Florida, so we have a lot of friends," Edman says with a smile.
POPULATION BOOM DRIVES POSITIVE OUTLOOK
Edman projects that Southwest Florida's population growth will con­tinue to spur commercial construction for the next several years, and Wright's civil division has been busy building and widening roads. Recent projects include constructing a high-profile roundabout in Sarasota at the busy intersection of Fruitville Road and U.S.41, re-designing Eighth Street in Naples to allow for activities in addition to motor vehicle travel, and widening Burnt Store Road in Lee and Charlotte counties.
Edman estimates more than 80% of the firm's work is tied to public projects such as roads, fire stations, schools, and government buildings.
"We have road projects forecasted out at least two to three years," he comments.
Edman watches residential con­struction carefully because commercial construction follows residential build­ing by about two years .When residen­tial construction came to a virtual halt during the recession of 2008, commer­cial builders such as Wright didn't feel the impact until 2010.
For now, Wright Construction is focused on serving clients in the region extending from Sarasota to Collier and east to Glades counties.
"We'll travel for the right client, but expanding our area is not something we're actively pursuing," Edman says.
PASSING THE TORCH
Having recently celebrated Wright's 75th anniversary in business, Edman's fo­cus has turned to planning for succession.
"I have to figure out how to keep this going," says Edman, now 56.
Although two of his seven children work in the business, Edman says he is considering establishing an employee stock-ownership plan.
"Only 10% of general contractors our size are passed on through a sale of the business, so I can't trust in that," Edman says, explaining that most con­tractors are family-owned businesses  and passed on to other family members or longtime employees.
Edman recognizes the large num­ber of Wright Construction employees who have been with the company for decades and can share valuable insti­tutional knowledge and skills.
"I've got two employees right now who are around the 30-year mark," says Edman. He himself started working for Wright mowing lawns and emptying ash trays at age 12.
In order to come up with a succession plan, Wright has hired leadership-training and ownership transfer consultants FMI to train Wright's future leaders and ad­vise the company. The plan is to send a dozen deserving employees for weeklong leadership training at FMI's facility in Colorado each year for the next decade.
"That way I can be in a position in 10 years to have other people keep the business going," Edman says.